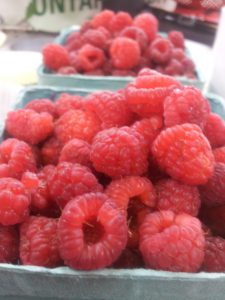 Raspberry Handling
Raspberries are extremely delicate. It's best to pick your own or buy from a farmers' stand or market.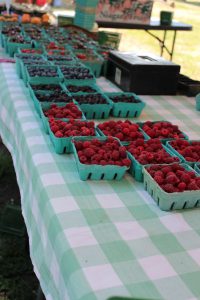 I leave them for the last purchase of the day when I buy them at my farmers' market.
Put them into the fridge as soon as you get home, I like to lay them out on a plate so they won't get "squished"
Do not wash raspberries until just before you are going to use them.
Never soak raspberries. This is grounds for a felony in the Foodie Supreme Court
Rinse and drain well in a colander. Let air dry on paper towels or tea towels and then use right away.
Canadian through and through
About 94% of all the raspberries sold in Canada during raspberry season come from Abbotsford, BC, the Raspberry Capital of Canada.
Fibre News
A one cup serving (250 mL) provides you with 34% of your daily requirement for fibre and they sure taste a lot better than downing a commercial fibre drink.