I am a believer in traditions.
Whenever we honour our roots, we embrace our past and where we came from.
This is especially true for me when I honour my family's foodie traditions. That's why as a healthy eating advocate I still make shortbread at Christmas, Pumpkin Pie at Thanksgiving, Lemon Meringue Pie for my husband's birthday and My World Famous Chocolate Cake for my son's BD. (Actually the chocolate cake is sort of healthy as cakes go!)
As more and more people leave the kitchen and choose convenience and fast foods over scratch cooking we start to lose our cooking skills and as a result our foodie roots. Did your Grandma make a wicked pasta dish, or a Roast Beef with Yorkshire Pudding or how about an amazing Goulash that you still remember, but don't know how to make?
As we lose these recipes we start to lose who we are as a culture. Take away my shortbread cookies at Christmas and I lose part of my family's traditions and part of myself. Take away my friend's Gnocchi and she loses her link to her past.
So I bake shortbread at Christmas and pie at Thanksgiving and I have a Tea Party every year.
Tea Parties celebrate the two most important women in my life, my mom and my grandmother.
My mom made tea sandwiches for Church functions, baby, and wedding showers. If you were lucky to be home when she was making these little delicacies you got to eat the crusts that she carefully cut off. Each bite had either a hint of salmon, or egg, or chicken with a whole lot of butter and crust. Probably sounds dreadful to you, but in my 8 year old world it was as grown up as I was going to get that day. Tea sandwiches were for adult functions and eating the crust gave me hope that one day I too would get to eat one of those dainty sandwiches while balancing a tea cup on my lap. Of course I would be dressed in a lovely dress with a hat while balancing my tea cup on my lap and eating the fancy sandwiches.
Sandwiches weren't my Grandmother's forte. Her specialty was baking and making a wicked cup of tea. Brewed full strength you could probably melt a spoon in it. One of my best teenage memories is walking up the hill to my Grandma's house and having a cup of tea and a scone or a crumpet with her. She'd always let me pick my cup and saucer and I got to complain to her about my life and my mother (her daughter). It was fabulous! I had her undivided non-judgmental attention, a cup of tea, buttery treats and a lot of love.
My mom, although not a tea drinker, is a tea cup collector and I would roughly guess that she has over 300 cups and saucers. I make it a personal mission to drink out of a different one every time I visit her in Vancouver.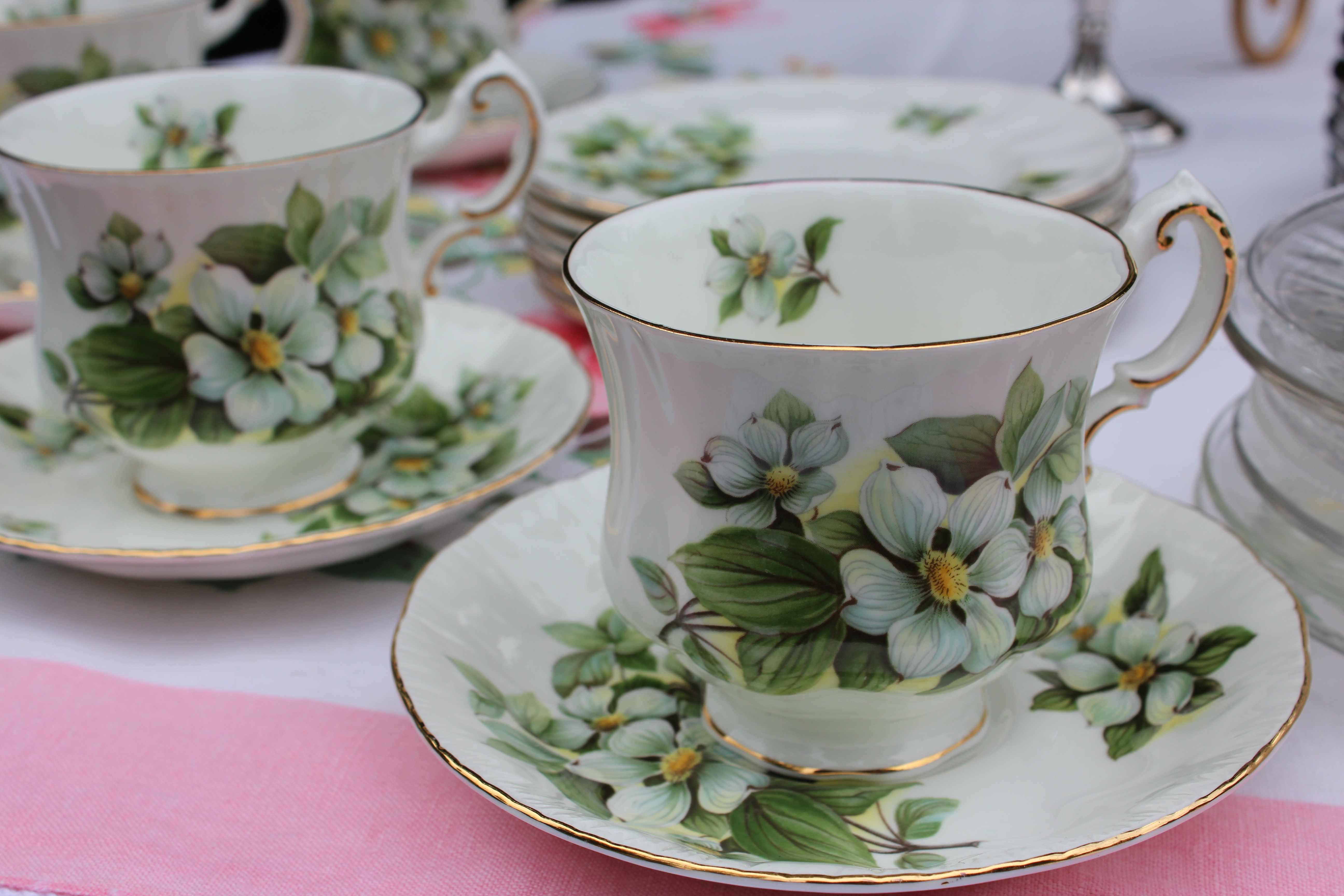 So equipped with my love of fancy sandwiches, strong tea, scones, and treats it was a no brainer to start having tea parties.
Every year, and sometimes twice I have a totally female afternoon celebrating  women and my family traditions.
This year I went all out and invited twelve fabulous ladies to my backyard. (Note to self: remember that cooking for six is fun anything more than that is called catering) anyway – with the help of my dearest friend Michale, we cooked our wee butts off and pulled off a fabulous tea party. I felt like a Canadian version of Downton Abbey, mind you a really low brow Canadian version….
Menu
Seriously Wicked Scones that aren't even close to being healthy
Fancy Sandwiches
Mairlyn's Chicken Salad Tea Sandwiches
Shrimp with Dill Tea Sandwiches
Asparagus with Goat Cheese Sandwiches
Treats
Triple Chocolate Brownie Cookies
Coconut Cup Cakes with Coconut Buttercream
Meringues with Lemon Curd and Raspberries
Buckingham Palace Garden Party Tea
It was a brilliant afternoon. We started with Prosecco because what's a tea party without sparkling white wine anyway?
Here are some of the recipes from the day: Note: this represents a treat day so I didn't include the nutrient breakdown
Seriously Wicked Scones that aren't even close to being healthy
Makes: 20
3 ¼ cups (810 mL) all purpose flour, remember to measure accurately, spoon the flour into a dry measuring cup and level with a straight edge of a knife or a metal spatula
2 tbsp (30 mL) white granulated sugar
2 tbsp (30 mL) baking powder
1tsp (5 mL) salt
½ cup (125 mL) cold unsalted butter, cut into small pieces or grated into the bowl
2 cups (500 mL) whipping cream
Preheat oven to 400°F (200°C). Line a rimmed baking sheet with parchment paper.
Mix all the dry ingredients together in a large bowl.
Cut in the cold butter, using a pastry blender or grate it into the dry ingredients.
Using a fork, stir in the whipping cream (These are not even close to being healthy. Make them once or twice a year as a treat)
On a floured surface pat the dough into a large rectangle about ½-inch thick.
Cut into 20 equal pieces.
Bake in the centre of the oven for 20 minutes or until golden brown. Serve warm with Devonshire cream, if you are lucky enough to have some kicking around your house.
Mairlyn's Chicken Salad Tea Sandwiches
Makes – 16 sandwiches to yield – 64 triangles
1 lb (500 g) boneless, skinless, chicken breasts, poached or cooked, finely chopped
½ cup (125 mL) finely diced celery
3 Tbsp (45 mL) finely diced red onion
¾ cup (175 mL) finely chopped walnuts
1/3 cup (75 mL) low fat mayo – may need more
1 Tbsp (15 mL) fresh lemon juice
2 – 3 Tbsp (30-45 mL) mango chutney
32 slices sandwich bread – I buy mine at Loblaw
½ cup (125 mL) very soft unsalted butter
Mix together the chicken, celery, onion, walnuts, mayo, lemon juice, and the chutney. Have a wee taste and if the filling seems dry add a bit more mayo or chutney. This can be made up to 1 day in advance covered and stored in the fridge.
Morning of the party: Butter the bread. Fill with the chicken mixture. You will end up with 16 whole sandwiches.
Trim off crusts. Cut into 4 triangles. Place in an airtight container and store in the fridge until serving time. OR wrap in wax paper and then store in an airtight container – helps keep them fresher longer.
Meringues with Light Lemon Curd and Raspberries
Use this to fill the Meringues. See recipe from Meringues below.
Makes enough to fill approx 48 meringues.
Zest of 1 lemon – set aside, optional
¾ cup (175 mL) white granulated sugar
1 tbsp + 1 ½ tsp (22 mL) cornstarch
¼ cup + 2 tbsp (90 mL) fresh lemon juice, approx. 2 lemons
1 – omega-3 egg
1 tbsp (15 mL) unsalted butter
Place a medium wire mesh strainer over a medium bowl, set aside. This will become clear when you hit Step 6.
In a small saucepan whisk together sugar, cornstarch, lemon juice and egg.
Turn heat to medium low and stir until the mixture comes to the boil.
Reduce heat so the mixture is gently boiling, stirring constantly for 3 minutes, you need to make sure the cornstarch is cooked.
Remove from heat and stir in butter until melted.
Pour hot lemon mixture through strainer that you set aside in Step 1. Add lemon zest if desired. Pour strained lemon mixture into a heat proof jar, cover with a lid and store in the fridge for up to 1 week. Why strain? The egg yolk anchor, called the chalazae becomes rubbery and needs to be removed, straining does the trick.
Store in a glass jar with a cover for up to 5 days in the fridge.
Meringues
Makes: approx 56 meringues (yes they make more than the filling makes – you will just have to eat the rest without the lemon curd!)
3 – omega-3 egg whites (at room temp for 20 minutes to increase the volume)
¼ tsp (1 mL) cream of tartar
1 cup (250 mL) berry sugar
1 tsp (5 ml) pure vanilla extract
Preheat oven to 275°F (140°C). Line a large baking sheet with parchment paper.
Beat egg whites in a large bowl with an electric mixer until they form soft peaks. Add the cream of tartar and beat for about 30 seconds. Tip: never use a plastic bowl when beating egg whites.
Slowly add the sugar 1 tablespoon at a time until you form very stiff peaks. Beat in vanilla.(this takes about 10-15 minutes)
 Drop teaspoonfuls of the meringues onto the prepared baking sheet and then gently make a small indent into the centre of each one. (this is where the lemon curd will sit)
Bake in the centre of the oven for 20-25 minutes or until they are dried and a light golden brown on the bottom. Cool on the cookie sheet for 5 minutes, remove and cool completely on a wire rack.
Store in an airtight container for up to 1 week.
To assemble the wee tarts: place a small dollop of the lemon curd into the centre of each meringue. (see picture) Top with a raspberry and a small sprig of mint.
Coconut Cupcakes with Coconut Buttercream
The recipe is from Canadian Living Magazine, May 2004, with one change, I used coconut milk instead of regular milk.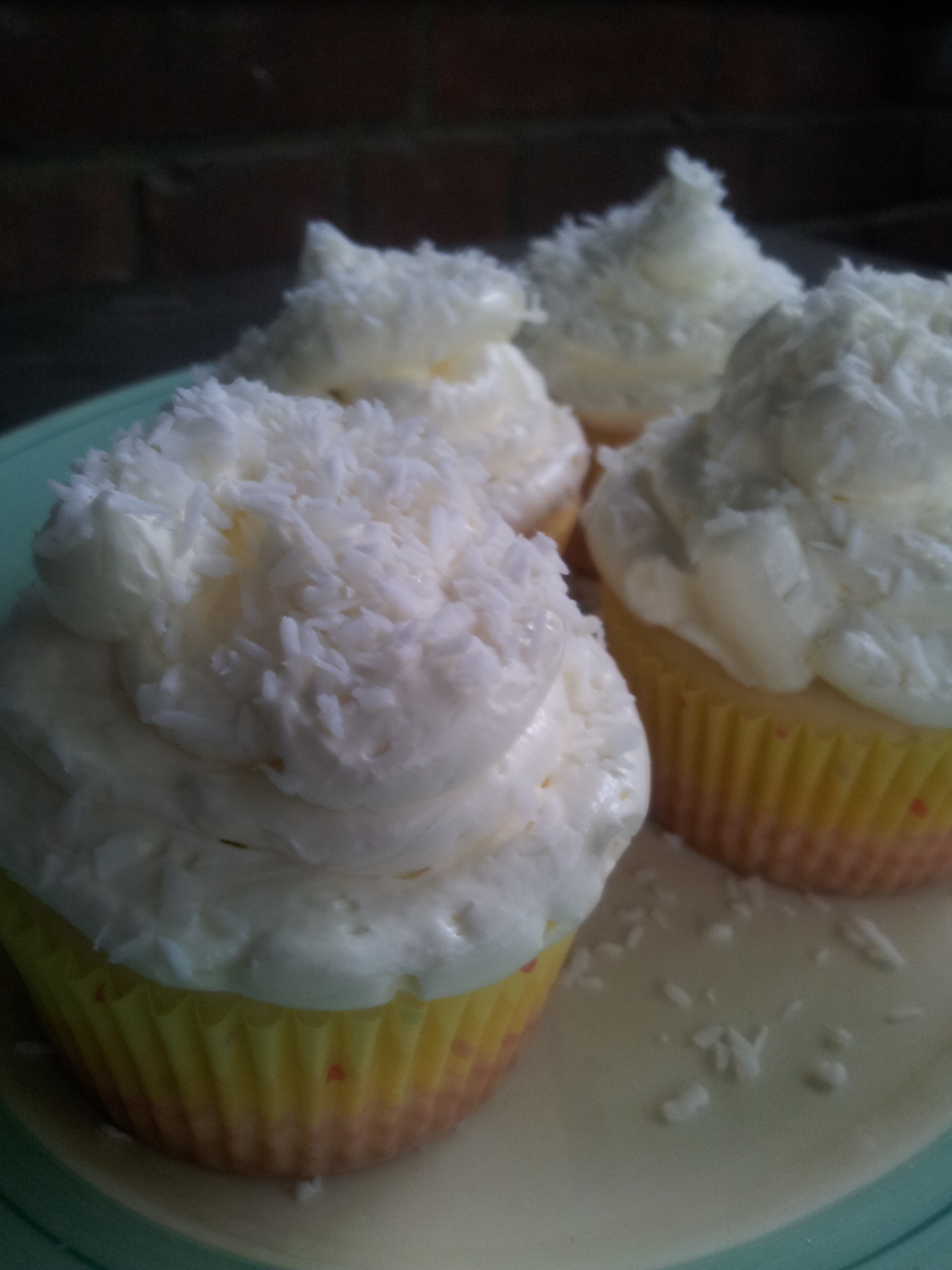 Cake:
½ cup (125 mL) unsalted butter, softened
1-1/3 cups (325 mL) white granulated sugar
3 – omega-3 eggs
2 tsp (10 mL) pure vanilla extract
2-1/3 cups (575 mL) sifted cake and pastry flour
2 tsp (10 mL) baking powder
¼ tsp (1 mL) salt
2/3 cup (150 mL) coconut milk
Preparation:
This recipe makes 14 cupcakes – line 2 muffin tins with 14 paper liners. Set aside.
Cake: In large bowl, beat butter with sugar until fluffy. Beat in eggs, 1 at a time; beat in vanilla. In separate bowl, whisk together flour, baking powder and salt; stir into butter mixture alternately with milk, making 3 additions of dry ingredients and 2 of milk. Divide between 14 cupcakes, spreading evenly. Tap pans gently on work surface to remove any air bubbles. Fill the empty muffin cups with about 2 tbsp (30 mL) water to prevent the pan from warping.
Bake in centre of 350°F (180°C) oven until cake tester inserted in centre comes out clean, about 15 – 17 minutes. Let cool in pans on rack for 10 minutes. Remove from pans; let cool completely on rack.
Coconut Buttercream Icing
From: David Wood's Dessert Cookbook
3 large egg whites
2/3 cup (150 mL) granulated white sugar
10 oz unsalted butter – you need to weigh this ingredient for perfect buttercream
1 ½ tsp (7 mL) coconut extract, more if desired
Preparation:
In a double boiler, over hot water, whisk together the egg whites and sugar until they are frothy and hot to the touch.
Remove from heat. Place in a large bowl and let cool.
When at room temperature slowly beat in the butter 1/3 at a time, I use my KitchenAid mixer, you need some power here!
When the butter has all been added and the mixture is thick and fluffy add extract. Ice cooled cupcakes. Sprinkle with coconut on the top if desired.
The third treat was my World Famous cookies: here's the recipe for my Triple Chocolate Brownie Cookies