Hello and welcome to my website.
As the only professional home economist in the world who is also an alumnus of the Second City Comedy Troupe, not only do I bring knowledge about foods and nutrition to the table, but I do it with a smile and a giggle.
My brilliant nerd has fixed the Subscriber option – so feel free to become a regular by filling in the info. I don't share my subscriber list so you won't be getting any weird stuff from some odd emailer – just me!
Follow me on Facebook or Twitter – just click on the little icons on the top right corner of this page.
---
Tips for surviving TIFF from a TIFFER in the trenches
---
Back to School Lunches – Tips from a Mom that's been there
---
Summer salads as seen on BT Toronto August 7, 2014
---
Food Safety in the Kitchen as seen on Cityline August 13, 2014
---
Wonderful Watermelon
Watermelon Marinade as seen on Cityline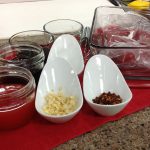 ---
May is Celiac Awareness month – here is the Gluten Free Pasta dish from BT Toronto
---
---
As seen on Breakfast TV March 28, 2012
Spice up your health with antioxidant rich spices!
The Spice Trader in Toronto is my favourite spice store in the city.
Here is their massive list of spices plus how to use them.
Want a recipe for Jerk Chicken that use some of the spices from today's segment on Breakfast TV?
Or try my recipe for Chai-Infused Cocoa?
---
Looking for the Foodland Ontario St Patrick's Day recipes as seen on BT? Here they are Parsnip Soup, Colcannon, and Sponge Cake with Caramelized Apples.
---
Need some dinner ideas? Check out two chicken recipes that become four dinners.
---
It's National Farting Day! Celebrate fibre, beans and the health of your GI tract. As seen on Cityline.
---
Hands up if you are a Downton Abbey Fan! Count me in. Here is my tribute - a Downton Dinner Party. As seen on Cityline on March 3
---
For recipes I demmed on BT Friday, Febuary 28 go to cookspiration.com OR download the app on your
Phone or iPad
For more information on all things healthy go to dietitians.ca
---
Chocolate Mousse – a heart healthier version for your Valentine
---
A list of new Canadian products that caught me eye in 2013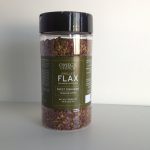 ---
Start the New Year right off with a present for your brain – the foods and activities that can help your brain stay young as you age.
---
Want your teenagers to think you're cool? Put yourself on YouTube! Here's my YouTube video! Click here!
---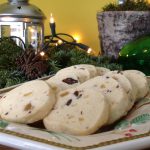 ---
Bringing back that wonderful tradition of homemade edible gifts, as seen on Cityline. Includes a recipe for truffles!
---
Cooking with leftovers and two veggies dishes to make over the holidays
---
Decorating your tree? You need snacks! Here's the link to Hot Apple Cider and Gingersnaps
---
Check out my bare essential Holiday Pantry
---
---
Shrimp X Three! as seen on Cityline Wednesday, November 13
---
Toronto Breakfast TV celebrates Halloween in style! Catch us bright and early for another year of Halloween FUN!
Here are the recipes I'm demming.
---
Catch me with Tracy and a cast of Divas on Cityline for the Halloween Special. Yes, there were recipes.
---
Bread tailored to your health issues as seen on BT Toronto on October 17
---
Help! A Vegetarian and a Vegan are coming to Thanksgiving!
---
My popular web favourite for all you newbie turkey cookers!
Turkey 101 for the Poultry Challenged
---
Check out the latest recipe for the Camp for Keeps Campers Autumn Apple Crepes.
---
Cooking with Parchment Paper as seen on Cityline. You'll thank me.
---
Emergency back to school dinner ideas and what basic staples you need catch me on Cityline with Tracy on August 28.
---
Kids in the Kitchen – here are the recipes I demmed on BT Toronto on August 27 with my buddy Dina and my sous chef Nicole.
---
Flour – Who's Who and What's What - Tracy and I talk about flour and I do the Whole Grain Interpretive Dance. Watch the clip from Cityline
---
Recipes from Camp for Keeps . For all of the recipes so far on #MairlynMonday go up to the top of this page and click on Camp for Keeps. To watch Dina and I cooking up a storm click here.
Here's the recipe for the Asian Noodle Salad
---
Here is the recipe I demmed on BT Toronto - seasonal Italian inspired main course with Dina. Click here to watch the video clip from Breakfast TV Toronto.
Click here for the recipe
---
---
How to pick a Watermelon
Watermelon Salad with Goat Feta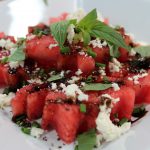 ---
Tips on how to navigate a farmers market
---
Thirty-one cups of tea. Click here for the story.
Click here for the rules and tips my Gran and her sister my Great Aunt Nellie had for steeping the perfect cup of tea.
---
I'll be posting kid friendly recipes for the next 4 months as one of my jobs as the official Camp Cook at Camp for Keeps.
Check out this weeks recipe for Oatmeal Cookies with raisins or chocolate chips.
---
For the recipes I demmed on BT Toronto on April 15 using barley click here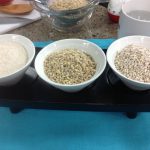 Barley 101 – check out Cityline, Tracey and I cooking up Canadian barley. Click here for the recipes.
---
Here's the story about Muskoka Chautauqua and the JW Marriott Muskoka Resort and Spa.
---
Cooking for one? Here are four dinner ideas using heart healthy canned fish as Seen on BT Toronto March 12. Click here for the recipes.
---
For the tips on grocery shopping you saw on CityLine February 27, courtesy of the Dieticians of Canada click here.
---
Baking with quinoa! Here are the three recipes as seen on Breakfast TV Feb 7. Click here.
---
My bucket list always included going to Tuscany! This week on CityLine I got to show the viewers some of the things I learned while I was there. To see the story click here.
---
This week on Breakfast TV I'm talking about Tweaking Your Resolution List and adding 12 Healthy Habits for 2013 one month at a time. Click here to see the list.
---
Catch me on CityLine Wednesday, January 9 with Tracy Moore when we talk about portion sizes! Click here for some visuals and to watch the segments.
---
---
The Vegetarian's Complete Quinoa Cookbook is a best seller and the perfect gift this holiday season for vegetarian virgins as well as full blown vegetarians. Available at book stores across Canada.
FYI: There are some signed copies at the Cookbook Store in Toronto. Click here to check it out.
Or buy it online
Chapters: Click here.
Amazon: Click here
---
University Student Survival Foods! Click here for some tips, ideas, and recipes. As seen on BT Toronto Thursday, September 6, 2012.
Vodka infused cocktails anyone? For the recipes and the link to Prairie Vodka click here.
Looking for the TEA PARTY recipes and pictures that I did on CityLine with Tracy? Click here.
Watch the scone segment here and the meringue segment here.
I celebrated World Home Economics Day on CityLine Wednesday, March 21, 2012! Click here for my rant on why we need to bring back mandatory Home Ec classes!
If you are looking for the recipes I demmed on CityLine March 7 click here. Or watch the segments. Here's the Chicken Soup Dem and here's the Red Lentil Soup Dem!
---
I tried to give Toronto's Mayor Ford my book – to watch my adventure click here.
---
Here's what some very funny people from the Second City alumni are saying about about Healthy Starts Here!:
"My two passions are humour and food which makes Healthy Starts Here! my perfect cook-book. Tips for novices, lip-smacking recipes for everyone, what more do you want? No…really…what more do you want?" Colin Mochrie
"I am not a cook but Marilyn's refreshingly witty cookbook book was so full of healthy mouth watering dishes, it made me want to rush out and hire someone to make them for me." Deb McGrath
"This book makes me, laugh, salivate and yearn to be everything good and healthy…wait a minute, dear God, I think I've fallen in love with Mairlyn Smith." Kathryn Greenwood, Actor, Writer (Women Fully Clothed, Whose Line is it Anyway?)
"Awesome recipes, thanks for making them so easy and fun, and thank you for giving me permission to eat fabulous bean dishes and…well you know." Jayne Eastwood, (Goin' Down the Road, Women Fully Clothed)
Mairlyn's latest Culinary Contribution is her masterpiece. It's everything Mairlyn is; smart, funny, balanced and captivating. Kevin Frank(Artistic DirectorSecond City Training Centre & Education)
'The recipes in here are so good, I almost ate the book!' Ron James 'Comedian'
---
You can buy Healthy Starts Here! at all large bookstores across Canada or you can order it online.
For Amazon click here.
or from Chapters Indigo click here.