Hello and welcome to my website.
As the only professional home economist in the world who is also an alumnus of the Second City Comedy Troupe, not only do I bring knowledge about foods and nutrition to the table, but I do it with a smile and a giggle.
My brilliant nerd has fixed the Subscriber option – so feel free to become a regular by filling in the info. I don't share my subscriber list so you won't be getting any weird stuff from some odd emailer! – just me!
To send me an Email go to the top right corner of this page and click on the envelope.
Or follow me on Facebook or Twitter – just click on the little icons on the top right corner of this page.
Want your teenagers to think you're cool? Put yourself on YouTube! Here's my YouTube video! Click here!
---
---
Halloween on Cityline – The Coffin Cake
---
#Road Trip Mair was an epic adventure. Check out our road trip from Toronto to Vancouver.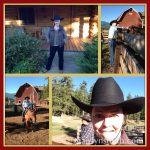 ---
Fondue anyone? Recipes from The Fairmont Chateau Lake Louise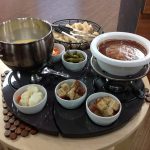 ---
For the recipes I demmed on BT Toronto on April 15 using barley click here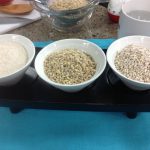 Barley 101 – check out Cityline, Tracey and I cooking up Canadian barley. Click here for the recipes.
---
Cooking for one? Here are four dinner ideas using heart healthy canned fish as Seen on BT Toronto March 12. Click here for the recipes.
---
For the tips on grocery shopping you saw on CityLine February 27, courtesy of the Dieticians of Canada click here.
I'm a believer of eating local seasonal fare so I'll be cooking a recipe from Foodland Ontario – Short Ribs in the Slow Cooker with Ontario onions, carrots and beef on Breakfast TV on Thursday, February 21. Click here for the recipe.
---
Its Chocolate Season! I'm on CityLine on Monday February 11 talking and cooking with chocolate and having many laughs with the ever wonderful Tracy Moore. Click here for the recipes.
Baking with quinoa! Here are the three recipes as seen on Breakfast TV Feb 7. Click here.
My bucket list always included going to Tuscany! This week on CityLine I got to show the viewers some of the things I learned while I was there. To see the story click here.
This week on Breakfast TV I'm talking about Tweaking Your Resolution List and adding 12 Healthy Habits for 2013 one month at a time. Click here to see the list.
Catch me on CityLine Wednesday, January 9 with Tracy Moore when we talk about portion sizes! Click here for some visuals and to watch the segments.
---
---
The Vegetarian's Complete Quinoa Cookbook is a best seller and the perfect gift this holiday season for vegetarian virgins as well as full blown vegetarians. Available at book stores across Canada.
FYI: There are some signed copies at the Cookbook Store in Toronto. Click here to check it out.
Or buy it online
Chapters: Click here.
Amazon: Click here
---
University Student Survival Foods! Click here for some tips, ideas, and recipes. As seen on BT Toronto Thursday, September 6, 2012.
Vodka infused cocktails anyone? For the recipes and the link to Prairie Vodka click here.
Looking for the TEA PARTY recipes and pictures that I did on CityLine with Tracy? Click here.
Watch the scone segment here and the meringue segment here.
I celebrated World Home Economics Day on CityLine Wednesday, March 21, 2012! Click here for my rant on why we need to bring back mandatory Home Ec classes!
If you are looking for the recipes I demmed on CityLine March 7 click here. Or watch the segments. Here's the Chicken Soup Dem and here's the Red Lentil Soup Dem!
---
I tried to give Toronto's Mayor Ford my book – to watch my adventure click here.
---
Here's what some very funny people from the Second City alumni are saying about about Healthy Starts Here!:
"My two passions are humour and food which makes Healthy Starts Here! my perfect cook-book. Tips for novices, lip-smacking recipes for everyone, what more do you want? No…really…what more do you want?" Colin Mochrie
"I am not a cook but Marilyn's refreshingly witty cookbook book was so full of healthy mouth watering dishes, it made me want to rush out and hire someone to make them for me." Deb McGrath
"This book makes me, laugh, salivate and yearn to be everything good and healthy…wait a minute, dear God, I think I've fallen in love with Mairlyn Smith." Kathryn Greenwood, Actor, Writer (Women Fully Clothed, Whose Line is it Anyway?)
"Awesome recipes, thanks for making them so easy and fun, and thank you for giving me permission to eat fabulous bean dishes and…well you know." Jayne Eastwood, (Goin' Down the Road, Women Fully Clothed)
Mairlyn's latest Culinary Contribution is her masterpiece. It's everything Mairlyn is; smart, funny, balanced and captivating. Kevin Frank(Artistic DirectorSecond City Training Centre & Education)
'The recipes in here are so good, I almost ate the book!' Ron James 'Comedian'
---
You can buy Healthy Starts Here! at all large bookstores across Canada or you can order it online.
For Amazon click here.
or from Chapters Indigo click here.