I am the only professional home economist in the world who is also an alumnus of the Second City Comedy Troupe, not only do I bring knowledge about foods and nutrition to the table, but I do it with a smile and a giggle.
Copyright @MairlynSmith 2015 All rights are reserved
I'm happy to share recipes. For permission to use any of my recipes for publication or in your blog or website please shoot me an email mairlyn@mairlynsmith.com.
Or follow me on Twitter or Instagram @MairlynSmith – just click on the little icons on the top right corner of this page. (LMAO I haven't figured out how to add the IG little icon!)
Want your teenagers to think you're cool? Put yourself on YouTube! Here's my YouTube video! Click here!
---
---
As a lover of all things beans and plant based I'm thrilled that 2016 is going to be the Year of the Pulse. Celebrate early and check out some delicious and healthy pulse recipes.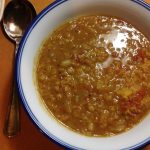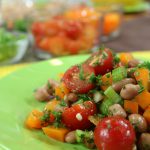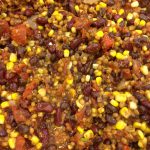 OR
---
#Road Trip Mair was an epic adventure. Check out our road trip from Toronto to Vancouver.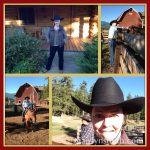 ---
Here's what some very funny people from the Second City alumni are saying about about my cookbook
Healthy Starts Here!:
"My two passions are humour and food which makes Healthy Starts Here! my perfect cook-book. Tips for novices, lip-smacking recipes for everyone, what more do you want? No…really…what more do you want?" Colin Mochrie
"I am not a cook but Marilyn's refreshingly witty cookbook book was so full of healthy mouth watering dishes, it made me want to rush out and hire someone to make them for me." Deb McGrath
"This book makes me, laugh, salivate and yearn to be everything good and healthy…wait a minute, dear God, I think I've fallen in love with Mairlyn Smith." Kathryn Greenwood, Actor, Writer (Women Fully Clothed, Whose Line is it Anyway?)
"Awesome recipes, thanks for making them so easy and fun, and thank you for giving me permission to eat fabulous bean dishes and…well you know." Jayne Eastwood, (Goin' Down the Road, Women Fully Clothed)
Mairlyn's latest Culinary Contribution is her masterpiece. It's everything Mairlyn is; smart, funny, balanced and captivating. Kevin Frank(Artistic DirectorSecond City Training Centre & Education)
'The recipes in here are so good, I almost ate the book!' Ron James 'Comedian'
---
You can buy Healthy Starts Here! at all large bookstores across Canada or you can order it online.
For Amazon click here.
or from Chapters Indigo click here.