There is a time around the middle of August when the fresh local blueberries and the summer tomatoes both hit their peak. This is the only time to make this salad.
This salad only serves one but feel free to double, triple, quadruple…
I plate the salad which is chef-speak for: I prepare each salad on its own plate.
1 heaping cup (250 mL) baby arugula, we skipped in on the show!
1-2 really ripe summer tomatoes, heirlooms are fabulous
¼ cup (60 mL) fresh blueberries
2 tbsp (30 mL) goat's milk feta cheese
2 tsp (10 mL) extra virgin olive oil
1 tsp (5 mL) balsamic vinegar
 Place arugula in a clean sink of cold water. Swish well to make sure there isn't any sand or dirt clinging to it. Place in a salad spinner and spin or pat dry. (We skipped this on the show)
Pile the clean dry arugula onto a large white plate. Okay, any colour will do but it looks spectacular on a large over sized white plate. My friend Jill calls my large white plates, my restaurant plates.
Wash and dry tomatoes. Using a serrated knife slice the tomatoes into ½- inch (1 cm) slices.
Arrange artistically on top of the arugula.
Rinse blueberries well under cold running water. Let drain. Place on a paper towel to dry. Sort through and remove any stems. Sprinkle on top of tomatoes.
Crumble feta and sprinkle on top. Drizzle with oil and vinegar. Serve.
Makes one serving
Each one serving = 226 Calories, 16.6 g Total fat, 6.3 g Sat Fat, 0 g Trans Fat, 359 mg Sodium, 14.5 g Carbs, 3 g Fiber, 8.6 g Sugars, 8 g Protein
Diabetes Food Choice Values Per Serving: 1 Carbohydrate, 1 Meat and Alternatives, 3 Fats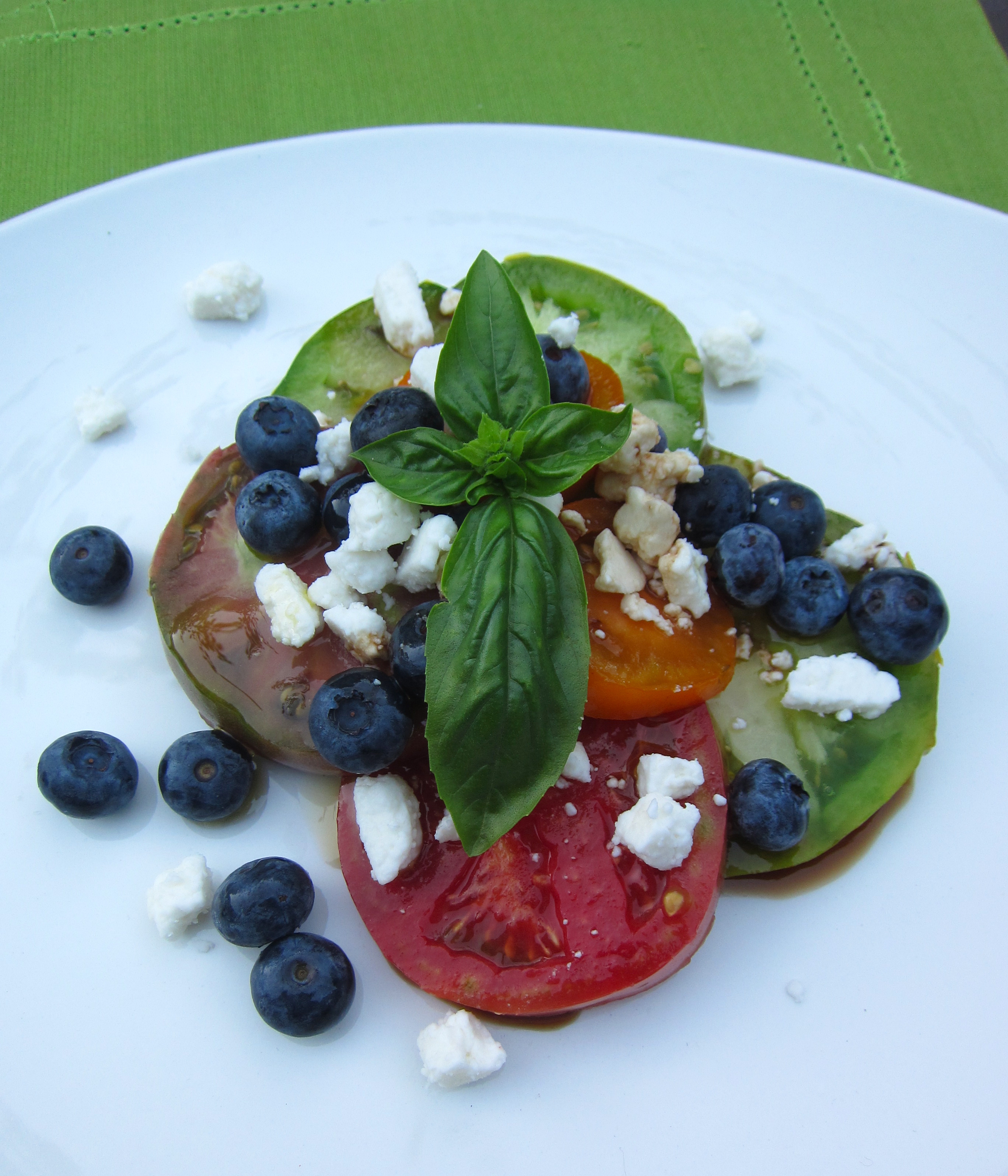 Tip:
How much does 2 tbsp (30 mL) of feta weigh?
It is a pitiful 15 g (½ oz).