April 3, 2012
Don't Forget to Leave Room for Chocolate Cake!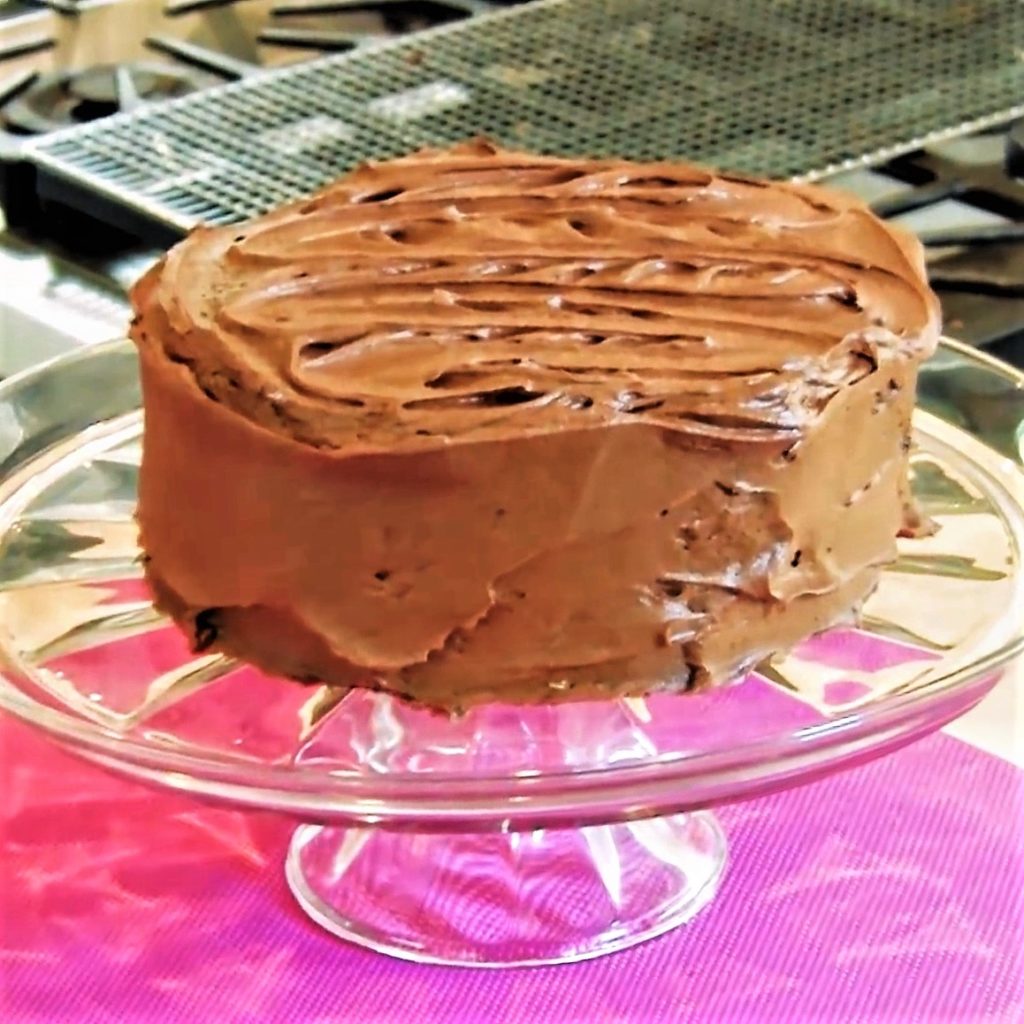 Watch how to make it on My Left Frying Pan.
Cake:
1 cup (250 mL) whole-wheat flour
2/3 cup (150 mL) all purpose flour
1½ cups (375 mL) granulated white sugar
2/3 cups (150 mL) natural cocoa powder
1½ tsp (7 mL) baking soda
¼ cup (60 mL) canola oil
1 cup (250 mL) fortified organic chocolate soy beverage
2 tsp (10 mL) fresh lemon juice
1 – omega-3 egg
1 – 4.5 oz. (128 mL) jar baby food strained prunes, I find them at Loblaw it comes in a pouch
1 tbsp (15 mL) pure vanilla extract
Lactose free Icing: Optional (for Decadent Icing keep scrolling down!)
2 tbsp (30 mL) unsalted non-hydrogenated margarine
1 oz (25 g) unsweetened dark chocolate, at least 70% cocoa mass
6 tbsp (90 mL) fortified organic chocolate soy beverage
2 ½ cups (650 mL) icing sugar
1/3 cup (75 mL) natural cocoa powder
Decadent Icing:  not lactose free, make this for the two-8-inch round cake pan version
8 oz (200 g) bittersweet or semi-sweet chocolate (I use bittersweet for a less sweet icing)
½ cup (125 mL) natural cocoa powder
¾ cup ( 180 mL) water
½ cup (125 mL) unsalted butter
3 cups (750 mL) icing sugar
How to make it:
Preheat the oven to 350°F (180°C). Lightly spray a 9×13-inch (23×33 cm) metal cake pan, or line with parchment paper or two – 8-inch round pans.
In a large bowl mix together the whole wheat flour, all-purpose flour, sugar, cocoa powder, and baking soda.
Add the chocolate soy beverage, lemon juice, oil, egg, strained baby food prunes and the pure vanilla.
Using a hand mixer blend or wire whisk beat the ingredients together for 1 minute, scraping the bowl often.
Turn the speed up to medium or whisk like your life depended on it for 2 minutes.
Pour into prepared pan or pans, even out the top, and bake in the centre of the oven. For the 9×13-inch pan bake for 30-35 minutes or until a toothpick inserted in the centre of the cake comes out clean. For the two-8-inch round cake pans bake for 30-35 minutes or until a toothpick inserted in the centre of the cake comes out clean.
Cool on a wire rack for 10 minutes then remove from the pans and continue cooling.
Prepare icing, if using. Put the margarine, unsweetened chocolate and chocolate soy beverage in a microwaveable dish. Heat on medium-low for 45 seconds. Stir. Repeat till

almost

melted. Stir till totally melted. The key is to underdo it. Scorched chocolate is ruined chocolate. And in some countries it's considered a sin. Or melt over the stove on low heat.
Pour the melted chocolate into a medium bowl, don't lick this – it's unsweetened. Add the icing sugar and the cocoa powder and beat till smooth. If it is too thick add a little bit of chocolate soy beverage until you reach the desired thickness. When finished lick beaters if desired.
OR if making the Decadent Icing: put the chocolate, cocoa powder, water, and butter into a small saucepan and let the chocolate and butter melt very slowly. Stirring occasionally. When almost melted remove from the heat and stir until totally melted. Pour into a large bowl. Add icing sugar and beat until well combined. This will be very runny. Cool in the fridge until set about 3-4 hours. Beat until fluffy and ice the cake. (If the icing is too stiff – if you saw the show this will all make sense!then add 2-4 tbsp (20-60 mL)[more if needed] milk, chocolate soy beverage or water and beat until soft and fluffy!
Ice cooled cake. Lick bowl if you must! The cake can now be eaten immediately or the next day.
Remember that tomorrow it will taste better. Your choice.
9×13 inch (23×33 cm) cake with icing, serves 30:

1 Serving = one 2×2-inch (5×5 cm) square contains: 159 Calories, 3.8 g Total fat, 0.8 g Sat Fat, 0 g Trans Fat, 83 mg Sodium, 29.8 g Carbs, 1 g Fiber, 22 g Sugars, 2 g Protein

Diabetes Food Choice Values Per Serving: 2 Carbohydrates, 1 Fat

OR One two layer cake with Decadent Icing – serves 16 – one slice equal to: you don't want to know! Have a tiny piece. Go for a huge walk later or tomorrow. Do weight lifting, squats, and some yoga. Okay – that should do it!

Recipe is from Healthy Starts Here!

This is my go-to-it cake for birthdays and any special occasion when it has to be chocolate. It's been on my top ten hit list for years and deserves to be showcased again.