July 20, 2011
Go Fish!
Nothing tastes better than fresh seafood, unless you're eating that fresh seafood in Vancouver at an outdoor fish stand called Go Fish across the harbour from Granville Market.
Go Fish is a Vancouver treasure. I had my first fish taco there about three years ago and because of that first amazing bite I created a salmon taco for my latest book Healthy Starts Here!
Today I had an Oyster Po'Boy that I will dream about tonight. They were the biggest most tender succulent oysters I have ever had. Matt Christie the chef at Go Fish for the past 6 years outdid himself, not only can this guy cook fish the right way, he is the happiest chef I have ever met. Well why wouldn't he be? He does have one of the coolest jobs in town!
The good news is that they are opening a new indoor restaurant very soon! How does next week sound? Yes, in seven more sleeps Go Fish will be serving the dinner crowd at its new digs at 1505 W. 1st Avenue, Vancouver, BC. 604-730-5040.
They will be serving their own special spins on fish and chips, Po'Boys, fish tacos, fish sandwiches, daily soups, and a sexy version of the iconic Filet-O-Fish called Filet-of-Go-Fish complete with a filet dipped in tempura batter! Ooh, I can't wait!
If you don't live in Vancouver the next time you visit the jewel of the West Coast get yourself over to Go Fish – you'll thanks me.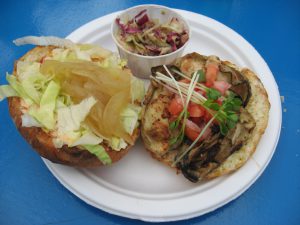 Take II
I love Go Fish so much -I took my parents before I left Vancouver for TO. My father who is a fish and chip expert gave their Halibut and Chips 5 out of 5 Stars! (my mom who is really picky gave it 5 out of 5 too!)
The were without a doubt the best Fish and Chips I've ever had – the secret is they use the freshest fish possible and they fry all of their food in heart healthy canola oil.