Chai is made with black tea, spices and milk and is served all over India.  With the huge influence of Indian cuisine in the UK, the best cup of chai I've ever had was at Dishoom's in Edinburgh With a big nod to them, here is my spin on their house chai, a strong cup of tea rich in warming flavours.  They served theirs in a glass, I serve mine in my good china.
2 cups water
10 whole green cardamoms
8 whole cloves
2 cinnamon sticks
1 ½ inch piece of fresh ginger
¼ cup loose Darjeeling tea (20 g or 0.7 oz) – see note below
2 cups 1 or 2% milk
Add water to a small saucepan. Bring to the boil.
While waiting for the water to boil, gently crush the Cardamom and cloves using a mortar and pestle. No mortar and pestle? Gently crush using the back of a wooden spoon on a clean cutting board. Break cinnamon sticks in half, add to the cardamom and cloves and gently crush.
Peel and thinly slice the ginger.
When the water has come to the boil, add spices and ginger. Return to the boil, reduce heat to low, cover and simmer for 10 minutes.
Add tea, stir in, cover and simmer for 5 minutes.
Add milk, stir in and bring back to a boil, cover, reduce to low and allow to simmer for 10 minutes.
Strain. I scoop out the loose tea and spices with a small strainer, then transfer the chai to a teapot.
Serve with added sweetener, I use honey, but you can use sugar or a sweetener of your choice.
Makes 4 cups One serving = 1 cup
For one serving of chai without sweetener and using 1% milk: Calories 102, Total Fat 2.4 g, Saturated Fat 1.5 g, Sodium 107 mg, Potassium 366 mg, Carbohydrates 12 g, Sugars 13 g, Fibre 0 g, Protein 8.2 g
Professional Home Economist tips:
You can use 4 tea bags, but I find that whole leaf loose tea is the best choice. I buy my loose leaf Darjeeling at my favourite tea store in Toronto Pippins. 
This is a very strong tea, I found that steeping it for less time resulted in a less flavourful tea, but this is totally your call. If you want a less strong cuppa then only steep for 2 minutes before you add the milk.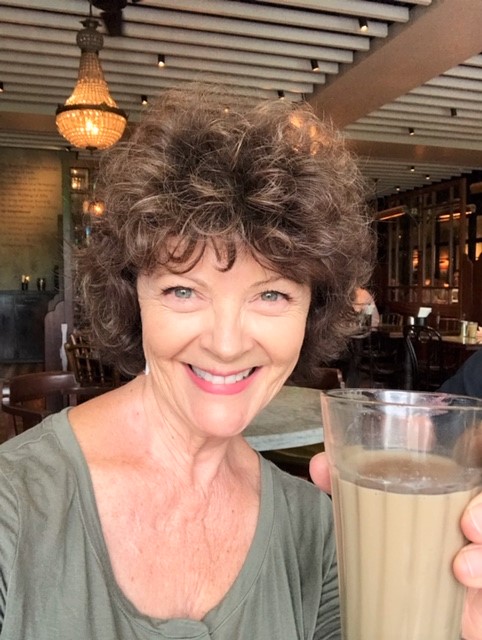 On a personal note:
The cup and saucer was one of my mom's. She was given this cup and saucer at her wedding shower in the 1940's. It was made by Colclough.