This is my eleventh  year attending the Toronto International Film Festival  I can say that I know how to "do" the festival.
Every year my best friend and I do the festival, we've been to Galas and we've done the trenches. Last year i was in a wheelchair because i had fractured my ankle the week before. And bless my BFF's heart she pushed me everywhere. and every year, no matter what, we love it all. (Tip: if you are in a wheelchair make sure you let them know ahead of time so they can access wheelchair seating and provide you with lobby access, which means no waiting in the lineups.)This year marks our 11th Anniversary of TIFFing. To follow the shenanigans and my view of TIFF follow me on Instagram @MairlynSmith my IG stories are always interesting…..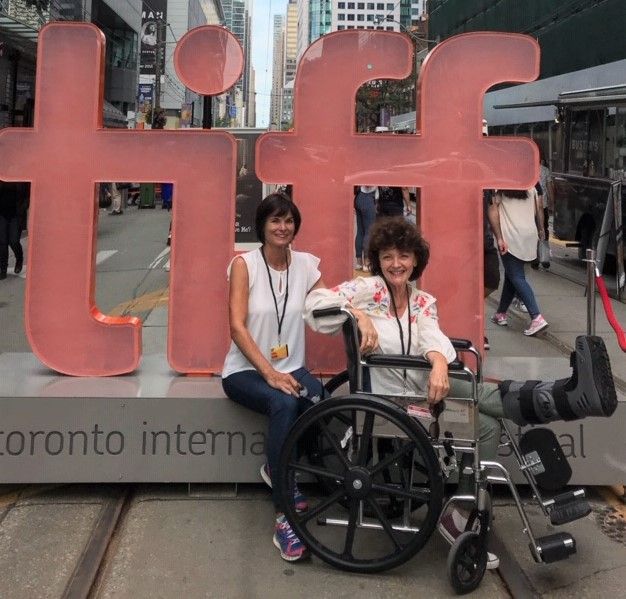 If you have an overwhelming desire to attend but have been intimidated by the crowds, the process of picking a film, or actually getting tickets, I'm here to help.
This is the closest we got to a Gala during TIFF15 (across the street at the TTC stop)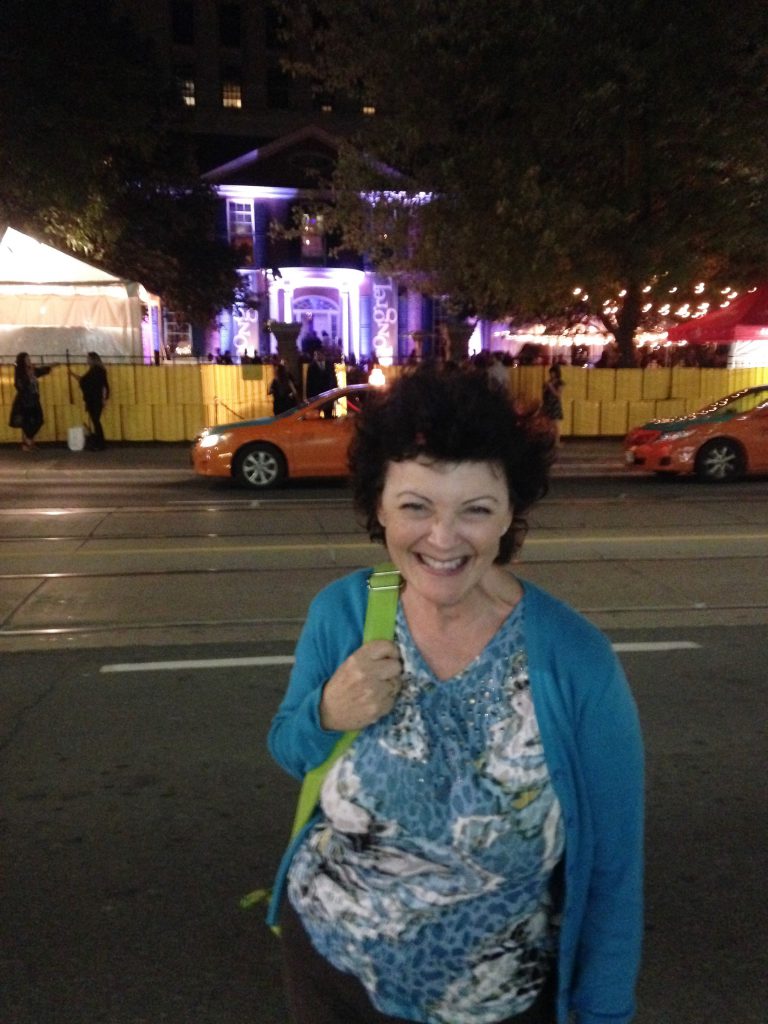 But in 2016 by some fluck on nature we got 2 tickets to Mongrel party! It was way more fun being inside the wall than out…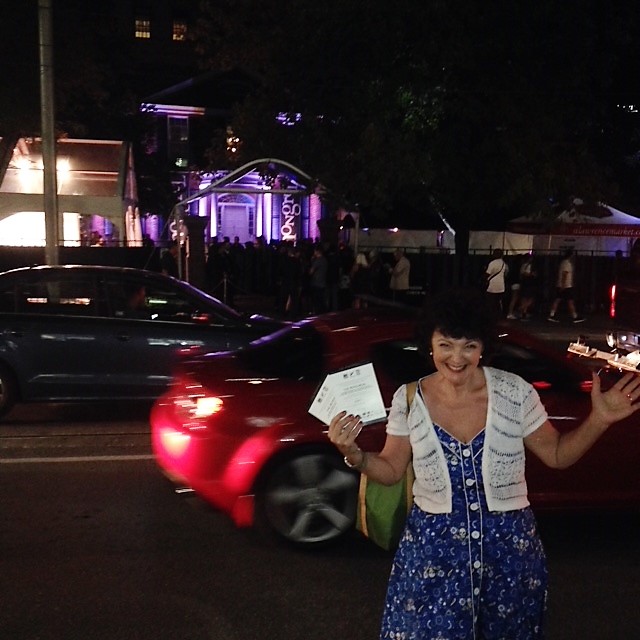 And in 2018 we were invited to  Gala for Colette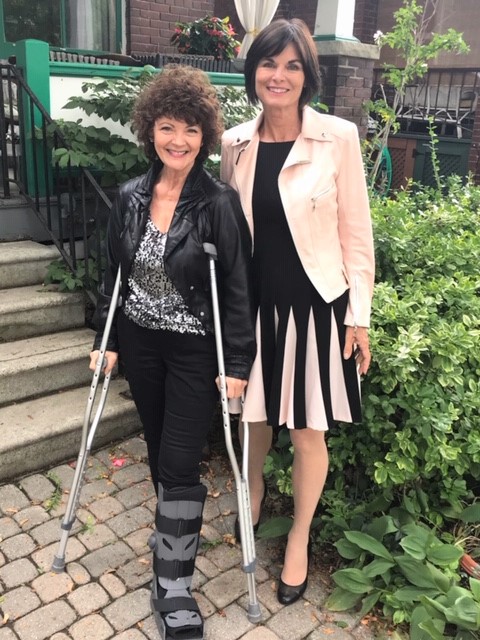 Step 1
Decide right now that you are going to attend #TIFF19 (festival lingo for the Toronto International Film Festival 2019)
Step 2
My biggest tip is to become a member of TIFF.
Aside from discounts throughout the year, members have an "advance purchase window for TIFF ticket packages" Festival lingo for you get to jump the line and there is a charitable donation tax receipt to boot.
This is one of the main reasons to join, unless your idea of a fun is waiting on the phone on hold for 2 hours the day the tickets go on sale for everyone and their pet poodle, to only discover that the movie you were dying to see is already sold out or in Festival jargon is off sale.
Become a member and you are given a date and a time to either call in (for the computer challenged, like moi) or log in and then select your movies, which you usually get. Usually meaning about 99.9% of the time.
Become a member, it is totally worth it.
This year we went on line and booked our tickets, and….it wasn't as horrible as I thought it would be, although we did inadvertently screw up somehow, but they give you an hour. Trust me if my BFF and I could screw it up, log in twice and then figure it out, anyone can.
Mairlyn's tip:
To make joining worthwhile for this year's festival you really needed to join in January. 

Step 3
When the movie schedule comes out (about 2-3 weeks before the festival begins) comb through the online schedule or better yet, buy a hard copy of the entire list of films being screened, and choose your movies. I buy a book every year.
Best plan is to decide which days you are going to commit to and then using the online TIFF schedule, which is available in late August, read up on what the movies are about and then make your choices.
Mairlyn's Tip:
Keep in mind the location of the theatres and that there may be Q&A's after a film. You won't make a 2:00 pm film at the Elgin Theatre  if you had a movie that ended at 1:23 pm at the Bell Lightbox Theatre unless you're a good runner or you've been on the Amazing Race Canada.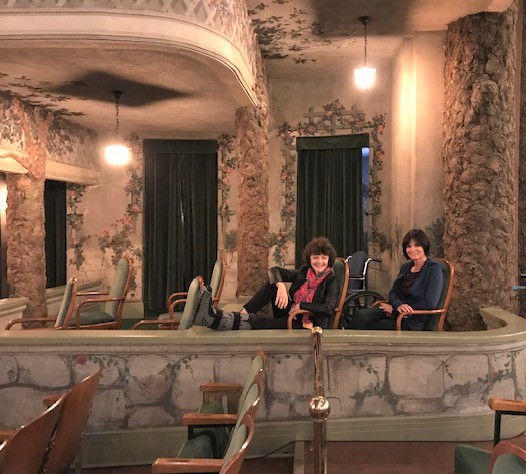 Step 4 – Getting your tickets
If you are a member call or log in on the day they give you and select your movies. Easy, peasy. I logged on and booked all our 15 movies, got them all and the times I wanted.
If you aren't a member and are looking for single tickets as in not a package call or log in September 2 starting at 10 am. If you call expect to be on hold for several hours before you get an operator, choose your movies, and either get them or not. Frustrating. Or go on line and try to book them.
Single tickets cost from $18-$42.00 per ticket for Regular movies. If you are looking for a Premium (there may or may not be the star or stars of the film there) they range from $25-$82.00 per ticket. And you can book a seat at the Elgin, Princess of Wales, Roy Thompson Hall and the Winter Garden for a small fee, so there is no long lining up.
For everything you need to know about tickets TIFF has a great page on their website.
Day of sales – log onto the TIFF website and see whats available that day.
Rush tickets – go the venue where the film is screening, and lineup behind the Rush Ticket sign. If there are any tickets 10 minutes before the film starts they sell them for $20.00 for Regular Screenings and $40.00 for Premium Screenings – one per customer – CASH ONLY
 Mairlyn's tip:
On or before the day of your first film leave plenty of time to pick up your tickets. OR you can print your tickets or save to your mobile, genius idea.
Step 5 – Make reservations
Once you know your schedule and to guarantee that you won't be eating candy all day long, make lunch or dinner reservations.
One of my favourite places to have a martini in the city is served at the Luma Lounge.
Its called a Money Penny – its lemony and fabulous and its not always on the menu……but if you ask really nicely, maybe say my name…no guarantee, but they make it for me.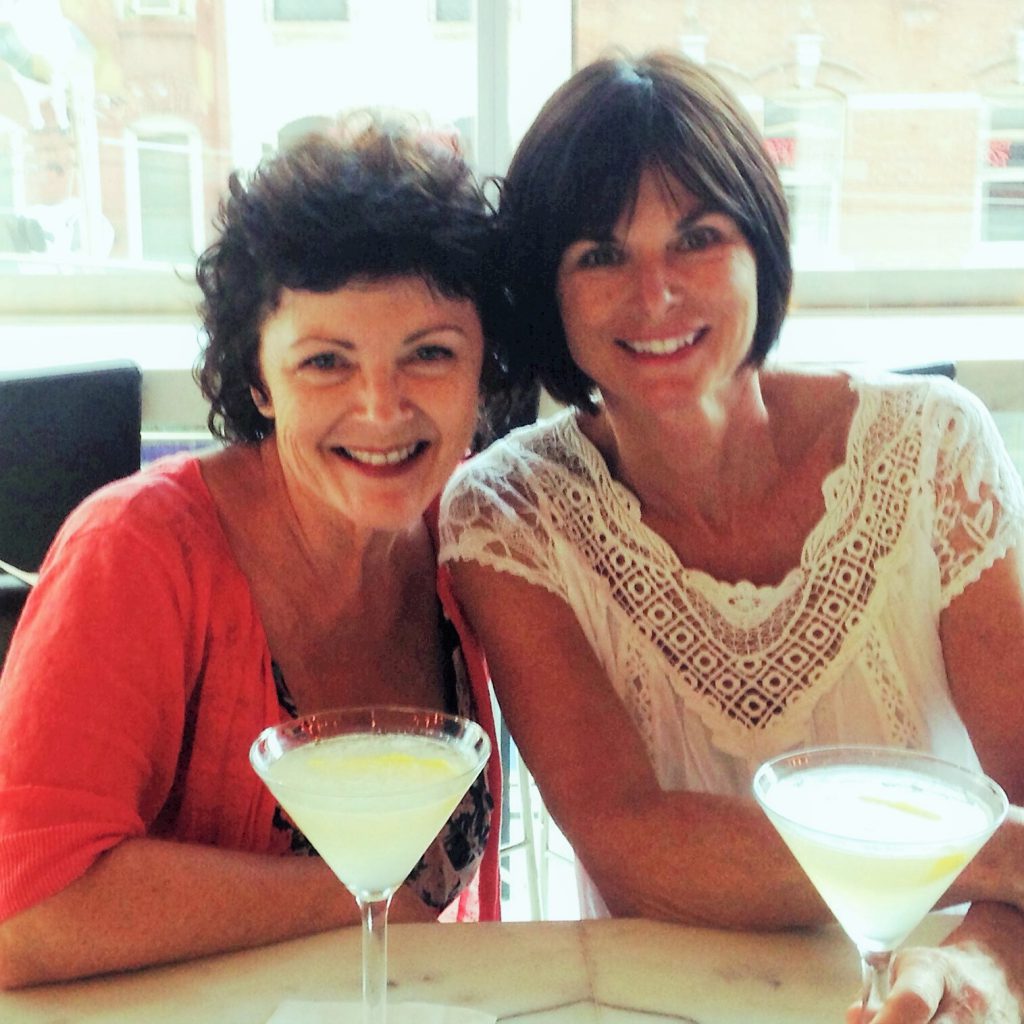 The Shangri-La great lounge right on the main floor, no reservations needed, fabulous cocktails and good celebrity watching.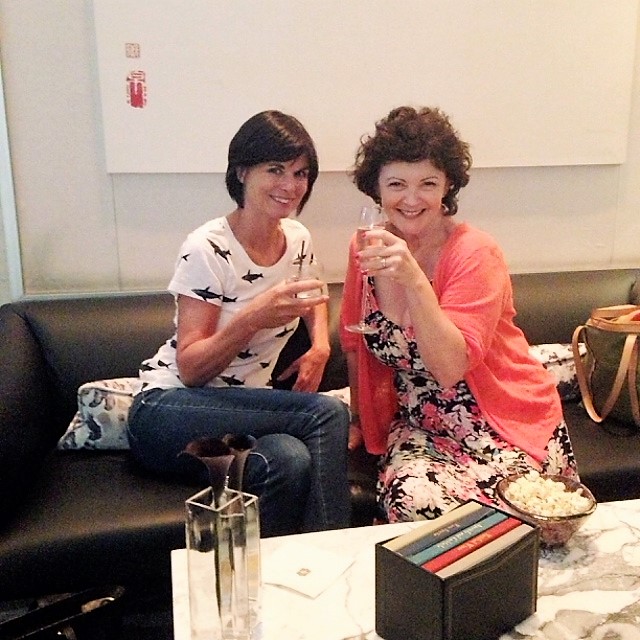 The Ritz-Carlton they have a great lounge on the main floor. It's has a modern and a very interesting cocktail menu.
If you love Italian food head over to Terroni on Adelaide or on Queen Street West or the one on Adelaide.
I love the the tapas at Patria on King Street West not far from TIFF Lightbox.
Love love the Library Bar at the Fairmont Royal York. This year they are hosting an installation as a special event for the public, more to come.
A little farther from the action – I checked out the Broadview Hotel's Roof Bar several weeks ago and we are so going there as well. 
And if you love Middle Eastern food out on Queen Street East check out Tabule.
Step 6
Wait patiently for your first movie.
Step 7 – Your first film day
Wear comfortable clothes and really comfortable shoes that are slightly upscale casual. I wear multiple layers because the air conditioning in most of the theatres makes me freezing! I always pack a large shawl/scarf – acts as a blanket, a head scarf if it starts raining and you didn't pack an umbrella, and it stifles coughing fits and weeping.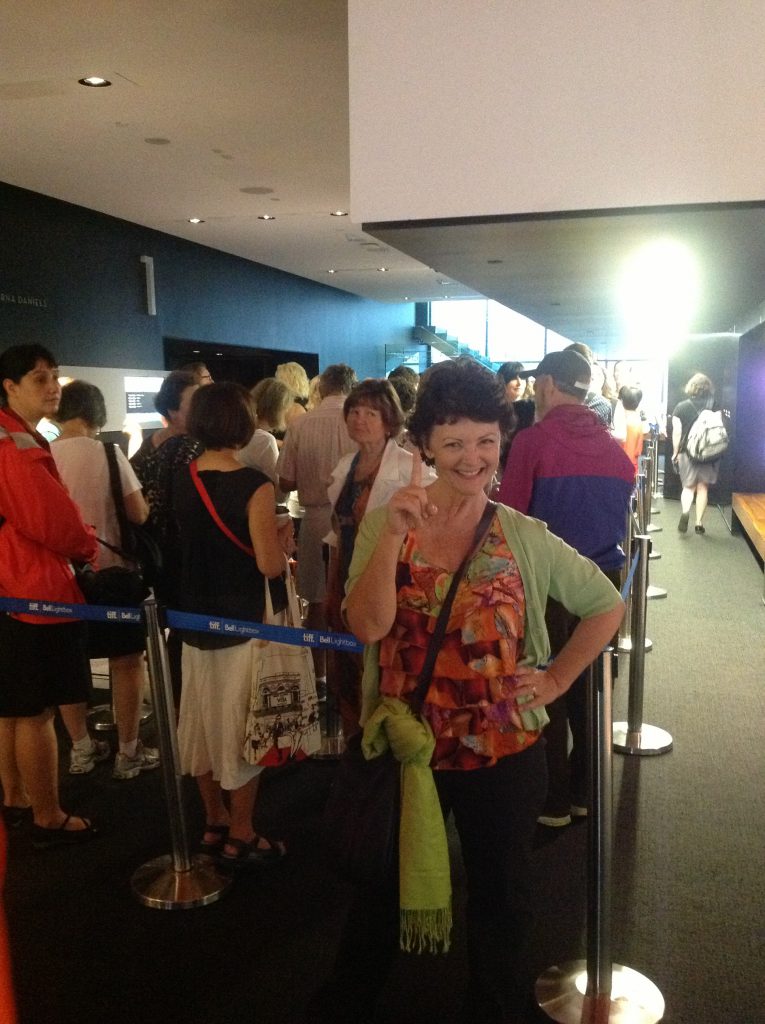 My purse becomes my house – I pack Kleenex (there are many tearjerkers at the festival) gum, cough candies, my CBD oil for pain (works for me), hand wipes, my schedule, tickets, TTC presto pass, VISA card (there is the VISA Screening Room at the Princess of Wales – there are perks), my TIFF membership card, water bottle, lipstick, lip balm, cell phone, cell phone charger, snacks, scarf, and an umbrella on the days it looks like it might rain.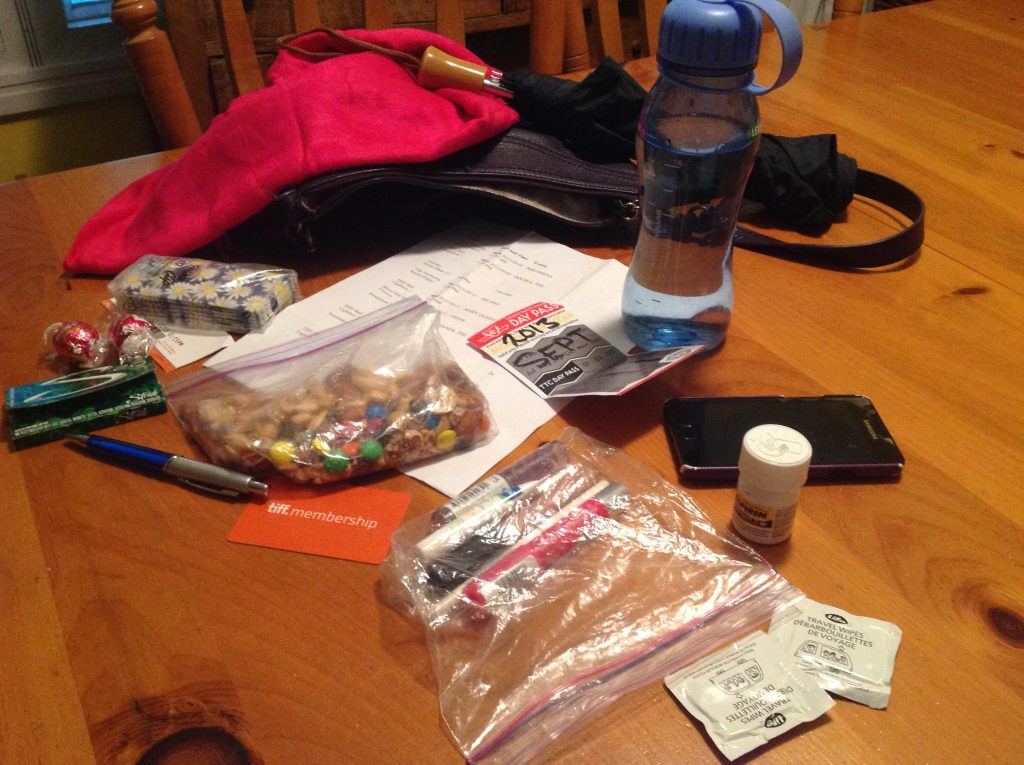 Expect line-ups. It's part of the fun! Meet new people, talk about the films you've seen, and watch for celebrities, if that's your thing. To ensure a great seat, line up early.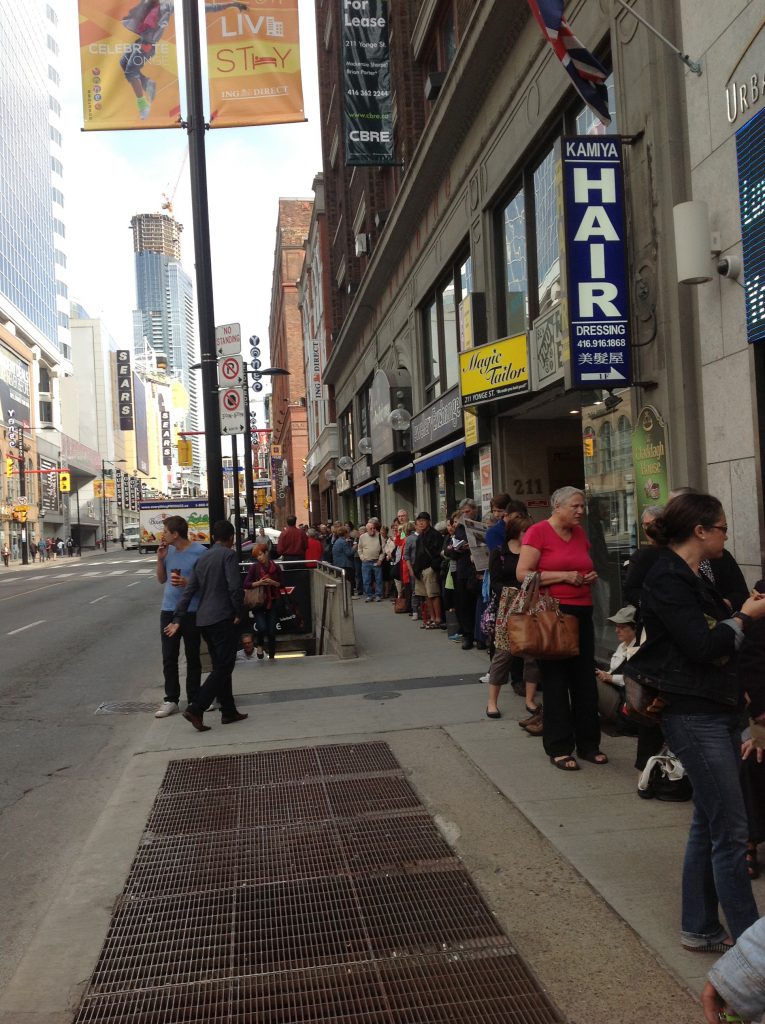 If you aren't a fan of lineups or can't stand for long periods of time invest in a camp stool. The year we went when I had my hernia, sitting on that stool saved my life! Works in the rain too….(if id only known about Lobby passes back then)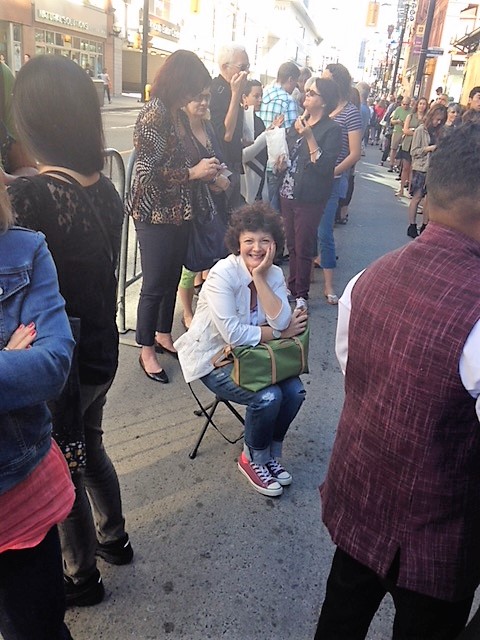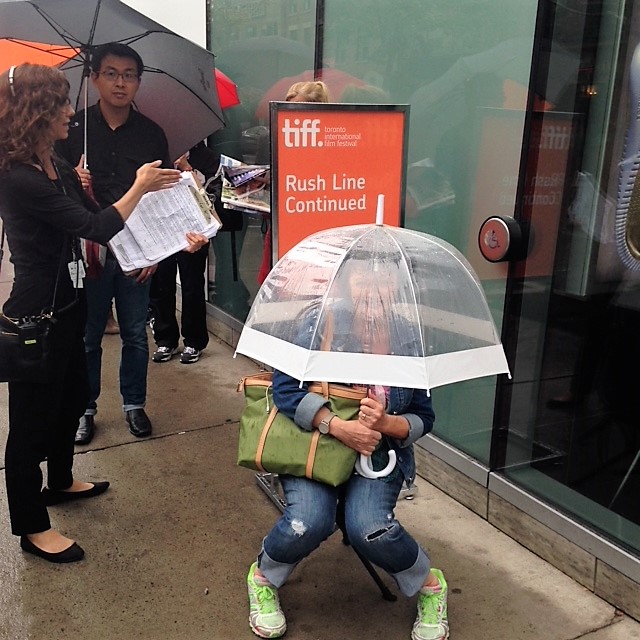 Step 8 – Transportation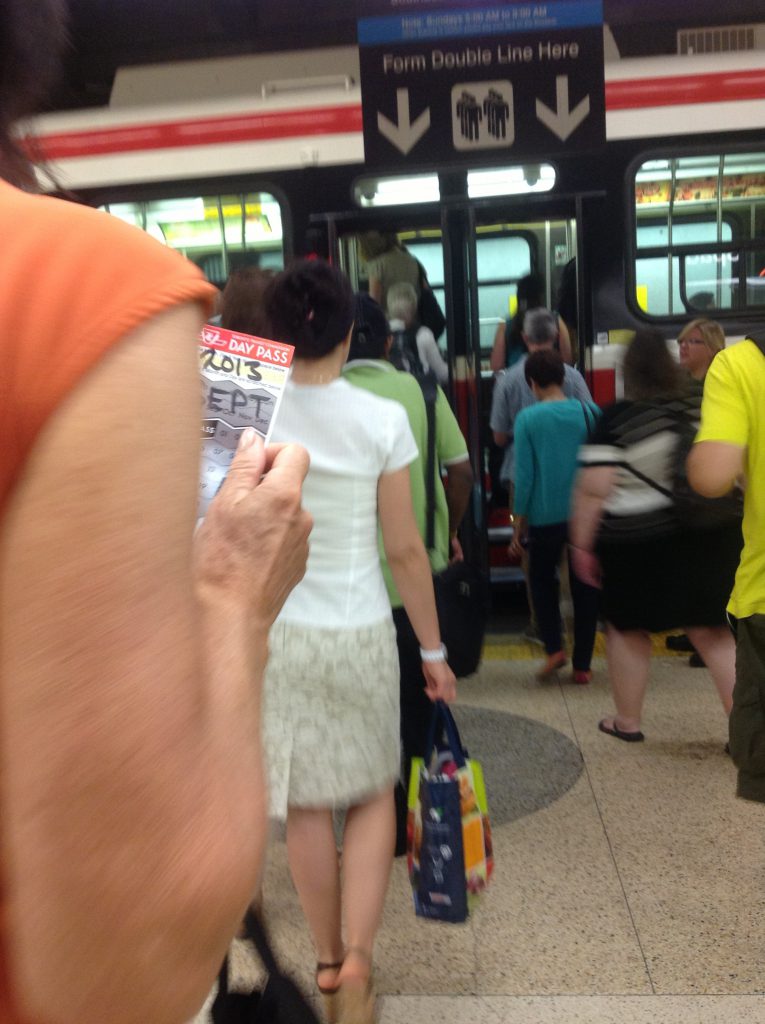 Forget taking your car anywhere near downtown, between the horrific road construction, road repairs, and the traffic for the festival, the TTC really is the better way.
If you are seeing multiple films and anticipate multiple uses of the TTC one day it is easier to buy an all-day TTC.
I have a presto pass but I live here in Toronto and use the TTC a lot.
Last year, due to an injury, I was in an air cast, crutches and a wheelchair. We TTCed it, which was challenging (I salute everyone n a wheelchair, it is so difficult to navigate everywhere you go. If you see someone in a wheelchair, please give them room to get by) we cabbed it and my husband dropped us off downtown.
Step 8
Get some rest when you can!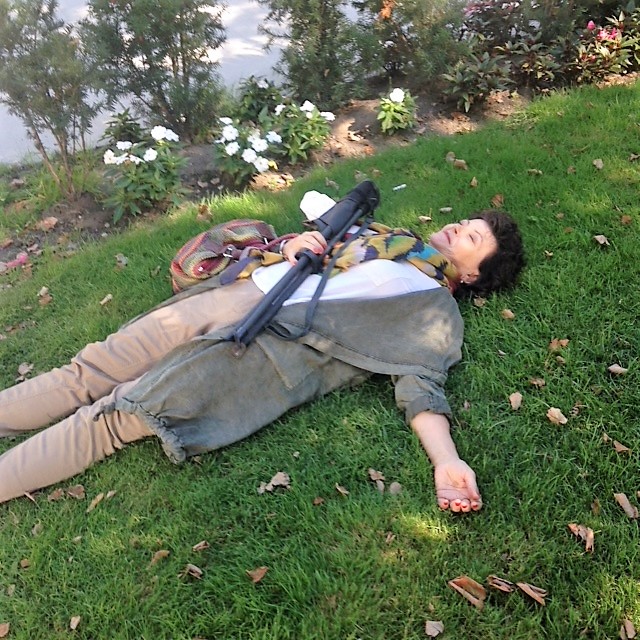 Step 9
Have fun. Then start planning for next year.