Bless the Food Gods because Ice Cream Season is in full swing.
Officially July is Ice Cream Month ~ who knew there was a designated month to eat ice cream in? As a self proclaimed ice cream-aholic, I celebrate Ice Cream Month every month of the year. Ice cream is my weakness and my best treat.
Two years ago I decided to sacrificed myself up as a human ice cream eating guinea pig and eat my way across Toronto one cone at a time, all under the name of research, took one for the team. What can I say? I'm an ice cream martyr.
Complete disclosure, I attempted this same culinary experiment many years ago convincing my husband that we should go to a different ice cream joint every week and try a different ice cream flavour. He willingly complied. Me? I had chocolate ice cream at all of the eight places we visited. What can I say, I'm a chocolate lover and in the ice cream department, apparently completely boring. So the article didn't really seem all that relevant anymore, so I pitched it.
But it was such a great idea, so, for this story, I ate outside of my ice cream preference comfort zone and experimented with different flavours.
I tried Burnt Marshmallow, Coffee, Mango, Orange Swirl, and Meyers Lemon. I even tried soft serve.
Full disclosure: I am a believer in the treat, as in you get a treat once in awhile. My husband and I went to Ed's Real Scoop, Bang Bang, Soma, La Diperie and Carters all over a five week period. But when I went to write this story I discovered that I had inadvertently deleted the pictures from Ed's and Carters. I knew I had to get pictures so I made an Ice Cream Crusade along with three fellow ice cream lovers on a very hot day in July. We bravely hit four places in 2.5 hours. I ate four different flavours all in the name of research and was sick all night. I took this human ice cream eating guinea pig thing very seriously. You could say, "I took it for the team!"
After hours of ice cream licking here's the list of my favourite ice cream joints in Toronto:
Not a surprise to anyone living in the Beaches, Ed's is an iconic ice cream shop which due to its popularity branched out to include a store farther down Queen Street in Leslieville and another one at the other end of town in Roncesvalles.
Ed's is the real deal. Homemade flavours that range from their most popular flavour Burnt Marshmallow to Blueberry Pie and my favourite Red Hot Chili Chocolate.
They also make frozen yogurt and gelato, sundaes, floats and milkshakes.
You want homemade frozen love? Go to Ed's. I had Burnt Marshmallow the first time I was there and French Mint and on the Ice Cream Crusade Day ~ see picture below…..
Every ice cream lover I know told me to try Bang Bang last year, but its at the other end of Toronto. You practically need a passport to get there. But due diligence was needed for this blog post so we made the trek to Ossington to find out what all the hoopla was about.
Wowza! Totally worth the drive and the lineup. Another all homemade extravaganza with their crowning glory ~ homemade ice cream cookies. Fabulous flavours, including some bizarre ones like Corn on Cob and Bellwood Beer and Brown Bread, for those thinking outside the ice cream flavour box. I had Burnt Toffee…..worth every single lick. Scott had A Peanut Butter Cookie Ice Cream Sandwich with Peanut Butter and Concord Grape Jelly Ice cream. FYI: if you don't like lineups go there about 10-15 minutes before they open, you might, just might be the first in line.
And for whatever reason their website always seems to be on the fritz.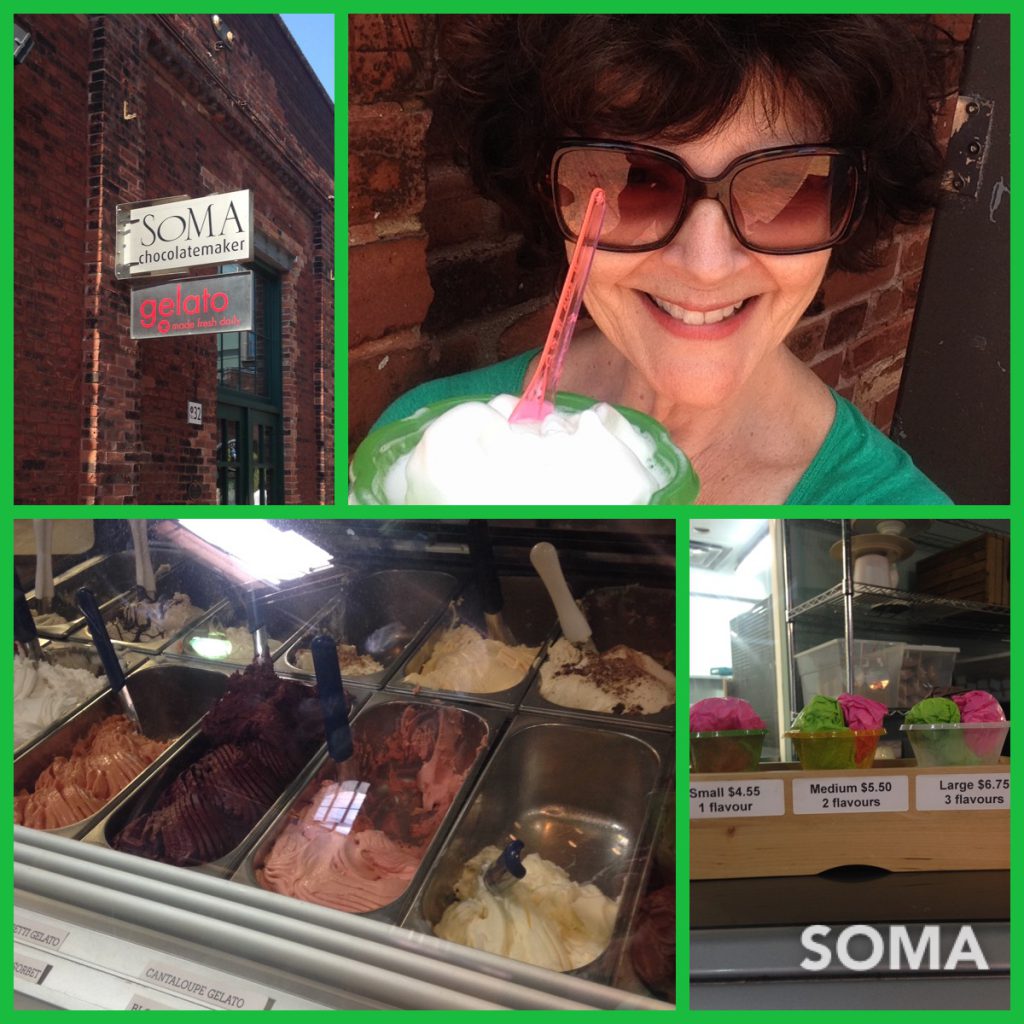 If you love chocolate or gelato or sorbet check out Soma in the Distillery District or on King Street West. They have a small but fabulous selection or premium treats. Scott had his usual Blueberry Basil and I had the Meyers Lemon Sorbet. Not too sweet and with the right amount of pucker to make me wish I had ordered the large serving.
This popular gelato institution has three shops in Toronto: one on College, one on the Danforth and one in Kensington Market. On the Ice Cream Crusade Day we indulged in gelato joy. Fresh, fabulous and with over 50 flavours.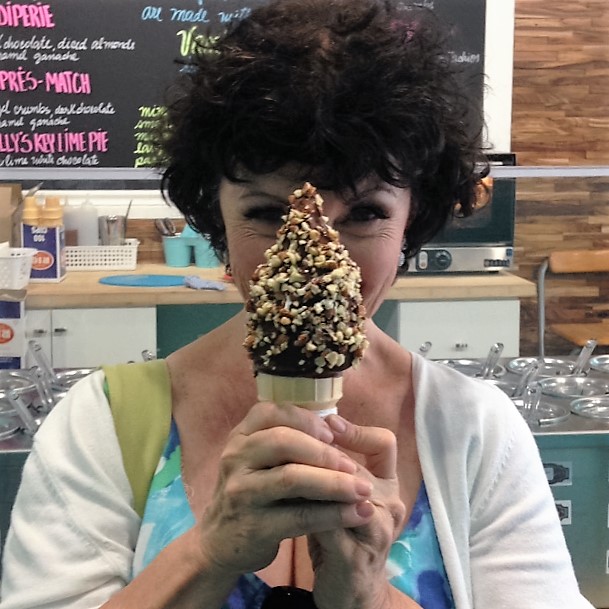 A new kid on the ice cream block and for the lovers of soft serve this amazing little place is on the Danforth by Chester Avenue. You can order a mini, small, medium or large cone of vanilla soft serve that gets a plunge into premium chocolate. Here's the fun part, it can be regular dark chocolate or Dark Chocolate with Orange or Milk Chocolate with Truffle or……there are so many chocolate choices, I was seriously mesmerized. Then you can have it rolled in a choice of nuts, candy, cookies, chips….or not. I went with almonds. As a kid I was banned from having any soft ice cream that was dipped because dollars to doughnuts I'd drip it all over myself and whoever was sitting close to me. Apparently….I haven't lost my knack. I dripped this decadent cone of yum all over my sunglasses which were tucked into my top. Fabulously decadent. On the Ice Cream Crusade Day I had a mini. FYI: they only take cash.
This neighbourhood ice cream place is located close to East Lynn Park and a family favourite because it's within a long summer evening walk from our house. I like to call it a destination wander. They only serve Kawartha Ice Cream which is an Ontario favourite. I usually order chocolate which is wonderful, but for this blog post I had Orange Swirl which was also wonderful and gave me a food flashback to my childhood in Vancouver. On the Ice Cream Crusade Day we were so stuffed with ice cream and gelato that we shared a cone. See picture, and no we didn't all lick it, there were spoons involved.
We didn't make it to Greg's on Bloor at Spadina this time around but take my word for it, it's fabulous. It's an iconic ice cream shop in the west end I occasionally dream of their Coconut Ice Cream. Whenever I find myself at Bloor and Spadina the next thing I know I'm choosing a flavour at Greg's.
If you want to dabble in ice cream making check out my post from last year.