November 11, 2020
Tuscan White Bean Soup GF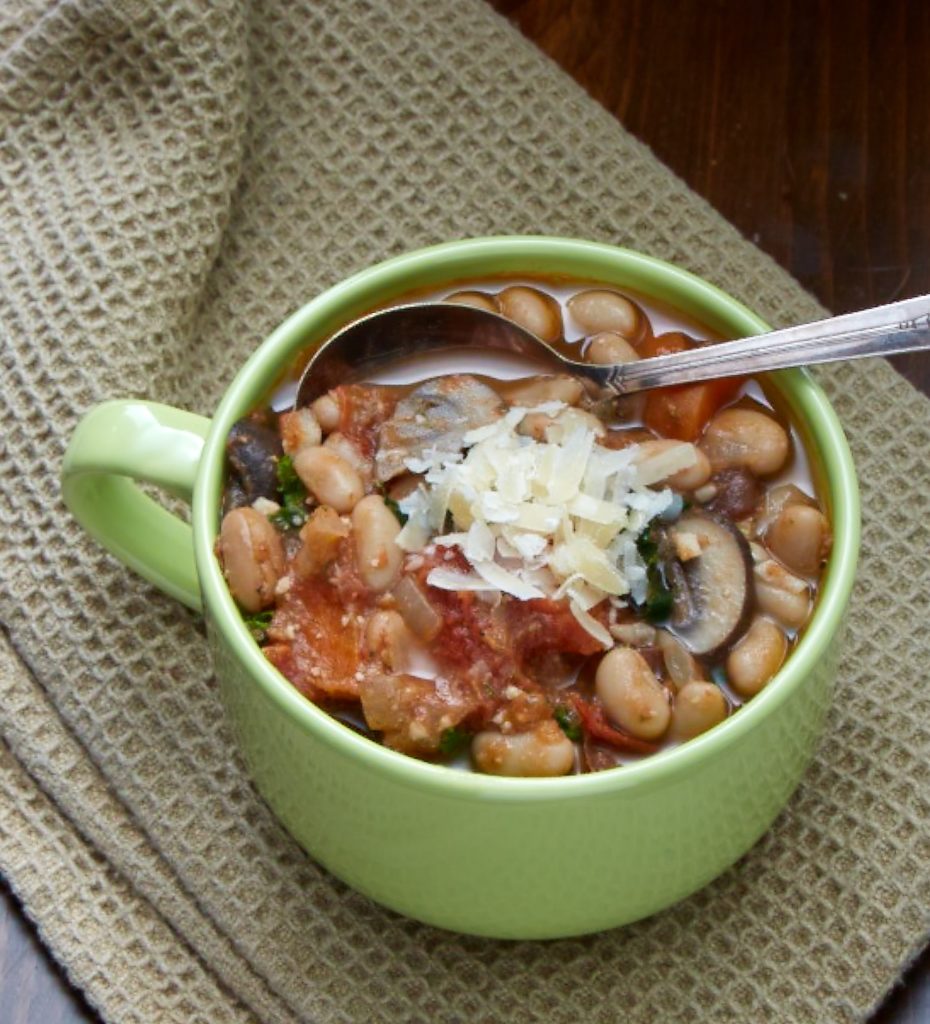 This hearty stick to your ribs soup is a perfect dinner for those cold rainy or snowy winter nights. It's a comfort soup, every spoonful feels like a big hug.
See Professional home economist tips below to convert this into a Vegetarian Main Course Soup.
2 oz. prosciutto, approx. 4-5 slices – see below
1 Tbsp canola oil
1 onion, diced
6 cloves garlic, minced
3 stalks celery, leaves included, thinly sliced
2 medium carrots, scrubbed, cut into ½ -inch slices
8 oz. cremini mushrooms, rinsed, sliced thinly
½ tsp table salt
¼ tsp freshly cracked coarse black pepper
One – 28 oz./796 mL can no salt added plum tomatoes – see below
3 cups no salt added chicken broth
Two -19 oz./540 mL cans no salt added cannoli beans or white kidney beans, rinsed and well drained
Two of Mairlyn's Flavour Bombs – from my cookbook Peace, Love and Fibre OR ¼ cup commercial pesto
3 cups baby kale or coarsely chopped kale, steams removed – you can use frozen
¼ cup + 2 Tbsp finely grated Reggiano parmigiana
Chop prosciutto into the size of a white bean, set aside. Heat a Dutch oven or a large saucepan over medium-high heat. Add oil and prosciutto and sauté until the prosciutto starts to look cooked and the fat has melted off, approximately 1-2 minutes.
Add onion and continue sautéing until the onion starts to turn golden brown, approximately 3-5 minutes. Add garlic, celery, carrots, mushrooms, salt and pepper and sauté for 3-5 minutes or until the vegetables begin to soften.
Add tomatoes, broth and beans. Stir in well, scraping any bits off the bottom of the pot. I like to call these flavour bits. Bring to the boil, cover, simmer for 20-25 minutes or until the carrots are soft.
Add Mairlyn's Flavour Bombs or pesto and kale, stir in well. If using my flavour bombs, allow to melt. Remove from heat. Ladle into individual bowls and sprinkle each serving with 1 Tbsp Reggiano parmigiana.
Makes 12 cups
One serving = 2 cups
Per Serving: 371 Calories, 10.4 g Total Fat, 2.1 g Saturated Fat, 0 g Trans Fat, 5 mg Cholesterol, 562 mg Sodium, 46.2 g Carbohydrate, 11.9 g Fibre, 7.1 g Sugars, 0 g Added Sugars, 23.2 g Protein, 1328 mg Potassium
Carbohydrate Choice = 2 choices
Professional home economist tips:
Prosciutto is an Italian dry-cured ham that is usually thinly sliced and served uncooked, or added to risottos, or pasta dishes. I love the flavour it adds to this thick soup. Feel free to substitute either pancetta (an Italian style of bacon) or back bacon.

I use San Marzano tomatoes for this recipe, they are thicker, and I love their rich tomato flavour. but if you dont have any use regular canned tomatoes.

To make this a vegetarian man course soup, eliminate the bacon and add 2 Tbsp oil. Sub out the chicken broth and use vegetable broth instead and voila a Vegetarian soup has been created.

This recipe is from Peace, Love and Fibre (appetite Random House 2019)

Available at most book stores or online at:

Catch me on my Facebook Fan Page mairlyn.smith Wednesday, November 11, 2020 at 8 pm EST – I'll be making this soup live.

Makes 12 cups