September 22, 2020
Shakshuka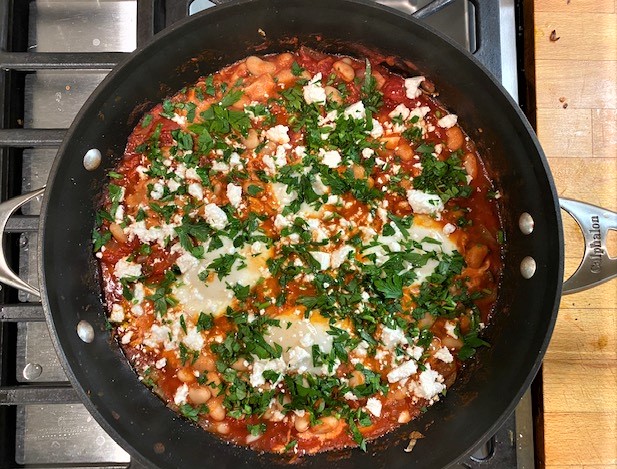 Shakshuka is a traditional Middle Eastern dish that features eggs poached in a spicy tomato sauce and topped with feta. It's the comfort food one pan dish you want to serve in the fall and winter months.
As the Queen of Fibre, I have added my own fibre spin to the traditional version by adding white beans to bump up the protein, fibre and the satiety.
Serve this with warm pita bread or any warm flatbread or crusty bread you have.
2 Tbsp canola
1 medium onion, diced
½ jalapeño pepper, remove stem and seeds, diced
6 cloves garlic, grated or finely diced
1 Tbsp smoked paprika
One- 28 oz. can San Marzano tomatoes
One – 19 oz. can white kidney beans, rinsed and drained
4-8 omega-3 eggs, depending on if you are serving 2-4 people
½ cup crumbled feta cheese
½ cup chopped parsley
Heat a large non stick frying pan over medium heat, add the oil. Toss in onion and sauté for 2-3 minutes or until starting to turn golden. Add jalapeño and sauté for another minute. Add garlic and smoked paprika and sauté for 1-2 minutes.
Using a paring knife chop up the tomatoes while that are still in the can, pour into frying pan and stir well. Tip in beans and stir in well. Bring to the boil and stir once more.
Using a wooden spoon of a heat safe spatula make 4-8 holes (depending on the number of eggs you are using) in the mixture and then crack an egg into each hole.
Cover the pan with a lid and cook the eggs until your desired yolk doneness, anywhere between 4-7 minutes. When the yolks are to your preference, remove pan from heat and sprinkle evenly with feta cheese and parsley.
To serve – divide equally into serving sizes. I typically serve 2 eggs per serving and serve in shallow soup bowls. Add hot sauce if desired.
Professional home economist tips:

This dish was inspired by a post from the two RD's over at How To Eat. 

Traditionally Shakshuka uses regular paprika and cumin. I prefer the flavour from smoked paprika so I eliminated the cumin.

To see the demonstration on how to make my spin on Shakshuka check out my Facebook Live show Wednesday September 21 at 8 pm EDT on my Facebook fan page mairlyn.smith (don't forget the dot)

Serves 2-4