July 2, 2020
Cranberry Maple Butter Tarts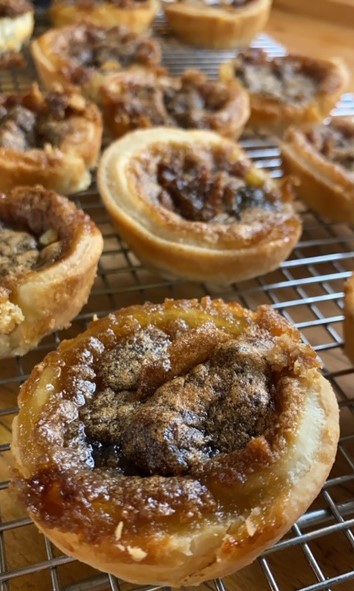 Makes 12 tarts
These maple cranberry butter tarts fall under my definition of a treat. They are fabulous to eat and only to be indulged in for special occasions, savouring every morsel.
Three professional home economists worked on this recipe. Sue Soderman submitted the recipe, but I felt the cookbook needed a different spin on pastry, so Pat Moynihan Morris P.H.Ec. & Olga Kaminskyj P.H.Ec. tested the recipe using a cream cheese pastry and voila!  Three professional home economist's put a new spin on the quintessential Canadian tart renowned throughout the colonies was created.
Pastry:
1½ cups all-purpose flour
½ cup unsalted butter, softened
½ cup light cream cheese, softened
Tart Filling:
½ cup chopped dried cranberries
¼ cup unsalted butter, softened
¼ tsp iodized salt
½ cup lightly packed brown sugar
1 – omega-3 egg
¼ cup pure maple syrup
½ tsp pure vanilla extract
To make the pastry: In a food processor; using the Pulse action, process flour, butter and cream cheese in food processor until mixture is well blended and starts to form a ball. Shape into ball with hands, wrap tightly with plastic wrap. Refrigerate 1 hour or until chilled. If you leave it longer it becomes very hard and is difficult to roll out.
Heat oven to 375ºF . Roll out pastry on lightly floured surface to ¼-inch thickness. Cut into 12 rounds with 4- inch cutter. Line 12 muffin pan cups with pastry rounds. Don't press down too heavily, lightly does it. Place cranberries in muffin cups.
To make the tarts: Cream butter, add brown sugar and salt and gently beat in. Add egg and beat until well blended.
Stir in maple syrup and vanilla.
Fill pastry cups ¾ full of the filling mixture.
Bake for 15-18 minutes until the filling is set and the pastry golden brown.
Let cool in muffin pan until set and cool enough to touch. Carefully remove and continue cooling on a wire rack.
Per Serving: 264 Calories, 14.6 g Total Fat, 8.8 g Saturated Fat, 0.7 g Trans Fat, 110 mg Sodium, 30.7 g Carbohydrate, 0.7 g Fibre, 17.3 g Sugars, 15.8 g added sugars, 3.5 g Protein

Carbohydrate Choices – 2

Watch my Facebook Fan page for the live version we shot on July 1, 2020. At Mairlyn.smith

To order Homegrown on Amazon.ca  and on Indigo.ca 

From Homegrown Recipe by: Sue Soderman, P.H.Ec.