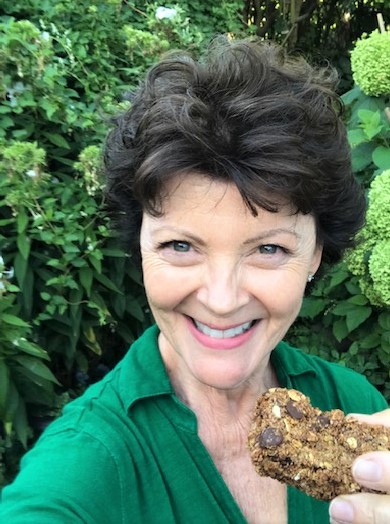 (recipe from Peace, Love and Fibre) 
Makes 24 bars
It's 4:00 pm and you're hungry, crabby and angry. If someone even dares to look at you the wrong way, having a full-blown tantrum a la a two-year-old seems like a normal option. You're hangry; trust the Urban Dictionary to come up with that perfect new word.
These snack bars are loaded with soluble fibre which will help fill you up no matter what time of the day you eat them. Just remember that as you increase your fibre intake you need to increase your fluid intake, or you and your digestive system will be hangry at each other.
2 cups large flake oats
1 ½ cups oat bran, sometimes called oat bran cereal
1 cup whole grain barley flour – available at most bulk stores
1 ½ cups ground flaxseed
1 cup dark or bittersweet chocolate chips
1 ½ cup whole pitted dates
½ cup canola oil – use a glass measuring cup
¼ cup water
2 – omega-3 eggs
1 cup packed dark brown sugar
2 Tbsp natural cocoa powder
2 Tbsp cinnamon
1 Tbsp pure vanilla extract
Make sure the rack is in the middle of the oven. Preheat to 375°F Line a 9×13-inch baking pan with wet parchment paper, make sure there is some overhang, you need to be able to pick up the cooked snack bars and you'll need that overhang for grabbing. Wring it out well, and shake off excess water. See page xx and you're welcomed for that fabulous tip.
In a large bowl mix together the dry ingredients: oat flakes, oat bran, flour, flaxseed and chocolate chips.
In the bowl of a food processor fitted with the steel blade attachment, pulse the dates, oil, water, eggs, sugar, cocoa, cinnamon and vanilla. It will be noisy and depending on how old your food processor is, it might dance around on the counter. Puree until there are only small specks of dates visible.
Add to the dry ingredients, use a rubber spatula to get as much of this date mixture out of the food processor and into the dry ingredients where they now belong. Stir using a large wooden spoon until it's well combined and there are now visible signs of dry flour. Tip: I always end up using my hands, bonus all this mixing is great for building up wrist strength.
The batter will be sticky so just plop it into the prepared pan, spread it out and then either lightly press down with the back of the spoon or dampen your hands, I usually rinse then first, and then lightly press the mixture down.
Bake for 25-27 minutes. Remove from oven and let cool in the pan for 5 minutes to set.
Using the excess parchment paper on the sides lift the bar out of the pan and place on the wire rack, parchment paper and all. Let completely cool and then cut into 24 bars, store in an airtight container for up to 2 weeks, or freeze up to 3 months. I like to wrap them up in waxed paper and then freeze them in bags. On a morning that I know I might get stuck anywhere around the witching hour aka 4 PM, I've got a healthy snack ready and waiting and calling my name.
Makes 24
One serving = 1 bar
Per Serving: 272 Calories, 12.5 g Total Fat, 2.7 g Saturated Fat, 0 g Trans Fat, 16 mg Cholesterol, 12 mg Sodium, 39.6 g Carbohydrate, 6.3 g Fibre, 19.4 g Sugars, 15.1 g Added Sugars, 5.7 g Protein, 279 mg Potassium
Carbohydrate Choice = 2 choices
Professional home economist tip:
Kids don't need as much fibre as adults so cut the bars into 48 squares if you are making these for children under 12.
Recipe is from Peace, Love and Fibre  Over 100 Fibre-Rich Recipes for the Whole Family Paperback – appetite Random House 2019 
Contest rules for September 4, 2019 Giveaway:
I'm having a give away over on my Facebook Live on September 4, 2019. Watch Live at 8 pm EDT or check out the replay.

You can find me on my fan page @mairlyn.smith don't forget the dot!

I'm making these Snack Bars and I've got a Breville Food Processor the Sous Chef™12 to give away.

(Approximate Retail Value  = $469.00 CAD)

Here are the rules:

IMPORTANT: Please read these Official Rules before entering the Peace, Love & Fibre Facebook Live give away contest. By entering the Contest, you agree to the terms of these Official Rules.  These Official Rules shall govern in the event of any inconsistency with other Contest-related materials.

This give away contest is no way sponsored, endorsed, administered by, or associated with Facebook.

NO PURCHASE NECESSARY TO ENTER OR WIN.

ELIGIBILITY:  The Contest is open to residents of Canada (excluding Quebec) and excluding the fifty (50) United States and the District of Columbia, who have reached the age of majority in their province or territory of residence at time of entry. Contest is subject to all applicable laws and regulations. VOID WHERE PROHIBITED OR RESTRICTED. Employees of Sponsor, its parents, subsidiaries, affiliates, suppliers, and agencies, and their immediate family members and persons living in their household are not eligible to enter the Contest.

ENTRY PERIOD: The Contest begins at 8:00 PM (Eastern Daylight Time) on Wednesday September 4, 2019 and ends at 12:01 AM (Eastern Daylight Time) on Monday, September 9, 2019

HOW TO ENTER:  Enter by leaving a comment containing your favourite fibre food on Mairlyn Smith's September 4, 2019 Facebook Live post, during the contest entry period.

In the case of a dispute, entries will be deemed made by the authorized holder of the applicable social network account and/or email address used for entry.  Automated entries are prohibited, and use of any automated devices will result in disqualification.  Sponsor is not responsible for incorrect or inaccurate entry of information by entrants; lost or late entries or transmissions; interrupted or unavailable network, server, or other connections; scrambled transmissions or other errors or problems of any kind whether mechanical, human, or electronic, technical malfunctions of any computer hardware, software, or any combinations thereof; or problems associated with any virus or any other damage caused to entrants' systems.  Incomplete or ineligible entries will be voided.   All entries become the property of Sponsor and will not be returned. If for any reason the Contest is not capable of being conducted as described in these rules, Sponsor shall have the right to cancel, terminate, modify or suspend the Contest.

Posts including photographs may not include obscene, offensive or inappropriate (in Sponsor's sole and absolute discretion) material or defame any person, or otherwise infringe on any person's proprietary rights.

PRIVACY POLICY: All information submitted in connection with entry to this Contest shall be governed by Sponsor's privacy policy. By entering this Contest, you acknowledge that you have read and agree to this privacy policy

PRIZE:

One (1) Grand Prize Winner will receive one Breville Food Processor the Sous Chef™12 P

(Approximate Retail Value  = $469.00 CAD).

No transfer or cash or other substitution of all or part of a prize is permitted, except by Sponsor, which reserves the right, in its sole discretion, to substitute the prize or prize component with another of comparable or greater value. Any and all taxes on the prize will be the responsibility of the Winner. Sponsor shall not be responsible for any delays, damage in the delivery of the prize, and/or loss of any prize in connection with delivery of the prize via mail.  In the event that there is an insufficient number of eligible entries, Sponsor reserves the right not to award the prizes.

WINNER SELECTION: One (1) Grand Prize Winner will be selected in a random drawing on or around September 9, 2019 after 12:01 am from all eligible entries received by the entry deadline. The odds of winning depend on how many eligible entries have been received. Winners will be notified via a comment by either Sponsor or Mairlyn Smith that he/she is a potential winner and Sponsor or Mairlyn Smith will provide an email address (or other contact information) where he/she can make a prize claim.  Winners must respond to such notifications within ten (10) days of receipt. Winners must provide Sponsor will full contact details in order to be awarded the prize.  Winners may also be required to complete, execute and return an Affidavit of Eligibility and Release.

NOTE: Selected entrant/s will be required to answer a time-limited arithmetic skill-testing question in order to qualify as the Winner.

Noncompliance with these conditions may result in forfeiture of the Prize, and Sponsor reserves the right to select alternate winners (in random drawing from other eligible entries received before the deadline) in such circumstance. If winner notification of the Prize is returned as undeliverable, Sponsor may, at its discretion, select an alternate winner.

DISCLAIMERS:  By competing in this Contest and/or accepting the prize, entrants agree that Sponsor, Facebook, and their respective parent companies, assigns, subsidiaries and affiliates, and advertising, promotion and fulfillment agencies and all of their respective employees, officers and directors will have no liability whatsoever, and will be held harmless by entrants for any liability for any injuries, losses, or damages of any kind to person and property resulting in whole or in part, directly or indirectly, from the acceptance, possession, misuse, or use of the prizes, or participation in this Contest. By accepting the prize, Winner consents to the use of his/her name for publicity and promotional purposes on behalf of Sponsor with no additional compensation or further permission (except where prohibited by law).

Any dispute arising from this Contest will be determined according to the laws of the Province of Ontario, including the procedural provisions of those laws, with giving effect to any choice of law or conflict of law rules.  All entrants agree to consent to the jurisdiction of the courts of Ontario, sitting in Toronto, Ontario, for the determination of any matter or dispute arising under or in respect of.

Snack Bars