November 29, 2018
Gingersnaps – a Smith family tradition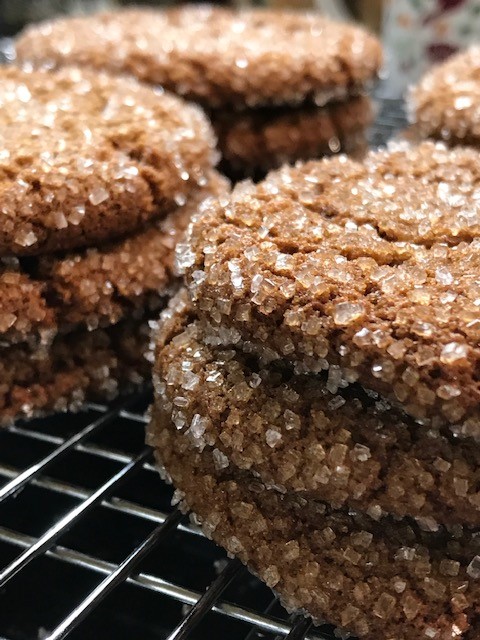 Baking gingersnaps is a Christmas family tradition at the Smith house.
My dad was diagnosed with heart disease when I was in university and it was one of my missions to create heart healthy foods for him. When I discovered canola oil I switched the original gingersnap recipe that contained shortening to heart healthy canola oil and as a result dad got his favourite cookies every Christmas.
½ cup (125 mL) canola oil
1 cup (250 mL) granulated sugar
¼ cup (60 mL) molasses
1 omega-3 egg
1 ¾ cup (425 mL) whole wheat flour
1 tsp (5 mL) baking soda
1 tsp (5 mL) baking powder
1 Tbsp (15 mL) ground cinnamon
2 tsp (10 mL) ground ginger
1/4 cup (60 mL) dried diced candied ginger
1/2 cup (125 mL) sanding or coarse sugar, available at most bulk stores
Preheat oven to 375°F (190°C). Line a cookie sheet with parchment paper.
In a large mixing bowl using electric beaters, beat together canola oil and sugar.
Add molasses and egg. Beat until fluffy.
Stir in whole wheat, baking soda, baking powder, cinnamon, ginger and candied ginger until the dough comes together.
Place sanding sugar into a shallow bowl.
Scoop out teaspoonfuls of the dough, roll into a ball and lightly press into the sanding sugar to slightly flatten. Flip over and place sugar side up onto the cookie sheet.
Bake for 12-15 minutes or until golden brown. Let cool on cookie sheet for 1 minute, remove from parchment paper and let cool on cookie sheet.
Store in air tight container for up to 1 week. Or freeze for up to 3 months.
Makes – 36 cookies
1 Serving = 2 cookies
2 cookies contain: 160 Calories, 7 g Total Fat, 0.5 g Sat Fat, 0 g Trans Fat, 90 mg Sodium, 25 g Carbs, 1 g Fibre, 2 g Protein.
Glam it up for Christmas
If you are chocolate lover, omit the sanding sugar, chop up ¼ cup (60 mL)  dark chocolate and set aside. Scoop out the dough and form it into a ball, then slightly flatten it using the heel of your hand right onto the prepared cookie sheet. Bake as per the directions above. When the cookies come out of the oven, sprinkle a small amount of the chopped chocolate on top of each cookie. Let the chocolate melt and then spread out with a knife. Let cool for 1 minute, remove from cookie sheet and place on a wire cooling rack. Let the chocolate set and then store in an airtight container for up to one week, or freeze for up to one month.