March 6, 2012
Chicken Soup and Irish Soda Bread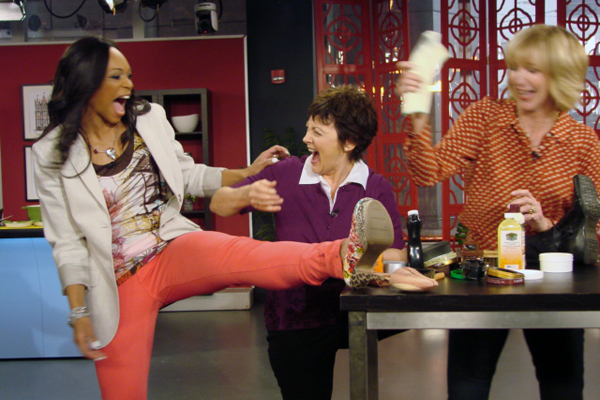 This quick bread is a great addition to a night when you're making a pot of soup for dinner. While the soup is cooking, make this whole grain bread.
Dry Ingredients
2 cups (500 mL) whole wheat flour
2 tbsp (30 mL) wheat germ
2 tbsp (30 mL) ground flaxseed
1 ½ tsp (7 mL) baking powder
½ tsp (2 mL) baking soda
1 tbsp (15 mL) dark brown sugar, packed
Wet Ingredients:
1 – omega-3 egg
¾ cup (175 mL) 1% fat plain yogurt
2 tbsp (30 mL) canola oil
Preheat oven to 375°F (190 °C). Line a cookie sheet with parchment paper or lightly grease.
Mix together all of the dry ingredients in a large bowl: the whole wheat flour, wheat germ, baking powder, baking soda, and the brown sugar with a whisk.
Whisk together the wet ingredients in a small bowl: the egg, yogurt, and the oil.
Add the wet ingredients to the dry ingredients and stir till combined. If the dough is sticky, add a bit more flour.
Now – roll up your sleeves, you are going to knead the bread. Lightly flour a board or your counter with whole wheat flour.
Place the dough in the centre of the flour. Push the dough down and away from you with the heel of your hands, and then turn it one quarter turn, and bring the top flap of dough over to fold in half. Repeat nineteen more times.
Shape the dough with the smooth side facing up into a round loaf 1 ½ – inches (4 cm) thick and 6 inches (15 cm) in diameter.
Place on prepared pan. Using a sharp knife make a shallow X in the centre of the loaf.
Bake for 35-40 minutes.
It's ready when it's golden brown on top and darker brown on the bottom. The loaf should look like a giant biscuit. If you gently knock on the top of the loaf, it should sound hollow. Remove from pan, place on a wire rack to cool for 10 minutes, cut into 16 wedges and serve.
Makes 16 wedges. One serving = one wedge One Serving Contains: 91 Calories, 3 g Total fat, 0.4 g Sat Fat, 0 g Trans Fat, 85 mg Sodium,12.7 g Carbs, 1 g Fibre, 1.6 g Sugars, 3 g Protein
Diabetes Food Choice Values Per Serving:1 carbohydrate, ½ fat
Chicken Soup for Your Cold Fall/Winter Kid Friendly
Is this a culinary myth or a fact – Chicken soup is good for a cold.
If you knew it was a fact, give yourself a tooney. It's true.
The steam from Grandma's Penicillin helps you breathe better, as well as keeping you hydrated. So the next time anyone in your family gets a cold, you can make this quick and easy soup.
This recipe is loaded with garlic to help fight the infection, the carrots and mushrooms are there to help your immune system working, and there is plenty of protein from the chicken and the quinoa to keep all systems nourished.
Adults if you need some zip, add some cayenne or your favourite hot sauce.
6 cups (1.5 L) lower sodium chicken broth
4-6 cloves garlic
1 onion
2 large carrots, scrubbed well, unpeeled
2 stalks celery
8 oz (250 g) cremini mushrooms
¼ cup (60 mL) whole grain quinoa, rinsed
1 lb (500 g) skinless, boneless chicken breasts
1 cup (250 mL) frozen peas
½ cup (125 mL) finely chopped fresh parsley
Pour chicken broth into a large pot over medium high heat. Bring to the boil.
While the broth is coming to the boil, mince garlic and set aside.
Dice onions and set aside. Scrub carrots and slice into coins or dice, your choice.
Wash celery and either slice or dice, your choice.
Gently wash mushrooms under running water. Let drain in a colander. Cut in half.
By now the broth should be boiling. Add carrots, celery, quinoa and mushrooms. Bring back to the boil, cover, reduce heat, and simmer for 12 minutes.
Meanwhile chop up the chicken into 1 inch (2.5 cm) pieces. Food safety: use a separate chopping board for raw meats.
Add chicken and garlic, turn heat to medium low, stir well and gently cook till chicken is cooked through, approx. 8 – 10 minutes.
Add frozen peas and parsley, stir well and serve.
Makes 10 cups One serving is equal to 2 cups (500 mL) One serving contains: 229 Calories, 2.5 g Total fat, 0 g Sat Fat, 0 g Trans Fat, 249 mg Sodium, 18.8 g Carbs, 4 g Fiber, 7.2 g Sugars, 33 g Protein
Diabetes Food Choice Values Per Serving: 1 Carbohydrate, 4 ½ Meat and Alternatives