When you trace my roots I'm mostly Scottish, with a close tie for second place going to my English and Irish heritage.
Many moons ago, after graduating from university, my best friend and I traveled to the UK and Europe. We were backpacking and staying at B&B's, spending a night here and a night there. We ventured up to Edinburgh but the only thing I remember is, it was Guy Fawkes Day and they were burning an effigy of him. We were bewildered. And we left the next day.
I'd wanted to return to Scotland for years to experience Scotland with my husband, so when a dear friend of ours' daughter invited us to her wedding in Norwich, England we decided to fly into Scotland, discover the land of my Grandparents and then drive down to the wedding.
I made plans, cashed in my VISA points and we flew on Air Canada Rouge to Edinburgh.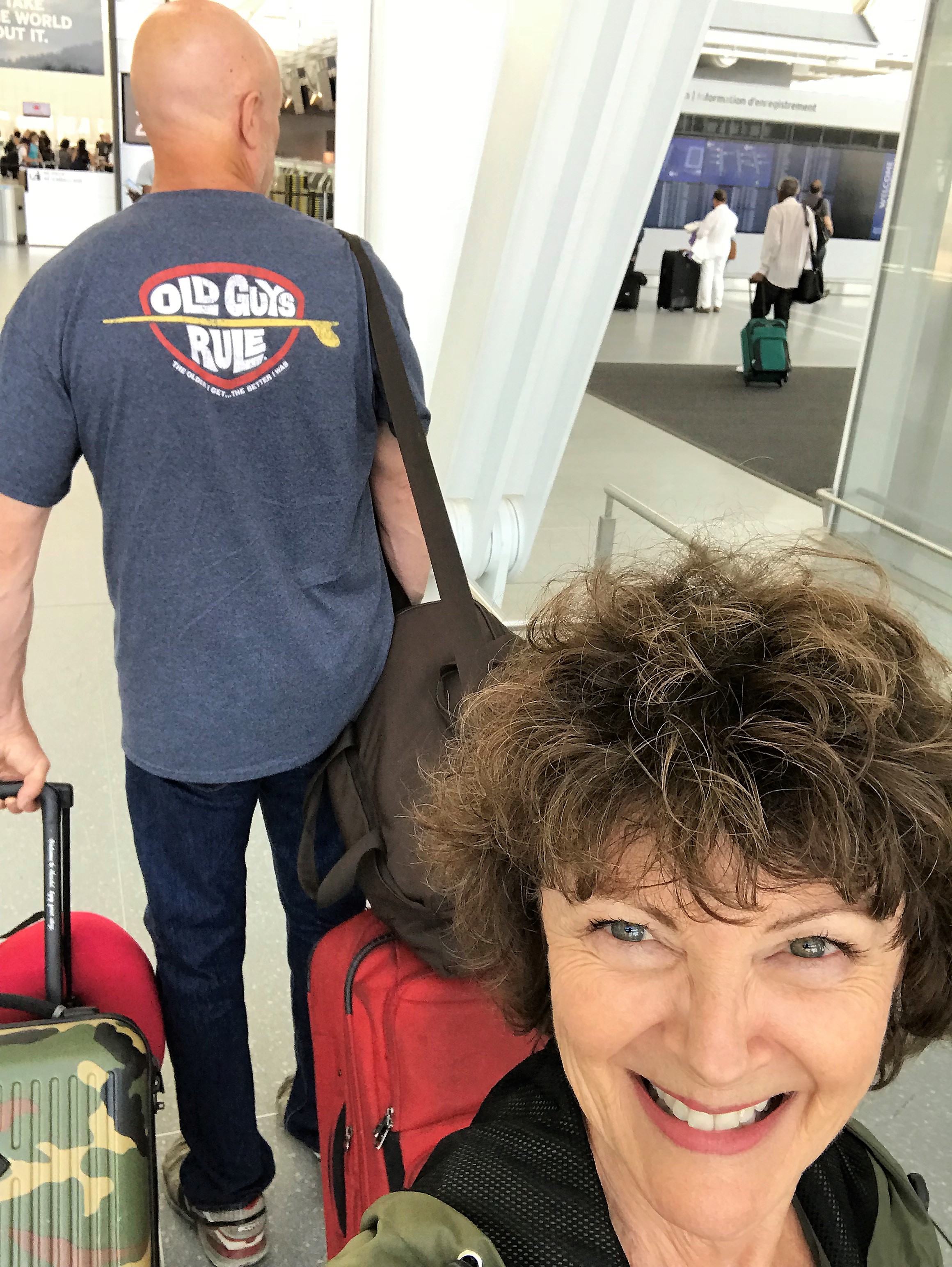 Edinburgh
Our hotel The Principal Edinburgh George Street was only a wee block from our bus stop, and yes we took the Airport Bus into the city. It was the cheapest choice. I'm thinking my Scottish roots are showing.
When it comes to hotels I'm all about the service, the bed, the pillows and the bathroom. I'm giving all of that 5/5.
Edinburgh is touted as a very walkable city and Scotland's capital in all it's glory lived up to it's reputation, we chalked up about 22,000 steps every single day.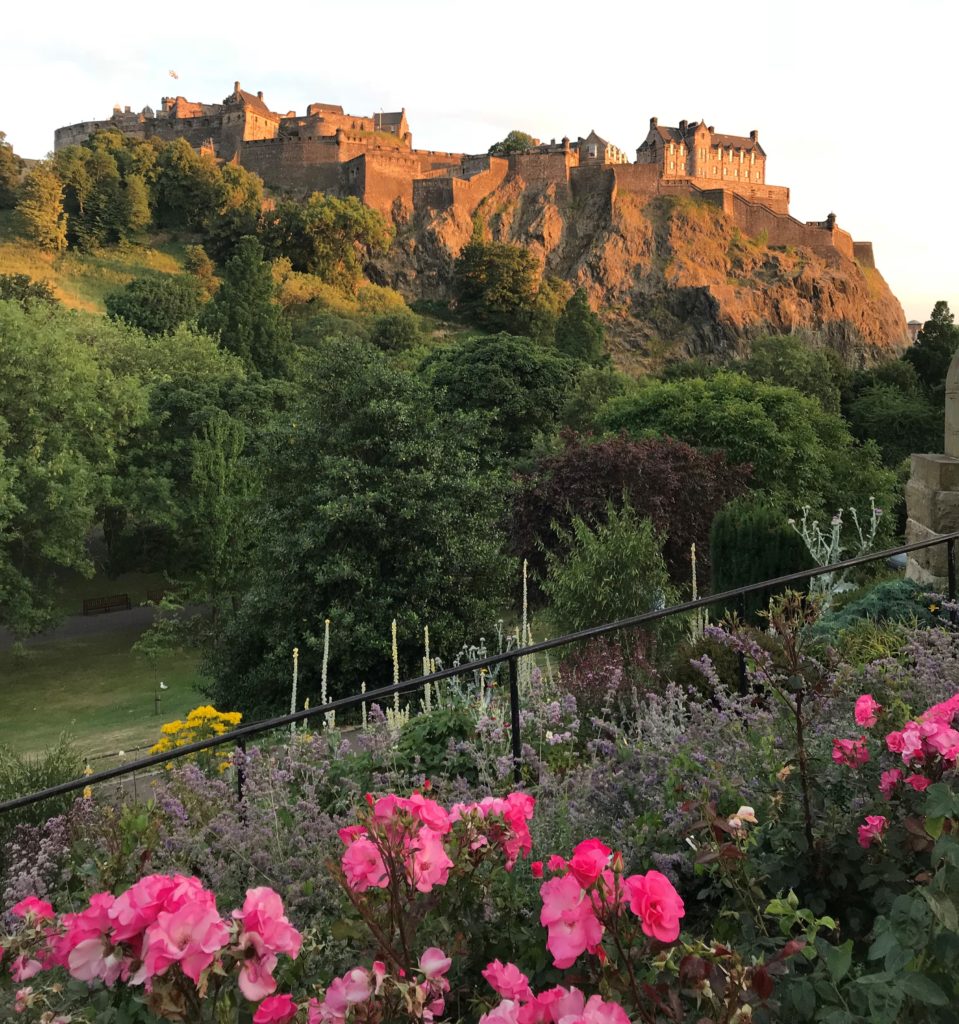 I felt like I was on a Tourist Boot Camp Program with my husband. We'd have a healthy breakfast someplace, followed by hours of walking, mostly uphill. Lunch was a couple of oatcakes and a banana,  followed by more walking up hills and stairways. Dinner was usually fish and chips, a wee drink, and more walking, thankfully downhill and then to bed. I swear I may be the only person who went on a leisure holiday and lost weight and increased their fitness level.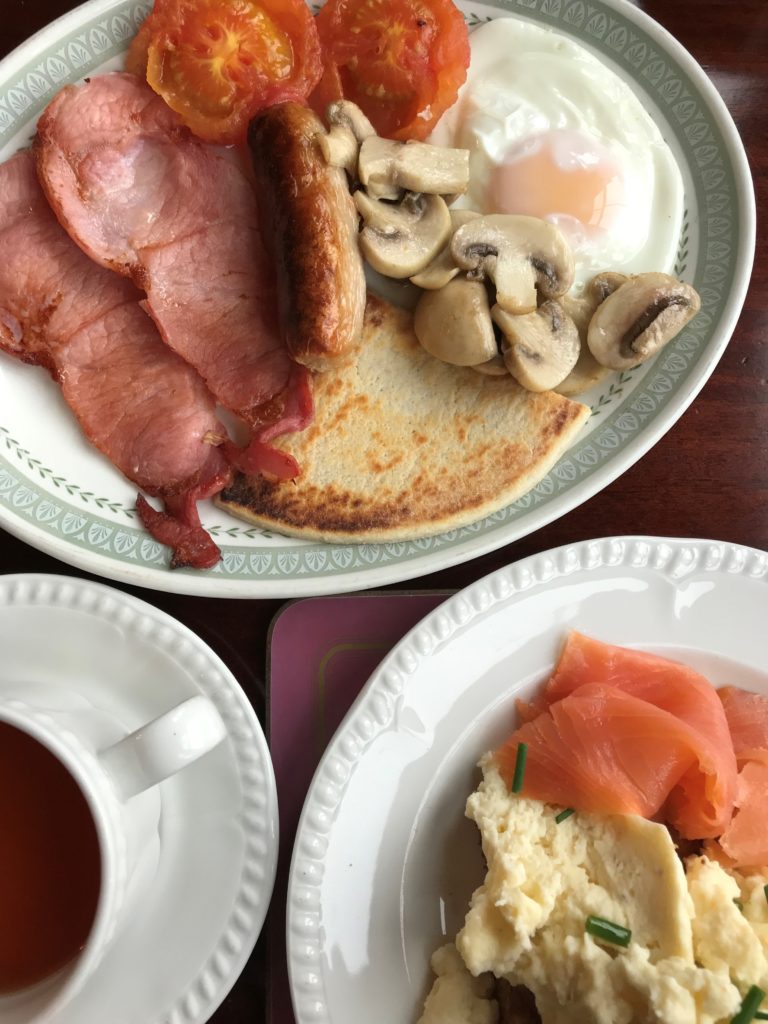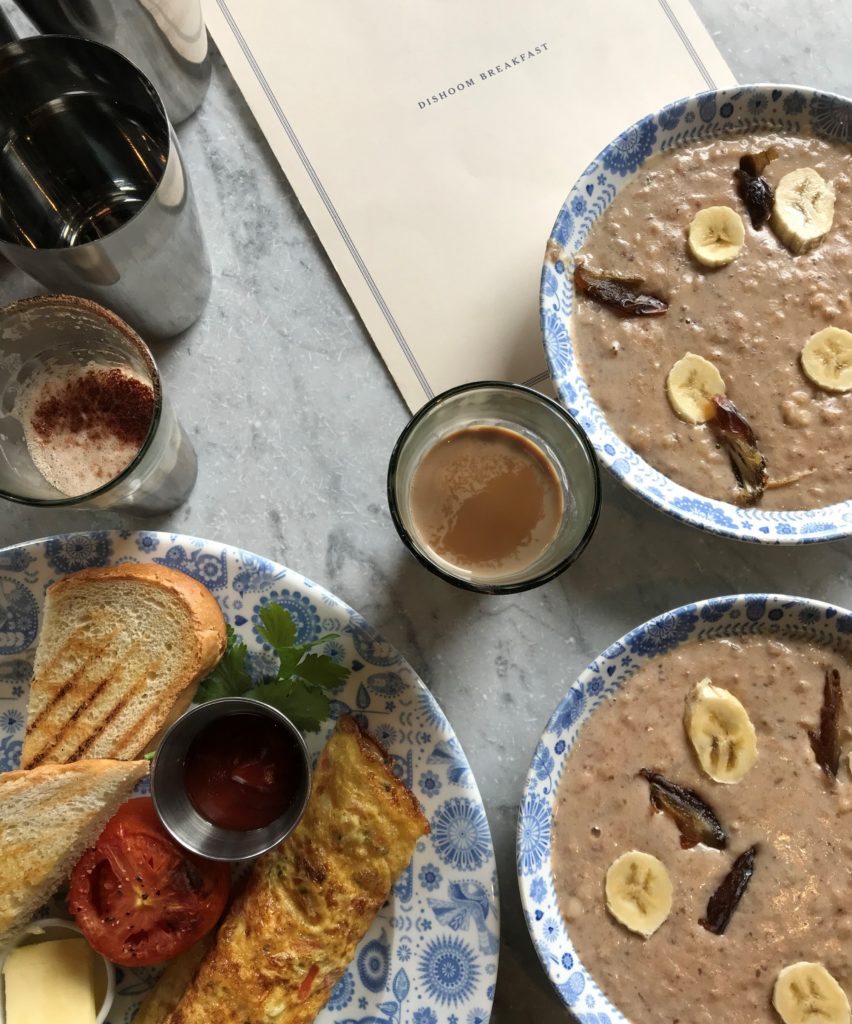 Let's talk about jet lag, because although some people don't have many issues with lack of sleep, I'm not one of them. Throw in hunger, and the time difference, plus the meals I missed and I'm a complete bag of toys.
This trip had me at a new low, I fell asleep during the Hop On Hop Off City Bus Tour. But only for a quick 20 minute power nap. Well, that's the version I'm going with. There may or may not have been some light gentle snoring….and I totally missed the talk about a Square where there were many pubs. A detail my husband schooled me in later the next day.
We did it all ~ Edinburgh Castle, Holyrood Castle, the Royal Mile, gardens, pubs, tea rooms, my personal favourite was Clarinda's on the Royal Mile, I even had some retail therapy at Jenner's, a Scottish Department Store.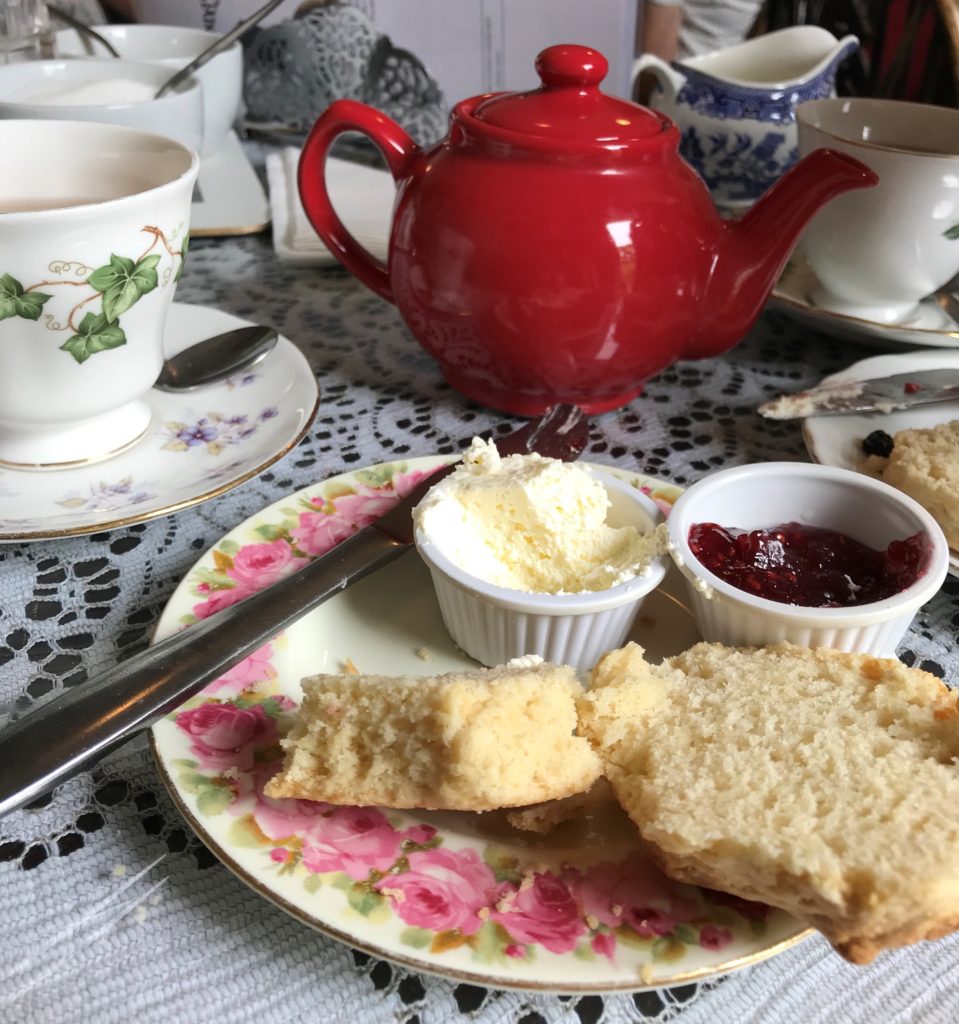 After three days of non stop sightseeing, eating and drinking we picked up our rental car, which I also got with my VISA points.
Driving in the UK
Let's have a wee chat about driving in the UK. I don't care what anybody says in any travel book, driving on the left side of the road is just plain weird.
My husband has always wanted to drive a car in the UK, and it had to be a stick shift. My role in this driving bucket list was to be the navigator, which morphed itself into the terrified passenger. My husband lived out his fantasy. Me? I hung in there, sometimes with white knuckles and a couple of times I actually cried….okay, I cried three times. Twice when we got really lost and once when I was so tired…..
You do get used to sitting as a passenger where the steering wheel should be, surprisingly quickly. The Roundabout thing? I think I got the hang of that on Day 10. Sidebar: we only had the car for 10 days.
It's not the actual waiting to merge or getting off a Roundabout that's scary, it's the not knowing which exit to take that made me a nervous wreck. And if the navigator doesn't know where they are going, well you do the math.
Exits are marked by City, Town or Village and a Carriageway Number, aka Road Number. That sounds fairly straightforward ~ here's the glitch. You have to know what the name of the City, Town or Village is next, or possibly what your final destination of that road is, even if you have no clue what that might be. Heading to Inverness? Well it might say Fort Augustus. If you haven't done your navigator homework or taken Grade 10 Scottish Geography, you are lost my friend.
And to make things even more interesting sometimes the Carriageway Numbers are different in the signs than what you have in your GPS. Or worse the sign is missing altogether.
Another driving tip you'll want to keep in your navigator log book is their signage. It gives no big warning. When it says turn left it means right then. Literally it's TURN LEFT NOW! That made me nuts too. Basically, my husband was joyously driving as if he was Jackie Stewart and I was having a breakdown.
I've digressed.
Back to our first day with the car.
Stirling Castle, Callander and Oban
We did a quick practice drive around the lot and headed out to see Stirling Castle.
Supposedly no one honks in Edinburgh, we got a honk in the first eleven minutes. Might be a record. Go Canada Go.
Here's a brilliant tip: Head out early to Stirling Castle, that goes for every major attraction anywhere in the entire world. Being early as in the doors are just opening, pretty much guarantees that you won't be with the throngs of visitors, who usually appear after 11:30 am.
Apparently most people love to sleep in on holidays, not we Canadian keeners.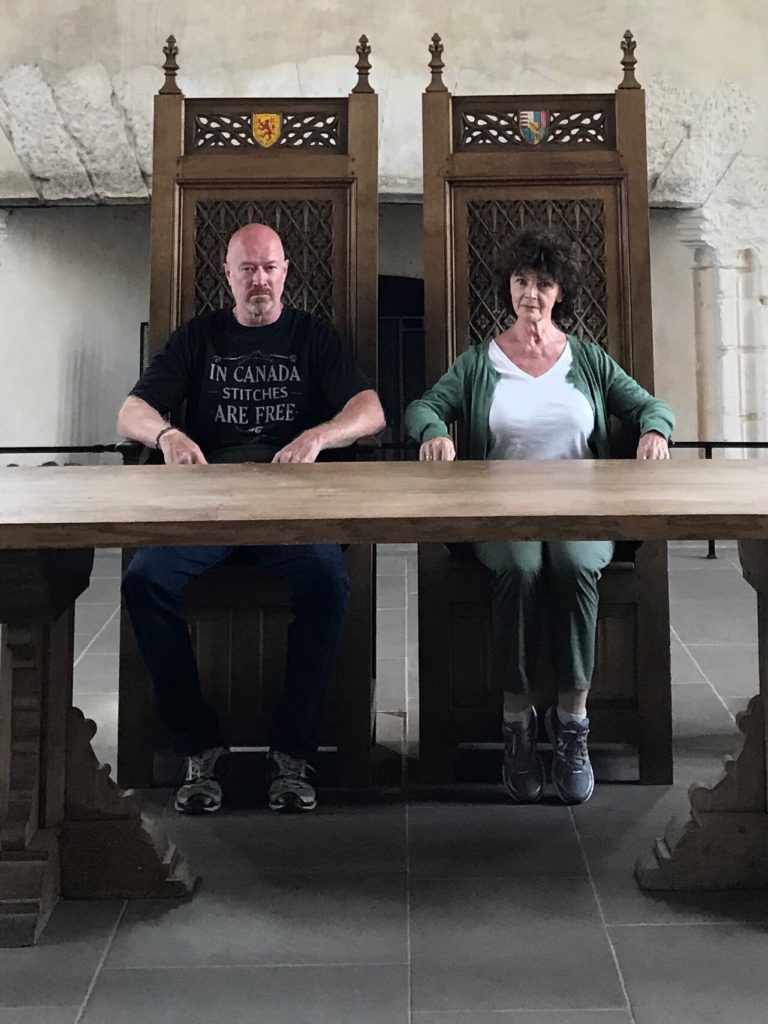 After a tour of the castle, we drove to Callander, getting lost only three times….and stayed at the lovely Glengarry Guest House. I'd highly recommends this B&B. Situated on the main street, about a block from the village.
We ambled on down into the village and found the local pub. It was amazing to me how quickly we developed a homing device for pubs.
After a great sleep and a lovely breakfast our host Evelyn gave us directions for the scenic route to Oban, our next stop. Her route was amazing and I've posted it here in case you ever decide to follow our trail.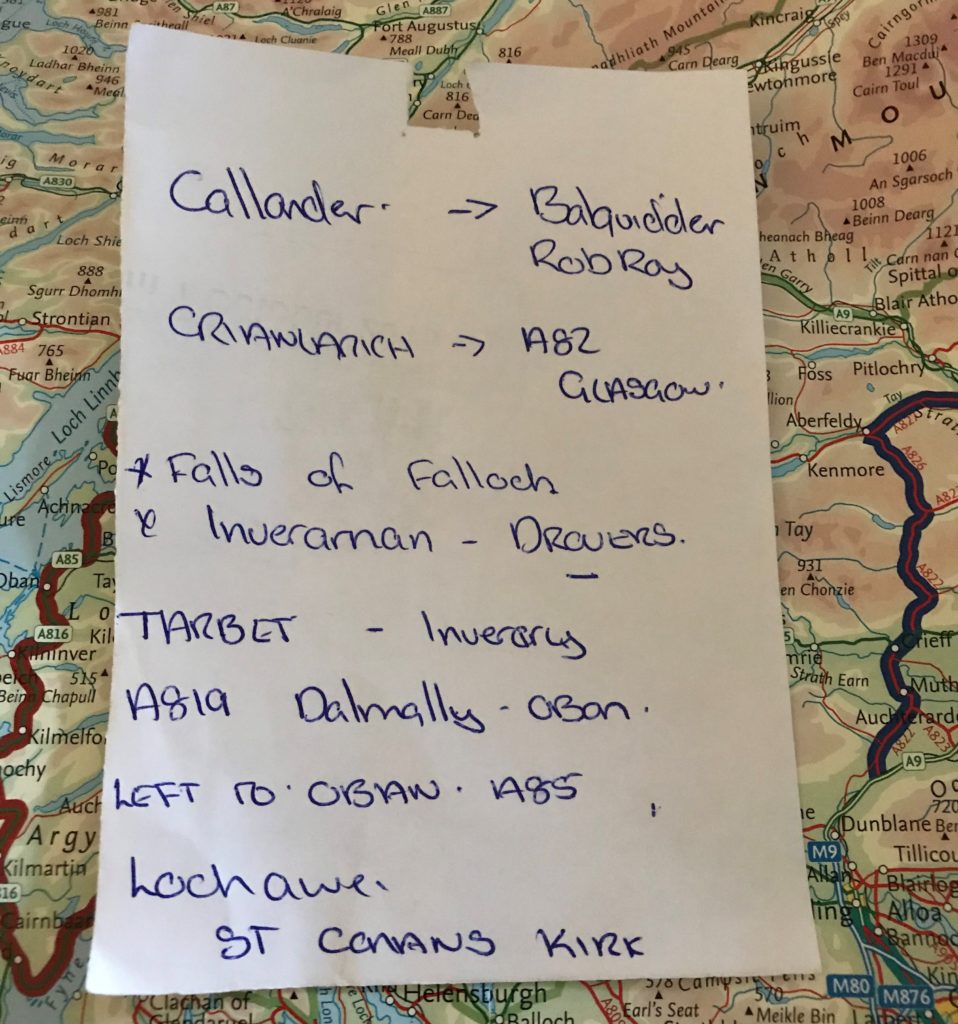 Oban is a gem. Right on the ocean, okay technically a bay, the fresh air and the town are not to be missed. On Evelyn's advice we ate the freshest local seafood right on the pier at the Oban Seafood Hut, it's a shack with a green roof right beside the ferries. I'm still dreaming of the platter we polished off.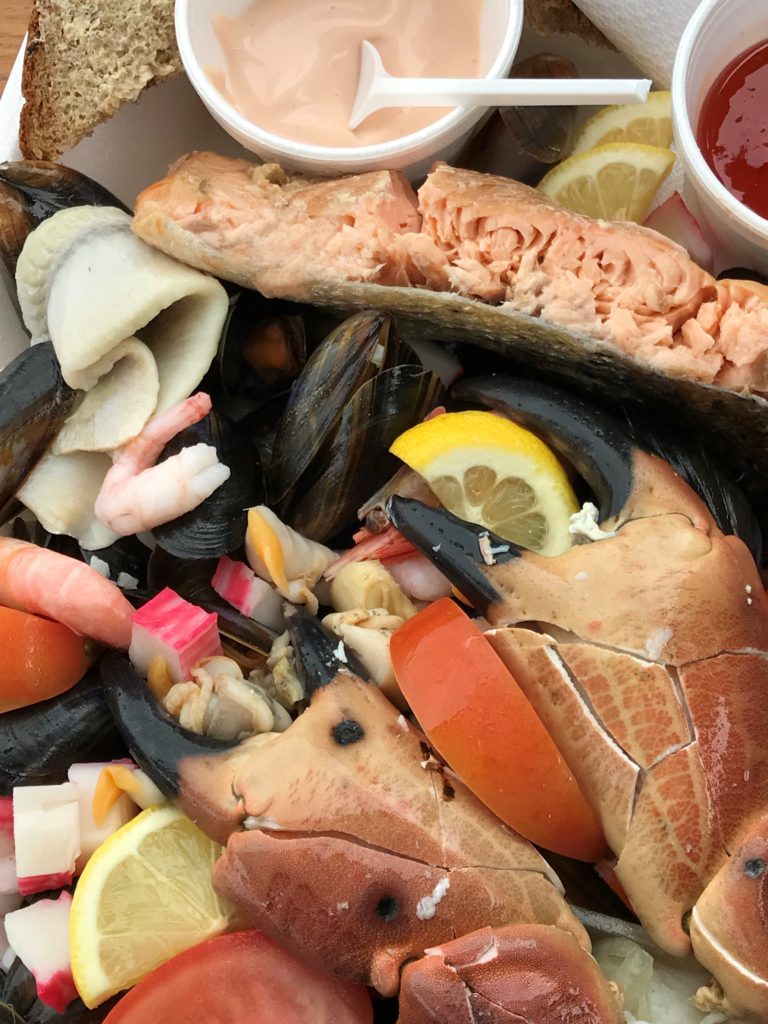 When I booked our trip, in March, Oban was already booked up, so we stayed about 5 minutes away in a nearby village called Connel.  Ards House had a view of the sea and was about 200 yards to the local pub. All great qualities.
Inverness music, food and whiskey
Inverness was our next destination, traveling around Loc Ness, sadly we didn't see the Loc Ness monster. I was so hoping to solve the ancient mystery. I guess we will have to go back. We did however discover Abriachan Gardens, a lovely hidden gem.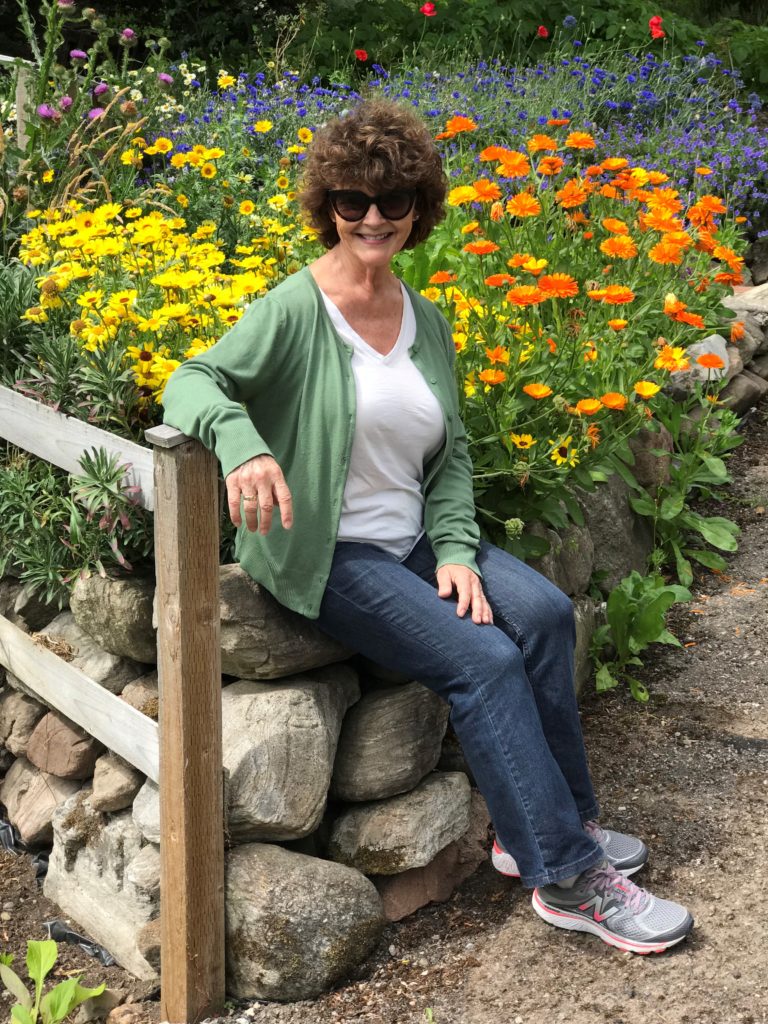 Inverness offered a real Scottish jam session at Hootananny as well as live music under a canvas tent in the park. Both were highlights of the trip. We ate a wonderful seasonal local dinner at The Mustard Seed, and I'd highly recommend you eat there as well. My friend Michele had recommended it to us and I'm passing on the recommendation. Make sure you make a reservation, it's really popular for a very good reason. Bonus, I had the best gin I've ever had, Rock Rose. Bought a wee bottle to bring home.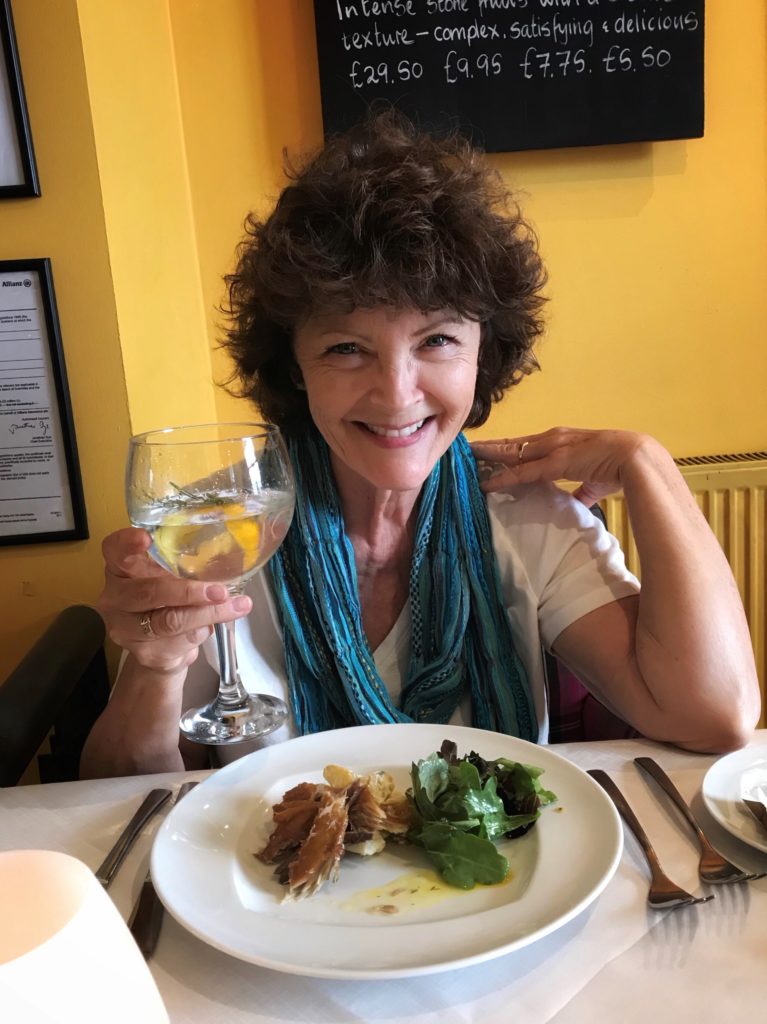 As a whiskey lover the choices for whiskey tours are numerous. We decided on Glenfiddich because it's one of my favourite whiskeys and we didn't need a reservation prior to the day, although they all highly recommend that you do. Note: the tours include a tasting of their three must popular whiskeys, but they do not serve the designated driver. Scott got a take home mini bottle. I fortunately was not the designated driver, so I drank all three of mine. Finally, a perk for sitting in the left front seat. Double bonus I was not even the least bit terrified on the way back to the B&B. Factor in we drove through a torrential downpour most of the way back to Inverness, I'm giving the whiskey credit for its calming affect.
After two lovely days in and around Inverness we headed south to England and the wedding.
England
Apparently, people in the UK don't typically drive 5 hours in one go to stay only one night anywhere. Most people thought we were daft. If you are a Canadian or an American and think nothing of driving for 5 hours, I say go for it. Bare in mind that the carriageways are not straight, are skinny lanes, and there are sheep that tend to wander onto the road. If your Map App says 3.5 hours, add more time for pee breaks, scenic stops, getting lost and sheep sightings.
We made it to Berwick-upon-Tweed, had a quick bite at The Castle and bought a lottery ticket. My husband's rational was we don't win anything in Canada, maybe we are just buying lottery tickets in the wrong country.
Next day we headed south to Scarborough. As the planner of the trip I choose Scarborough because it was approximately 3.5 hours away, rounding up to 5 hours and I heard it was really pretty. Bingo! 5 hours later we were in a lovely seaside town that had arcades, a Ferris wheel, donkey rides, a castle, beaches, mansions, gorgeous gardens and excellent pubs. Quite frankly everywhere we went had excellent pubs. You can't go wrong if you look for an old pubby looking pub. Loads of character and characters ~ several times we thought we were in an episode of Coronation Street or being punked.
Our B&B, Powy's, was lovely. Our hosts were lovely. Everything about Scarborough was lovely. It's a lovely seaside town.
The next day after my Map App took us zig zagging around Yorkshire and parts unknown we finally made it to Norwich where the wedding was.
Joyous day of celebration ~ I find it so wonderful when the children you know and love grow up to become extraordinary adults. Contrary to the popular thought that when our kids get old we must be getting older; it doesn't make me feel old, it just makes my heart sing.
Celebrating done, we hit the road for York. A walled city in the middle of England with tons to see and do. And because it was a sunny Sunday, about a million other people had the same idea.
As a fan of the movie The Trip I knew I wanted to visit the Lake District so we headed for Cockermouth in the north west corner of the lakes. And, total transparency here, I picked this quaint town so I could say Cockermouth in a sentence. What a brilliant call that shallow choice was. Cockermouth was a gem. Loved the pubs, antique stores and Jenny's Brewery, who opened their doors, literally they were all going home, they opened the gift shop so my husband could buy a new t-shirt to add to his massive collection.
Our Guest House, Link House was just outside Cockermouth and as fate would have it was within walking distance, which included running across a Carriageway and through a tree lined lane, to the cutest most authentic English Pub we drank at. The Pheasant should have been in The Trip. They missed the boat on that one.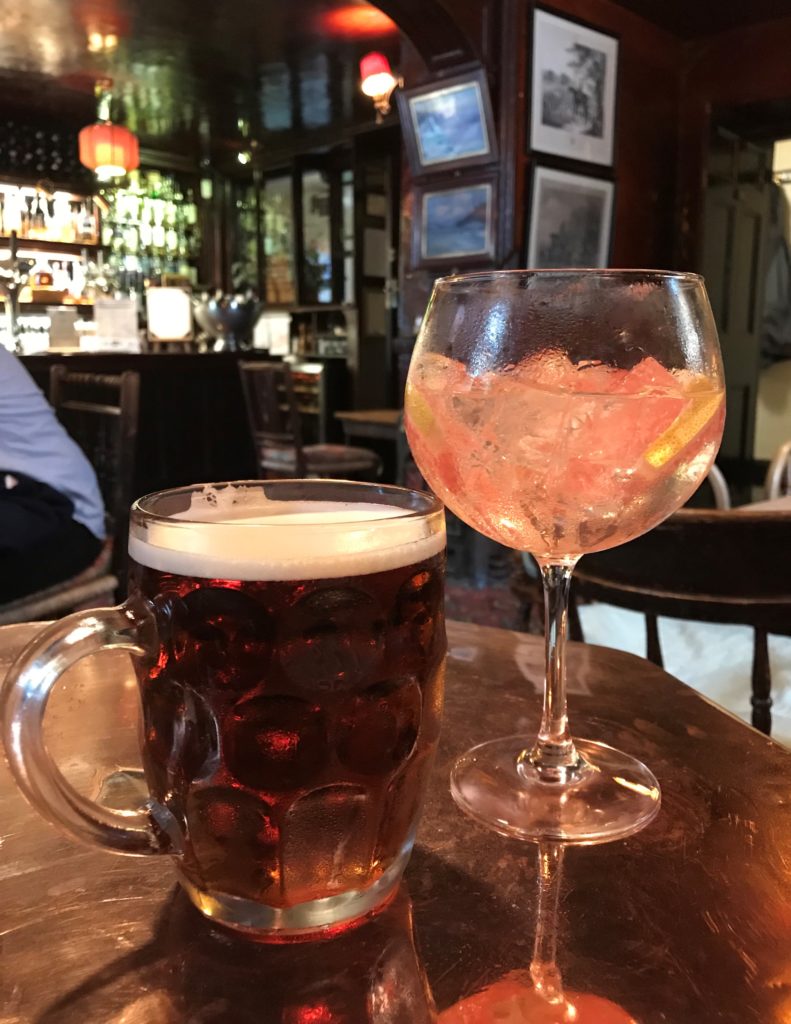 I'm sad we didn't stay longer in the Lake District, it was right in my husband's and my wheelhouse,  gorgeous scenery, hikes, lovely people and terrific pubs. Think a quainter more historic older Muskoka with no cottages or boat noise and you've got the Lake District.
Back to Edinburgh
We made it back to Edinburgh along the scenic A7 and spent our last afternoon wandering around, okay, it was a pub crawl. I don't really drink, but whiskey? That's a whole other thing. The highlight of the three we visited was The Dome. A must see either for tea or a cocktail or a pint. It's not a pub. It's more like a shrine to architecture, it's gorgeous.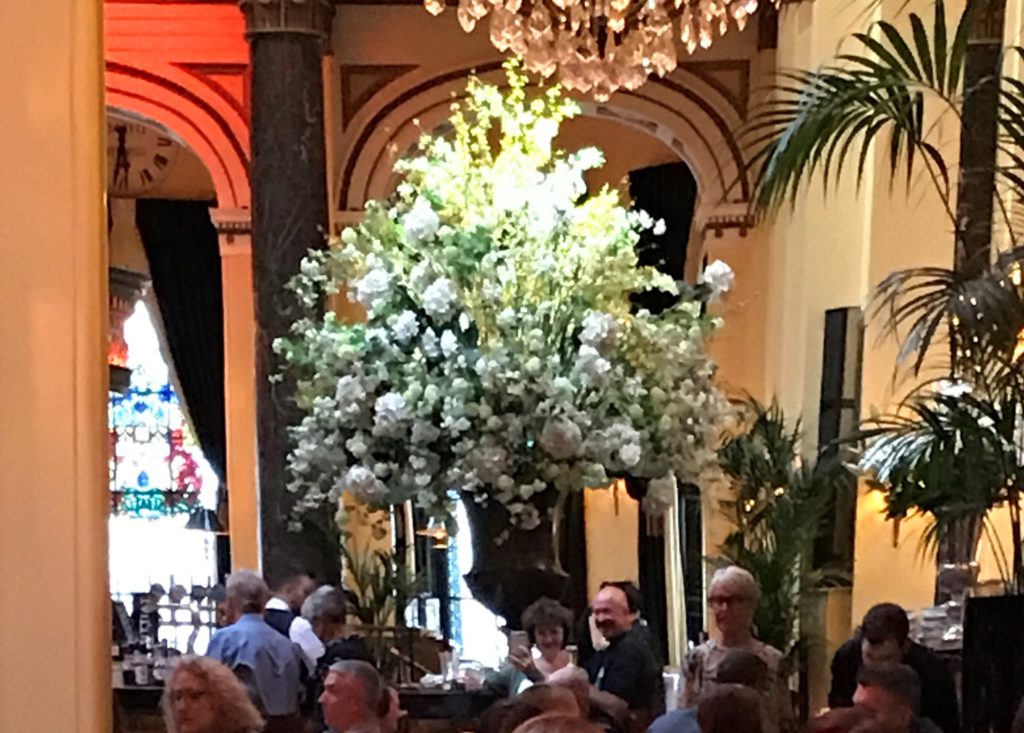 We visited Marks and Spencer's Food Hall, I'm still sad we no longer have a M&S in Toronto, and bought our dinner which we ate in the park.
And then it was bye-bye to my Grandparents' homeland and back to the reality of our crazy hectic lives.
Visiting your homeland
If you have never been to your parent's or grandparent's homeland, I'm encouraging you to start saving your pennies. Seeing where your family comes from gives you a whole new perspective.
My mission was to find out more of why I am me. It was never to flaunt, or to say, oh, look at us traveling and having fun. We flew on my VISA points. It took years of me spending money, but two free fares and a free rental car on points was nothing to sneeze about. We also were lucky enough to be hosted in Edinburgh for three nights at The Principal George Street from VisitScotland and The Principal. But I was not compensated for writing this post. All my opinions are my own. I would stay at The Principal again on my own nickel in a minute. And I am definitely going back to Scotland, there is way more to see, specifically the Isle of Skye.
After 10 days in Scotland I understand where I get my gumption from. Craggy landscapes and a history of fighting for your freedom does not create whimps. The Scots are hardy, resourceful and brave. I'm very proud to say I'm a Scot.
Oh, and a footnote: we never won the National Lottery, so, I guess it's back to spending money and saving VISA points for our next big trip.