This spring romantic dinner for two is easy to assemble and even more fun to eat. No cutlery required. 
 Buy one cooked chicken – tear it up into pieces
Grape tomatoes
Your choice of nibbles – suggest olives, marinated artichoke hearts, marinated mushrooms, assorted cheeses
Baguette and or crackers

Cold Asparagus with Mairlyn's World Famous Lime Sauce
Lemon Mousse Fondue
Bottle of Prosecco or whatever wine you love
 

 Cold Asparagus with Mairlyn's World Famous Lime Sauce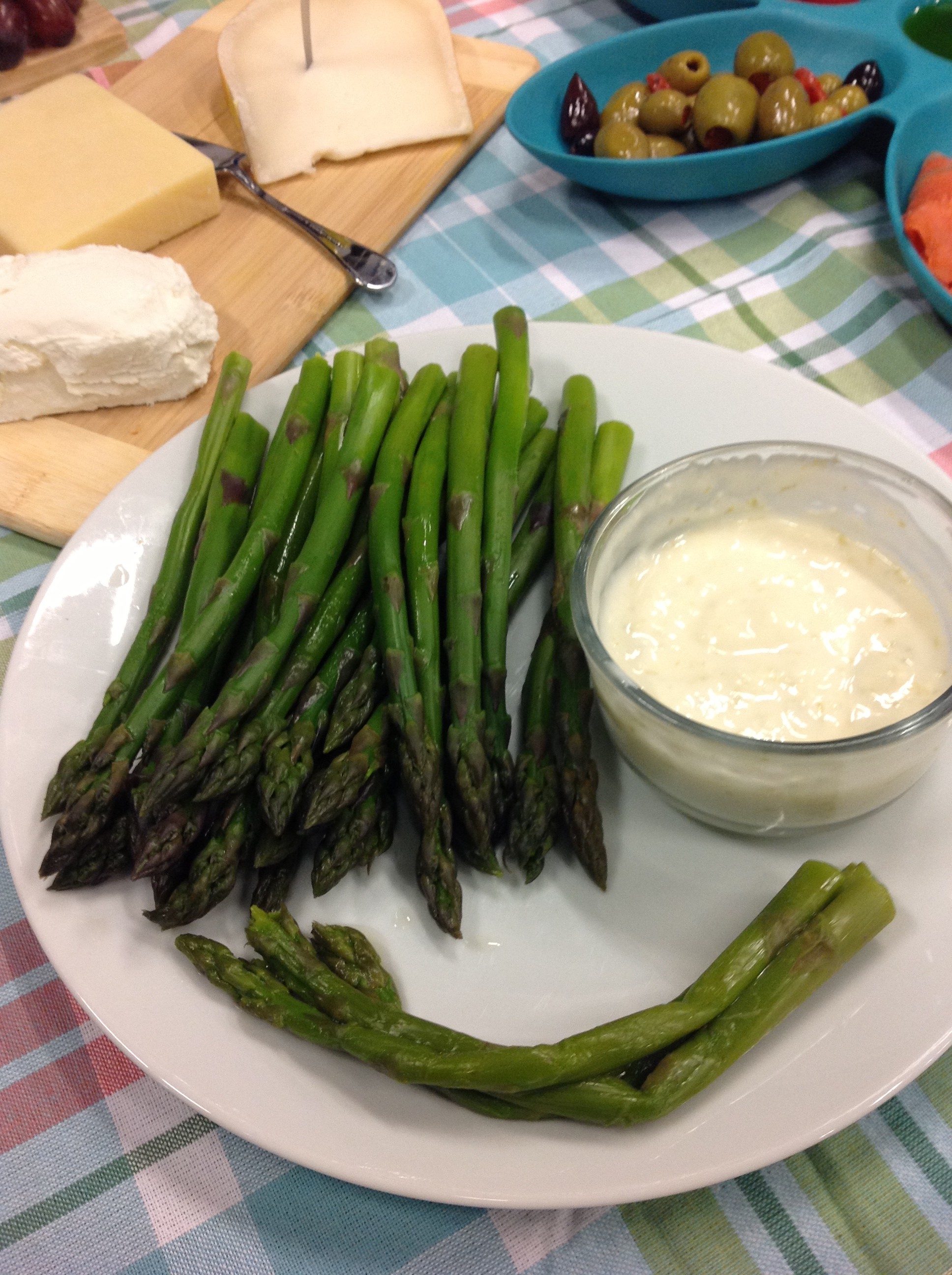 1 lb (500 g) asparagus
Zest of one lime
2 tbsp + 2 tsp (40 mL) low fat mayo
2 tbsp (30 mL) fresh lime juice


Wash asparagus, cut off the woody part of the stem and discard.

 

Steam the spears till tender crisp, heavy on the crisp. Don't overcook them. They shouldn't be droopy when you hold it perpendicular to the floor. It's such a sad little posture.

Once you have reached your desired level of tender/crisp, about 3 minutes, plunge them into a clean sink of cold water to stop the cooking. Let cool and drain. Place on paper towels to make sure they aren't wet. Store covered in the fridge until serving time, up to two days.

Serving time: scrub and dry the lime. Using a microplane zest the lime.

Whisk together the zest, mayo, and lime juice and drizzle over the tips of the cold cooked asparagus. Serve to raves. You can divide the asparagus into four servings and then drizzle one quarter of the sauce onto each serving or go for the big presentation plate.
One serving = about 5 spears with ¼ of the sauce, approx 1 heaping tablespoon.
One serving contains:
56 Calories, 2.7 g Total fat, 0 g Sat Fat, 0 g Trans Fat, 81 mg Sodium, 7.2 g Carbs, 3 g Fiber, 2.5 g Sugars, 3 g Protein
Lemon Mousse with Fresh Strawberries 
 You'll need to make the lemon curd the day before.
 Light Lemon Curd
Zest of 1 lemon set aside
¾ cup (175 mL) white granulated sugar
1 tbsp + 1 ½ tsp (22 mL) cornstarch
¼ cup + 2 tbsp (90 mL) fresh lemon juice, approx. 2 lemons
1 – omega-3 egg
1 tbsp (15 mL) unsalted butter
 2 cups (500 mL) plain 0% fat Greek style yogurt
 10-12 whole fresh local strawberries, or berries or fruit of your choice, rinsed, dried
1.      Place a medium wire mesh strainer over a medium bowl, set aside.
2.      In a small saucepan whisk together sugar, cornstarch, lemon juice and egg.
3.      Turn heat to medium low and stir until the mixture comes to the boil.
4.      Reduce heat so the mixture is gently boiling, stirring constantly for 3 minutes, you need to make sure the cornstarch is cooked.
5.      Remove from heat and stir in butter until melted.
6.      Pour hot lemon mixture through strainer that you set aside in Step 2. Pour strained lemon mixture into a heat proof jar, cover with a lid and store in the fridge for up to 1 week. Why strain? The egg yolk anchor, called the chalazae becomes rubbery and needs to be removed, straining does the trick.
7.      Gently whisk the lemon curd into 2 cups (500 mL) plain 0% fat Greek Style-yogurt until well incorporated. serve in a large bowl to dip into, or serve as dessert in a 1/2 cup (125 mL) dessert cup or bowl.

Makes 2 ½ cups (500 mL)
One serving = ½ cup (125 mL) Contains: 308 Calories, 7.3 g Total fat, 4.1 g Sat Fat, 0.2 g Trans Fat, 111 mg Sodium, 55.6 g Carbs, 1 g Fiber, 44.6 g Sugars, 10 g Protein