Going into Week Five of being Kitchenless and I think I'm definitely starting to lose it!
Somehow the magic of washing our dishes in a basin in the basement laundry tub is gone.
If you want to read the beginning of this saga check out So you want a new kitchen, eh?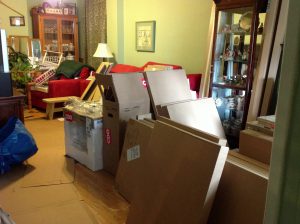 To recap the adventure: I decided I didn't need a designer or a contractor to have my new wonderful IKEA kitchen installed. What have I learned so far? Simply, that I'm an idiot!
Apparently I don't speak reno-speak, because I was completely out in left field on finish times. When I heard, "your kitchen will be finished on Friday, April 5" I heard through my own non-contractor personal filtering system, "your kitchen will be FINISHED on Friday, April 5" as in "a working completely finished kitchen."
Who knew that "your kitchen will be finished on Friday, April 5" just meant the cupboards would be in on Friday, April 5. No electricity, no running water, no counters, no stove.
A contractor would have known that having everything finished on the day the cupboards went in was insanity.
On a positive note I totally love my IKEA cupboards. They are gorgeous, and I loved the work the two guys from PEG did putting it all together. Richard and Reinhardt did amazing work.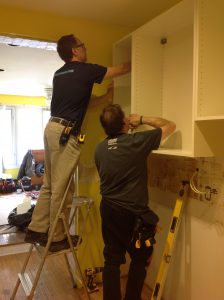 I know I'm going to love the counter, the sink, the backsplash, the lighting… it's just that I have to imagine it all right now.
Apparently the next step is the counter people.
So, I called the counter people and they sent over a lovely guy to measure the area that will one day house a counter. He used a laser gun.
I had a lovely women quote me on the backsplash, but she can't come over until the counters are in.
I called the plumber people and they can't come until the counters are in.
There seems to be a theme here. No one can do anything until the counters are in.
So "Ladies and Gentlemen, we're in a holding pattern here until the counters are in………………."
In the meantime here are some of the things we're eating.
Salads, salads, and more salads.
Jacket potatoes, jacket potatoes and more jacket potatoes.
Chicken wraps…
and did I mention salads……………main course salads….
Here's the recipe I demmed on Cityline that is one step above a regular salad, and check out Tracy's blog post from Behind the Scenes at Cityline