Both recipes from Healthy Starts Here!
There is a really good reason why I sign off with my patented phrase: Peace, Love and Fibre!
The two recipes I dem on CityLine this Wednesday, August 31 say it all! Have a bowl of this quick and easy soup for dinner and a muffin during the day and you are at 18 grams which puts you well on your way to making the 28 grams of fibre per day for women and 38 grams per day for men.
Black Bean Tortilla Chip Soup (Year Round and Kid Friendly)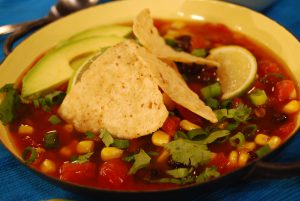 Tortilla soup is a Mexican-style soup that usually has chicken in it, plus all the bells and whistles which are normally found in this quick and easy dinner – avocado, cilantro, and corn tortilla chips. Not mine. I decided to feature those amazing antioxidant rich black beans instead of the chicken. It still has that unique tortilla soup flavour, but it's a heart healthier version.
3 cups (750 mL) lower sodium chicken or vegetable broth
One – 19 fl oz (540 mL) can diced tomatoes
One -19 fl oz. (540 mL) can black beans, rinsed and drained
¼ cup (60 mL) deli fresh salsa, mild, medium, or hot
1 tbsp (15 mL) hot sauce, less if desired
1 cup (250 mL) fresh or frozen corn, no need to thaw
1 ripe avocado, peeled and sliced thinly
1 cup (250 mL) thinly sliced green onions, approx. 5 green onions
1 cup (250 mL) chopped cilantro
1 lime, scrubbed well and cut into quarters
40 unsalted whole corn tortilla chips
Heat chicken or vegetable broth in a large pot over medium/high heat. When it comes to the boil add tomatoes, black beans, salsa, hot sauce, and corn. Bring to the boil, cover, reduce heat to low and simmer for 5 minutes. Stir and remove from heat.
Ladle soup into 4 deep soup bowls. Equally divide the avocado, green onion and cilantro and sprinkle on top of each soup bowl. Squeeze on some fresh lime juice.
Put 10 tortilla chips in your hands and slightly crush them into each bowl. Mix gently and serve.
Makes 8 cups (2 L)
Each serving is equal to 2 cups (500 mL)
One serving contains: 420 Calories, 13.4 g Total Fat, 1.9 g Sat Fat, 0 g Trans Fat, 556 mg Sodium, 64.5 g Carbs, 13 g Fibre, 11.8 g Sugar, 15 g Protein
Diabetes Food Choice Values Per Serving: Each serving contains: 3 ½ Carbohydrates, 1 Meat and Alternative, 2 Fats
Double Chocolate Muffins (Fall/Winter and Kid Friendly)
Excerpt from Healthy Start Here!: What is a double chocolate muffin doing in the beta carotene chapter? It's the hidden pumpkin, which is one of the most important ingredients in this totally chocolate tasting whole grain muffin.
Next time you have to send a treat to school, pack these and tell your kids they're chocolate cupcakes – they taste that good. (Check label of chocolate for peanut allergies) Sometimes when you tell a kid there is pumpkin in something they just won't eat it, so I give you permission to omit this minor detail.
Wet Ingredients
1 cup (250 mL) buttermilk
1 cup (250 mL) pure pumpkin puree – not pumpkin pie filling!
1 cup (250 mL) dark brown sugar, packed
½ cup (125 mL) oat bran
1 omega-3 egg
Dry Ingredients
1 cup (250 mL) whole wheat flour
¾ cup (175 mL) ground flaxseed
½ cup (125 mL) natural cocoa powder – click here for more info
2 tbsp (30 mL) wheat germ
2 tbsp (30 mL) cinnamon
1 ½ tsp (7 mL) baking powder
1 tsp (5 mL) baking soda
¼ cup (60 mL) chocolate chips at least 60% cocoa mass or 70% cocoa mass chocolate chunks
Preheat the oven to 400°F (200°C.) Line a muffin tin with paper liners.
In a medium bowl using a wire whisk, beat together all the wet ingredients: buttermilk, pure pumpkin puree, brown sugar, oat bran and the egg. Set aside.
In a large bowl using a whisk or a fork mix together all the dry ingredients: whole wheat flour, ground flaxseed, cocoa powder, wheat germ, cinnamon, baking powder, baking soda and chocolate chips or chunks.
Pour the wet ingredients into the dry ingredients and mix till just combined.
Scoop the batter equally into 12 muffin cups and bake for 20-25 minutes or until done.
Each muffin contains: 190 Calories, 4.6 g Total Fat, 1 g Sat Fat, 0 g Trans Fat, 183 mg Sodium, 35.6 g Carbs, 5 g Fibre, 18.4 g Sugar, 5 g Protein
Diabetes Food Choice Values per serving: Each serving contains: 2 carbohydrate choices, 1 fats choice, 1 proteins choice
Thanks to Suzanne Ellis @ CityLine for the pictures!