So you want a new kitchen, eh?
You have to really, really, really want a new anything when it comes to home renovations.
Having lived through a massive reno thirty years ago, which included adding an extension to back of my house, plus a new kitchen, I know what I am talking about.
But my thirty year old kitchen had been falling apart for the past five years and when a GIC matured I felt it was a signal from the Kitchen Renovation Gods that the time was ripe.
I'd been looking for the past five years at my friends' kitchens and I knew exactly what I wanted: all white cupboards to the ceiling, lots of pull outs, a country-style apron sink, a new gas stove, a much needed new dishwasher, and a black quartz counter.
I did my homework and IKEA was the answer. I did a walk about at one of their toy stores and within about an hour I had my new dream kitchen planned out in my head. Note: in my head was good as a starting point, what I should have done was write it all down.
As a Type A personality, which is no surprise to many………I decided that I didn't need to work with a designer, I wanted to be my own designer. I am the boss of me, and the thought of running the show seemed intriguing.
IKEA kitchens lets you do just that, however, I am computer challenged at the best of times, so I signed on with PEG, the company who works with IKEA, to help me with the software that IKEA uses in their kitchen planning system.
Before I met with their planner, I did another walk about at IKEA and took pictures on my cell phone so I'd be armed with my choices.

I met up with David, from PEG, and he with me for three hours at IKEA and planned my kitchen from top to bottom including drawers, counters, faucets, drawer pulls, the works.
I took my plan home and lived with it for several weeks to make sure that this was what I had envisioned. It's not like you're buying a pair of pants, if you don't like them, you can return. No… once you buy a new kitchen, you own that new kitchen.
I mulled it over, and when I was sure I loved it, I went back to IKEA with my plans in my hot little hands.
Mistake #1
Never go to IKEA to finish your plans on the last day of their annual kitchen event unless you're insane. And if you do, you'd better be there right when they open. Just say'n….alright, this was one of those – I learned from my experience sceneriois.

Four hours later with the aid of one of the incredibly helpful IKEA employees, several coffees, and a couple of those amazing Swedish cookies they sell at the exit, I had my plan finalized, had paid for it and was walking out the door.
PEG will do it all, if you want. I wanted
As my own contractor (yes, I branched out from being my own designer to being my own everything) it seemed to me that the best idea was to have the people who specialize in assembling IKEA cupboards for a living, be the crew who assembled my new cupboards. And while they were at it, they could tear out my old kitchen, do the electrical, and install the new stove and dishwasher. If they'd offered making me breakfast I would have booked them to do that as well.
PEG can be one stop shopping and was the absolute best choice for me and my lifestyle. Insert: I know a lot of people but no one I know really well is a contractor, handy, or knows electrical work, the list goes on. Want names of foodies, chefs, wine experts – I've got that covered.
Problem #1
Organizing dates when I didn't need to use my kitchen, because, hello, I cook for a living……and mostly on TV. Oh, and did I mention I'm working on a new cookbook.
Finding a date was the most stressful part of the process. With much back and forth with work dates and availability, I finally figured out a window of opportunity March 28 – April 4.
I did not need my kitchen until April 14.
One of my problems was the week before the reno was to be started was I had to be in Winnipeg to speak at a conference on March 25, do a dem on Winnipeg's BT March 26 and then be a part of a panel discussion on Navigating your Food Choices that evening, home late on March 27, on BT Toronto the morning of March 28.
Which isn't complicated if the stars align themselves, but my problem was we had to pack up my kitchen before I left, making my husband and son kitchenless for the week I was gone. And yes, they could have packed it up without me…but seriously? Two men in my kitchen? Type A Me needed to orchestrate that debacle.
My definition of Hell AKA Packing up my kitchen
Most people have a lot of stuff in their kitchens, but remember my kitchen is where I work, which means regular stuff times one hundred.
For some insane reason I thought we could pack all of my stuff up in a couple of hours, three days later my precious stuff was scattered throughout the house. Looking for a whisk? It's probably under a bed somewhere upstairs. Any food stuffs? Buried under a mound of other food stuffs in the basement. Hopefully there won't be a flood of any kind in the next several weeks, or I'm hooped.
The Day of Kitchen Destruction March 28, 2014.

Talked about Herbs and Spices on BT and then rushed home. Many thanks to the crew at Breakfast TV Toronto for getting me out the door and on my way. (Wendy, the floor director, helped pack up my stuff and Dusty, one of the great guys on set, carried all the bags to my car which was parked across the street in the underground parking lot. I love the crew at BT!)
Made it home in record time from the station and at 9:30 am Andre and his crew showed up to tear out my kitchen. Two hours later it was done. Amazing.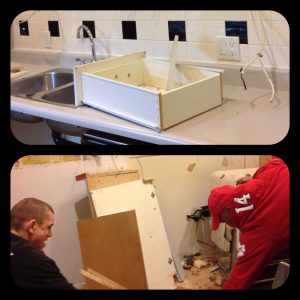 My instincts to book PEG were genius. So far so good.

2:20 pm – the electrician has just shown up and hopefully he will be able to come back on Monday to do some rewiring. Note to self: turn the power back on in the kitchen…..
Stay tuned…………