These easy to make shortbread cookies are rolled into a shortbread dough log, wrapped up in parchment or waxed paper and then placed in the fridge to firm up. Slice and bake and voila shortbread heaven.

Makes about 36
My mom always made shortbread during the holidays, sometimes it worked, sometimes, not so much.
I decided that there must be a fool proof shortbread recipe somewhere, so every year I would try out a new recipe, all not so wonderful. Then I discovered an amazing shortbread cookie from the Toronto Star. Success, fool proof and fabulous. Thanks to then Food Editor Jennifer Bain at the Toronto Star who has now become their Travel Editor, here is my favourite fool proof shortbread cookie. It's sort of like my mom's recipe when her recipe worked, but with a twist – I added ginger and chocolate, and… bonus it works every time.
(This recipe is adapted from a winning recipe in a Gay Lea shortbread contest, sent in by Lisa Mitchel of St. Thomas, Ont. You can adapt the dough to any shape; these are baked in slices.)
1 ½ cups (375 mL) all-purpose flour, sifted – measure by spooning the flour into a dry measuring cup and then leveling it off with a straight edge.

¼ cup (60 mL) corn starch, sifted
1/8 tsp (0.5 mL)  iodized table salt
½ cup (125 mL) chopped dark chocolate or dark chocolate chips
¼ cup (60 mL) finely chopped candied ginger, the dry kind not the syrup type in a bottle
1 cup (250 mL) unsalted butter, at room temperature
½ cup (125 mL) icing sugar
In medium bowl, whisk together flour, corn starch, salt, ¼ cup (60 mL) dark chocolate pieces or chips, and ginger.
In separate bowl, using electric mixer on low then medium speed, beat butter and sugar until fluffy.
Using wooden spoon, stir in flour mixture until just moistened. (I use my standing mixer on low – once a rebel always a rebel. If you use a mixer – be careful not to overmix the dough – the shortbread will be tough if you do)
Gently pat dough into block about 1.5 inches (4 cm) high and 2.5 inches (6 cm) wide or smaller if desired.
Wrap in wax paper and refrigerate until very firm, at least 2 hours or overnight.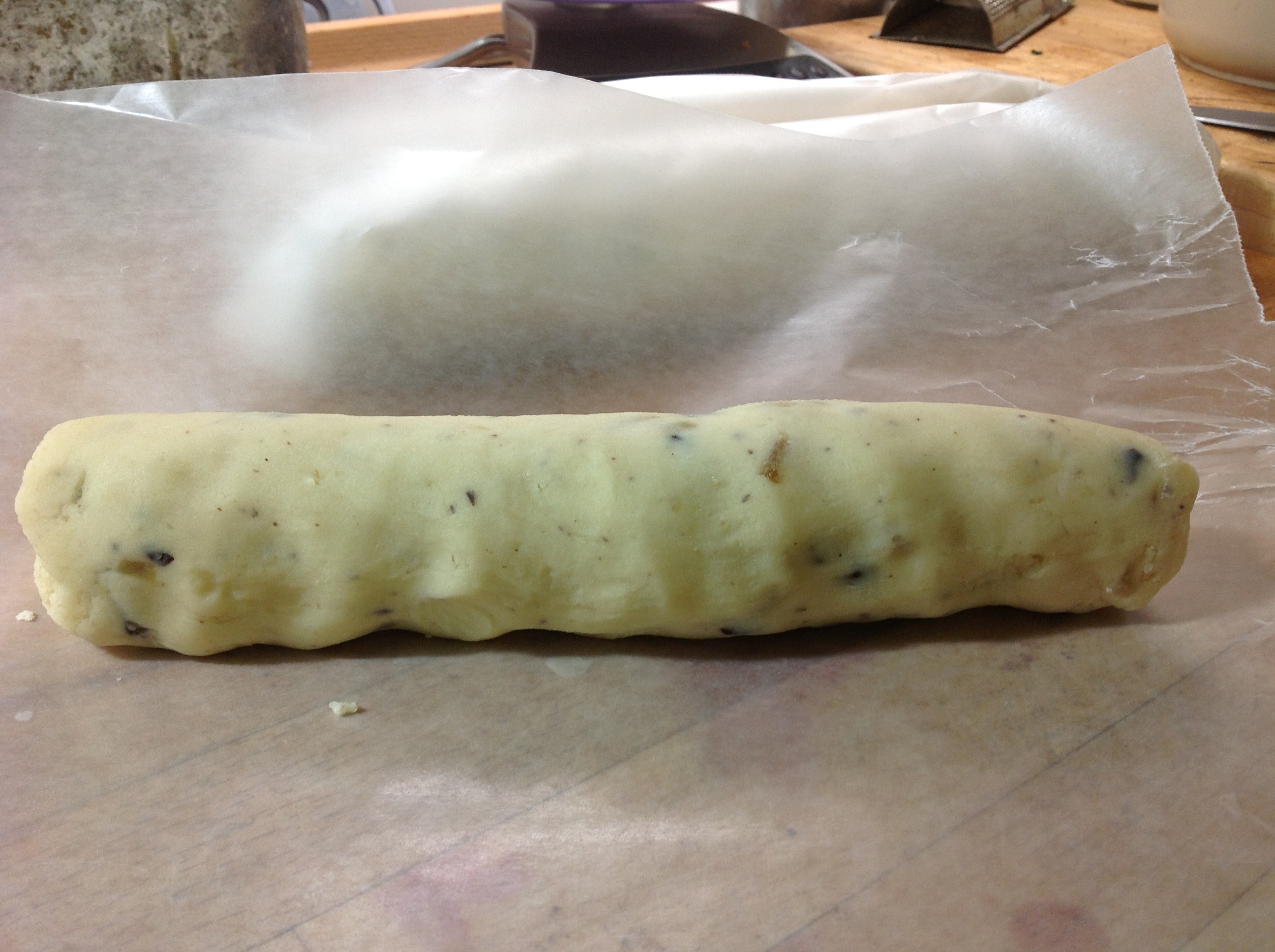 Line baking sheet with parchment. Preheat oven 325°F (160°C)

Cut off 3/8- to 1/2-inch (0.9 to 1 cm) slices or thinner (I prefer the thinner version)


Place slices of cookie dough on prepared baking sheet.

Bake in preheated  oven until edges of cookies are golden brown, about 18 minutes. (mine baked for 19 minutes)

Remove from heat and let cookies sit 5 minutes.

Carefully transfer cookies to wire rack to cool completely.
Makes about 36.
Nutrient Breakdown: I don't think so, it's a Christmas cookie, have one……………..

2015 Update:
This year I decided to try adding crushed candy canes instead of the ginger and chocolate. They are a tad sweeter, but they were still excellent. Sub out the ginger and chocolate and use crushed candy canes.