I love dressing up on Halloween, especially when I get to be one of my comedic idols, Lucille Ball.
Here are the recipes I demmed on the show along with Tracy aka Micheal Jackson
Cheese Balls from Outer Space, Anyone?
Makes approx. 40 cheese balls
Serving suggestion:
You will need:
· One small pumpkin – carved or as is.
· A plate or a vase to stand it on
· 40 toothpicks or bamboo skewers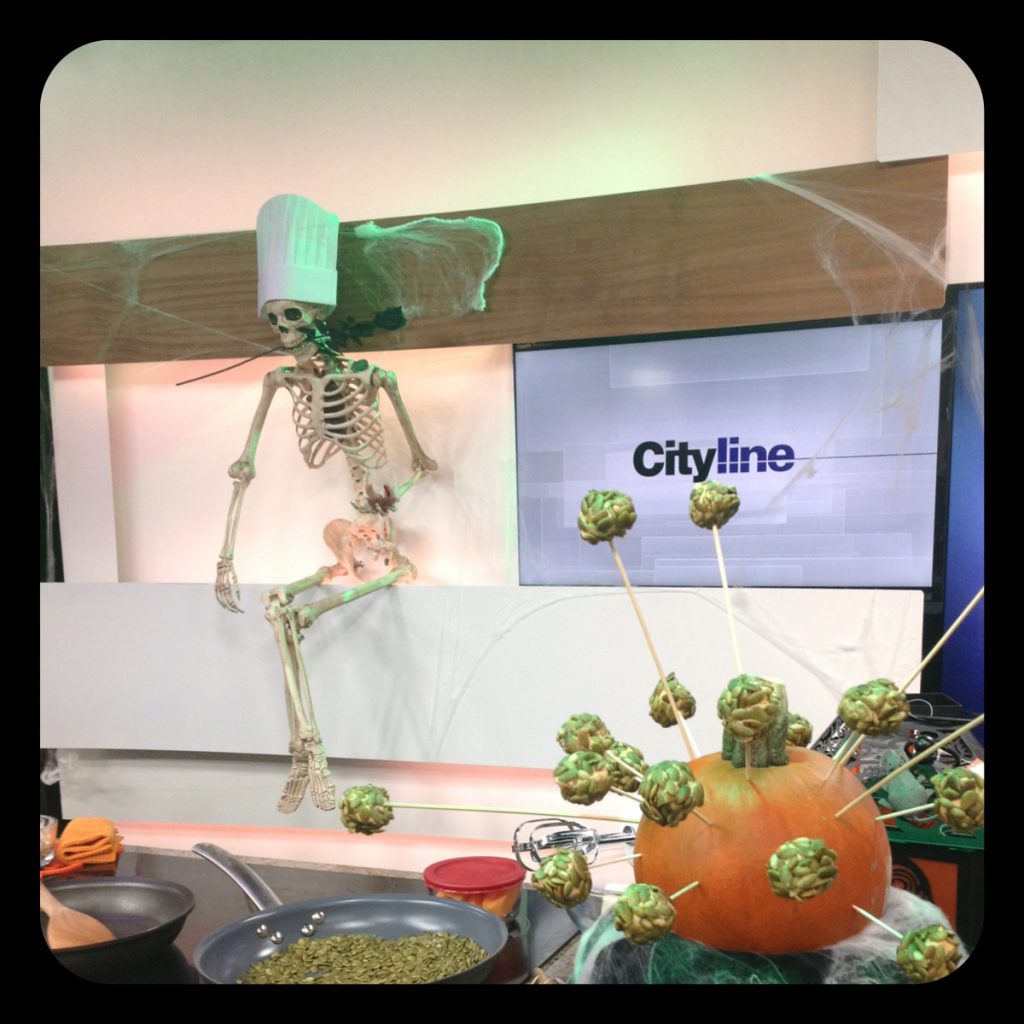 2 cups (500 mL) raw pumpkin seeds
1 – 250 g pkg. light cream cheese
8 oz (250 g) cold pack old sharp cheese, I used Ivanhoe, crumbled
1 tsp (5 mL) red pepper flakes
1. Remove both cheeses from the fridge. Set aside.
2. Meanwhile: Heat a large skillet over medium heat. Add the pumpkin seeds and gently toast until they start popping. Reduce heat to prevent them from burning and stir the entire time. When most of the pumpkin seeds have popped and have turned a light to medium brown, remove from heat. Tip the seeds onto a dry rimmed baking sheet and spread out so they can cool. Set aside until totally cool before you start the next step.
3. In a medium bowl, beat the cream cheese until smooth. Add crumbled cheese and red pepper flakes and continue beating until smooth. Set aside.
4. Pour out the pumpkin seeds into a bowl.
5. Scoop out the cheese into balls, approx. 1 tbsp (15 mL) portions and shape into a ball. Roll the balls in the pumpkin seeds.
6. Place the balls in a container, if you need to make a second row, place waxed or parchment paper on top of the bottom layer and continue layering. Cover and place in the fridge until serving time.
7. Pierce each cheese ball with the rounded end of either a toothpick or skewer; insert the sharp end into the pumpkin. Arrange any way you want to.
8. When the pumpkin is fully skewered, place it on the plate and serve.
Per One Cheese Ball: 97 Calories, 7.6 g total fat, 2.7 g saturated fat, 0.1 g trans fat, 139 mg sodium, 1.3 g carbohydrate, 0.4 g fibre, 0.6 g sugars, 5.4 g protein
Stuffed Mushrooms
Makes 24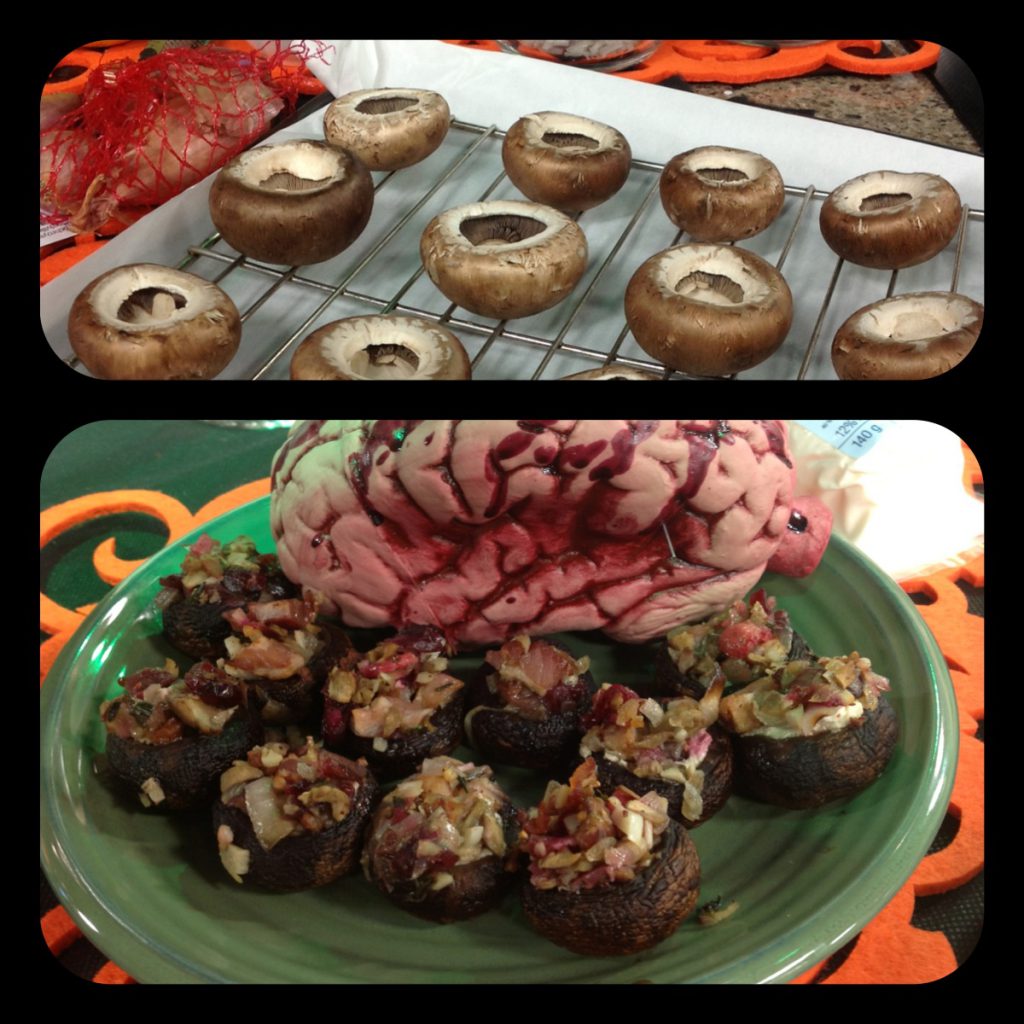 24 medium sized cremini mushrooms, wiped with a paper towel, stems removed and set aside
2 oz (50 g) pancetta, diced
2 large cloves garlic, minced
1 shallot, minced
¼ cup (60 mL) fresh cranberries, chopped
2 tbsp (30 mL) dried cranberries, chopped
1 tbsp (15 mL) fresh lemon thyme, diced – see note below
2 tbsp (30 mL) goat cheese
1. Line a large rimmed baking sheet with foil and place a cooling rack on top. Place the mushroom caps on top of the rack. Set aside.
2. Dice the stems and garlic and set aside.
3. Heat a large skillet over medium heat. Add the pancetta and cook until brown. Add the mushroom stems, garlic and shallot and let cook for 5-8 minutes, stirring occasionally.
4. Preheat oven to 350°F (180°C).
5. Meanwhile: place approx. ¼ tsp (1 mL) of the goat cheese into each mushroom cap.
6. Add the fresh and dried cranberries to the cooked mushroom mixture and cook stirring occasionally for 2-3 minutes.
7. Remove from heat and add the fresh thyme.
8. Spoon mixture into mushroom caps and gently press down.
9. Bake for 20-22 minutes, remove from heat, place on a platter and serve.
Note: If you don't have any fresh lemon thyme use regular fresh thyme with a tiny amount of lemon zest.
Per Each Mushroom: 15 Calories, 0.4 g total fat, 0.2 g saturated fat, 0 g trans fat, 20 mg sodium, 1,8 g carbohydrate, 0.4 g fibre, 0.9 g sugars,3 g protein
Pumpkin Chipotle Chili
Makes 12 servings
Baked in a pumpkin this is a crowd pleaser for any buffet or Halloween party.
This recipe is a cross between one of my chili recipes and fellow professional home economist Bridget Wilson's recipe in the The Vegetarians Complete Quinoa Cookbook
1 medium heirloom pumpkin or 3 pie pumpkins, I used a Jarrahdale, very dense pumpkin flesh, not watery at all – Dont use a Jack-O-Lantern style pumpkin – it will be horrible!
4 large cloves garlic, minced and set aside
1 tbsp (15 mL) canola oil
2 onions, chopped
2 tbsp (30 mL) chili powder
1 tbsp (15 mL) ground cumin
1 tsp (5 mL) dried coriander
One -28 fl. oz. (796 mL) cans diced tomatoes
Two – 19 fl. oz. (540 mL) black beans, well rinsed and drained
2 medium red peppers, roasted and chopped – you can use bottled
2 cup (500 mL) frozen corn, no need to thaw
1 canned whole chipotle pepper, finely chopped, not the whole bottle, just one chipotle
1 tbsp (15 mL) Worcestershire sauce
1 tbsp (15 mL) low sodium ketchup
Cut the top off the pumpkin or the pumpkins as if you were going to carve it into a Jack-O-Lantern.
2. Scoop out seeds and all membrane; be careful not to poke a hole in it anywhere.
3. Line a large rimmed baking sheet with foil. Place pumpkin or pumpkins on top and set aside.
4. Heat oil in Dutch Oven or a large skillet with deep sides over medium heat; add onion and sauté for 5 minutes or until golden brown.
5. Add garlic, chili powder and cumin and continue sautéing for 1 minute.
6. Add tomatoes, black beans, red peppers, corn, chipotle pepper, Worcestershire, and ketchup and bring to a boil, cover and simmer 15 minutes.
7. Meanwhile preheat oven to 350°F (180°C).
8. Spoon the chili into the pumpkin or the three pumpkins. Replace pumpkin lids, and bake for depending on the size of the pumpkin 1.5- 2.5 hours. Test for doneness by gently inserting a sharp knife into the top side, if the pumpkin is soft its ready.
9. Remove from oven and let sit for up to 20 minutes before serving. (if you are making the cornbread now is the tie to make it – see recipe below)
10. Scoop out some of the pumpkin and chili and serve in individual bowls.
Professional Home Economist Tip: Canned chipotle peppers can be found in the Mexican section of most grocery stores. Since you are only using 1 chipotle pepper from the can, freeze the remainder in small resealable plastic storage bags for later use.
Per serving (1/12 of the recipe): 182 calories, 2 g fat, 0.3 g sat. fat, 0 g trans fat, 436 mg sodium,
35 g carbohydrates, 10 g fibre, 6.7 g sugar, 8.4 g protein.
Skillet Cornbread
Makes 12 servings
A healthier spin on the ever popular cornbread.
You are going to need a cast iron frying pan for this recipe.
2 large omega-3 eggs
2 tbsp (30 mL) melted unsalted butter
¼ cup (60 mL) canola oil – see below
1 ¼ cups (310 mL) skim milk
½ cup (125 mL) dark brown sugar, packed well
½ cup (125 mL) whole wheat flour
1 ½ cups (375 mL) medium coarse cornmeal
1 tsp (5 mL) baking powder
¼ tsp (1 mL) salt
1. Adjust rack to the middle position. Preheat oven to 425°F (220°C). Place a 10-inch cast iron frying pan into the oven. Let heat for 5-8 minutes.
2. Whisk eggs, add and beat in: melted butter, oil, milk, and brown sugar.
3. Beat in flour, add and beat in: cornmeal and salt. Set aside for up at least 3 minutes.
4. When the pan is hot, add baking powder to the cornbread mixture and whisk or beat in.
5. Remove cast iron frying pan from the oven and lightly oil with canola oil. Pour in the batter and bake for 15-20 minutes or until a toothpick inserted into the centre of the cornbread comes out clean.
6. Slice into 12 equal pieces and serve right in the frying pan if desired.
Professional Home Economist Tip: To reduce the saturated fat even more use all canola oil and skip the butter altogether.
Per Serving (1/12 of the recipe): 194 Calories, 8 g total fat, 2 g saturated fat, 0.3g trans fat, 187 mg sodium, 26 g carbohydrate, 1.6 g fibre, 10 g sugars, 4 g protein