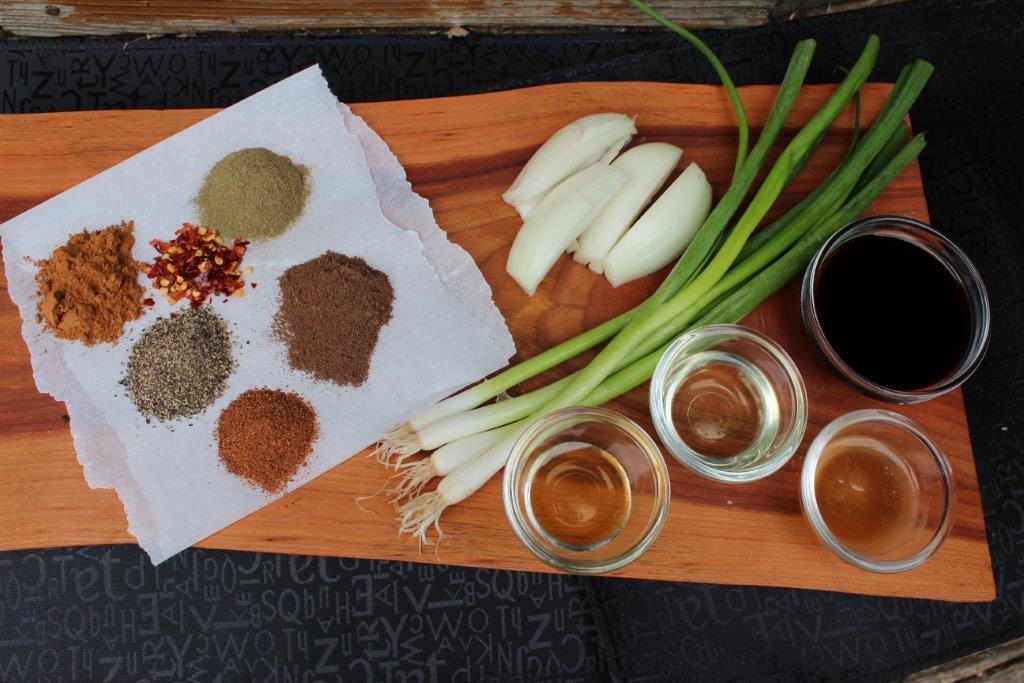 Jerk is more than just a highly spiced combination of antioxidant rich green onions, thyme, allspice, cinnamon, nutmeg, and hot spices. It's a process that doesn't work if you're in a hurry.
The chicken, fish, or tofu needs time to marinate, the grill needs to be fired up, and that protein needs to cook slowly. All of these elements have to be in place so that the end result will be spicy sweet and full of flavour.
This jerk recipe is medium to mild on the heat scale, so if you want spicy, you'll need to add your favourite hot sauce. I kept the marinade medium to mild so kids and friends who are spicy-food challenged could enjoy the fabulous flavours, but if you are really spicy-challenged omit the red peppers flakes and the pepper altogether.
You really need a food processor to make this marinade; my pick is my shiny new Cuisinart.
Jerk Marinade:
1 onion, chopped into quarters
4 green onions, chopped into quarters, the green and white part
1 tsp (5 mL) honey or sweetener of your choice
1 tsp (5 mL) ground thyme
1 tsp (5 mL) ground allspice
1 tsp (5 mL) ground cinnamon
1 tsp (5 mL) cracked black pepper
½ tsp (2 mL) ground nutmeg
½ tsp (2 mL) red pepper flakes
3 tbsp (45 mL) lower sodium soy sauce
1 tbsp (15 mL) canola oil
1 tbsp (15 mL) apple cider vinegar
2 lb (1 kg) boneless, skinless chicken thighs, approx 12-16 thighs
Whirl everything in a food processor until it forms a thick paste.

Place the Jerk Marinade into a resealable plastic bag or in a non-metallic casserole dish. Add chicken and make sure that the marinade is coating all of it. Gently press the air out, reseal the bag, and place in the fridge for at least 12 hours and up to 24 hours. Make sure to massage the bag every so often to make sure the marinade is coating all of the chicken. Open the fridge to get a glass of milk, massage the chicken. Open the fridge to get an apple, massage the chicken, you get the drill. If you are using a casserole dish, make sure the marinade is coating the chicken. Cover the dish, and spoon marinade over top of the chicken every so often.

When the marinating is complete: Preheat indoor grill or outdoor BBQ.

Remove the chicken from the fridge and let sit for 5 minutes.

Remove chicken from marinade and place on hot grill. Close the lid. Discard the marinade.

Cook chicken on low direct heat until internal temperature reaches

165°F (74°C)

approx. 20-30 minutes, depending on the thickness of the chicken. Flip often to reduce blackening.

Remove from grill and place on a clean plate. Let sit covered for 5 minutes. Serve.
Makes 8 servings
One serving = approx 3 oz (75 g) cooked chicken contains: 213 Calories, 11 g Total fat, 2.9 g Sat Fat, 0 g Trans Fat, 302 mg Sodium, 3.6 g Carbs, 1 g Fiber, 1.4 g Sugars, 24 g Protein
Diabetes Food Choice Values Per Serving: 1 Extra, 3 ½ Meat and Alternatives
Camp Cook and professional home economist tip:
This recipe is for eight people, so you can either cut the recipe in half or cook up the whole thing and serve the leftovers cold the next day. It's a fabulous make ahead dish to take on a picnic or to a cottage.