May 31, 2021
Vegetarian Asian Spring Roll Salad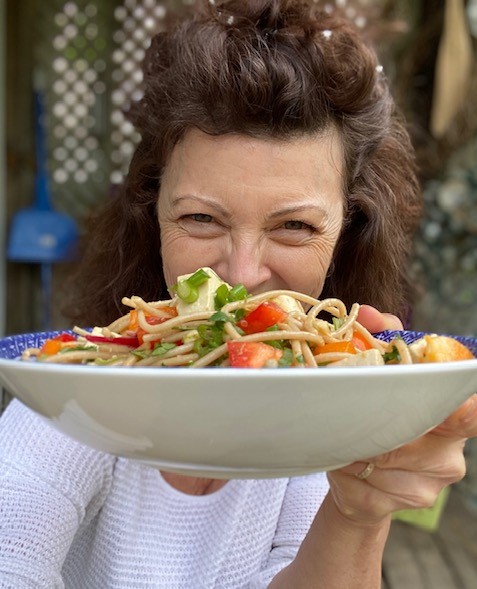 Fresh Asian-style Spring Rolls are fabulous to eat, and I order them almost every time I see them on a menu. While I was in recipe development mode for Peace, Love and Fibre I thought, yes, I'll make Spring Rolls for the book because I love them so much.
After making the twentieth Spring Roll, chopping, dipping rice papers into warm water, patting them dry, stuffing them, rolling them up, I decided that I'm way too impatient to make spring rolls and I bow to anyone who makes them.
I didn't want to throw out the recipe, so I thought, what if I used the elements of the Spring Rolls and made a main course salad? Bingo  and hello to fabulous main course vegetarian salad with loads of fibre.
This vegetarian salad is great for a summer dinner for a crowd or to pack for a picnic.
Recipe:
2 – 350 g pkg. extra firm tofu
Dressing and marinade:
4 cloves garlic, minced
¼ cup lower sodium or lite tamari – see professional home economists tips for making this a GF recipe below
¼ cup natural rice vinegar – look for no added sugar and if possible no sodium
1 Tbsp wasabi paste – see professional home economist tips below
1 Tbsp sesame oil
3 Tbsp freshly grated ginger
Zest from 2 limes
¼ cup fresh lime juice
Salad:
¾ pkg./8 oz. either whole grain or whole grain plus protein spaghettini or buckwheat soba noodles
3 ripe mangos, peeled and sliced into matchsticks – see professional home economist tips below
2 red peppers, cut into matchsticks
6 green onions, sliced thinly
6 radishes, in matchsticks
1 cup chopped cilantro, optional, but wow does this add an authentic flavour
¼ cup thinly sliced fresh mint leaves
Drain tofu and cut each block into ¼ or ½ -inch cubes, your choice. Set aside.
Make Dressing: in a medium bowl whisk together: garlic, tamari, vinegar, wasabi paste, oil, ginger, lime zest and lime juice. Pour half of it into a resealable plastic bag or a shallow container that has a lid. Reserve the rest. Place tofu into the shallow bag or container. Seal, making sure that the marinade is coating all the tofu. Store in the fridge for no less than 4 hours and up to 12 hours.
Break the spaghettini in half and cook according to the directions on the package. Or cook the buckwheat noodles as is as per the package. Drain well. Toss the drained pasta with the reserved dressing, place in a container that has a lid and store in the fridge for no less than 4 hours and up to 12 hours.
Either 4-12 hours later make the salad: in a very large bowl (this salad makes 14 cups) toss together the mango, pepper, onion, radishes, cilantro (if using) and mint. Add the pasta including any dressing that may not have been absorbed and toss well.
Add the marinating tofu and any of the marinade that wasn't absorbed (this is one of the few times that the marinate is okay to eat, its because tofu is plant based) and gently toss together. Serve right away or store in the fridge for 24 hours.
Makes 14 cups
One serving = 2 cups Per Serving: 294 Calories, 5.1 g Total Fat, 0.8 g Saturated Fat, 0 g Trans Fat, 0 mg Cholesterol, mg Sodium, 44.7 g Carbohydrate, 5.4 g Fibre, 15.6 g Sugars, 0 g Added Sugars, 14.6g Protein, 426 mg Potassium
Carbohydrate Choice = 2.5 choices for people living with diabetes
Professional Home Economist Tips:
Wasabi paste of powder? If you use wasabi paste often you can buy it in most larger grocery stores where you buy sushi. If not, buy the powder and mix 1 tsp with 1 Tbsp of hot water. Stir and let sit for about 5 minutes before adding it to the recipe.

Which mango to pick? Ataulfo sometimes called Honey mango are my favourite. They are sweet, have a firm flesh with no fibres and have a whole lotta fruit on each seed pod. They are grown in Mexico, Ecuador and Peru and are available from March to June.

How to make this a gluten free salad: use tamari which is naturally gluten free, switch up the whole wheat pasta for gluten free buckwheat noodles. Buckwheat is naturally gluten free but often they are made with wheat. Check the package for 100% buckwheat.

Recipe is from Peace, Love and Fibre (appetite Random House 2019)

Makes 14 cups