November 17, 2020
Sheet Pan Chicken Dinner for Two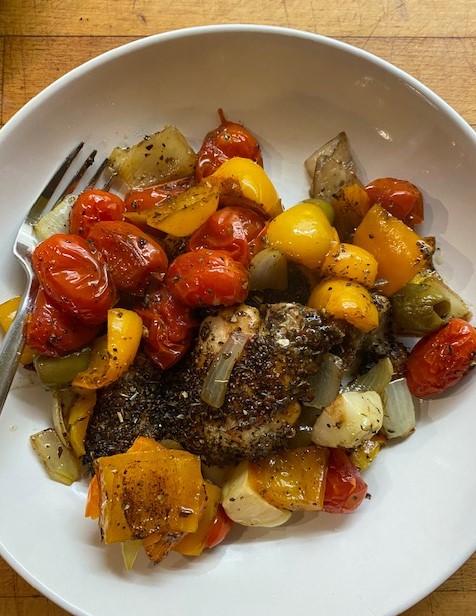 This easy to make sheet pan dinner only takes 10 minutes to prepare. The oven does the rest. Kick back and have a glass of wine while you wait. Minimal cleanup as well. Seriously, what's not to love about sheet pan dinners?
1 onion, cut into 1-inch chunks
1 large orange or yellow pepper, cut into 2-inch chunks
8 cloves garlic, leave them whole
2 cups cherry or grape tomatoes
8 olives, kalamata or your favourite olive
1 Tbsp canola or extra virgin olive oil
1 lb skinless, boneless chicken thighs (approximately 4-5 thighs)
3 Tbsp balsamic vinegar
2 tsp dried oregano leaves
1 tsp dried basil leaves
½ tsp cracked pepper
Preheat oven to 375F°. Line an 9×13-inch baking pan with parchment paper or foil.
Place prepped onion, pepper, garlic, tomatoes and olives into the pan. Drizzle with oil. Toss well.
Add chicken and nestle in between the vegetables.
Drizzle evenly with balsamic. Sprinkle on oregano, basil and pepper evenly.
Roast for 35-40 minutes or until the chicken has reached an internal temperature of 165F° or 75°C and the vegetables are cooked.
Serve, dividing equally between two plates. May serve with pasta or bread if desired.
Professional home economist tips:
Food Safety Tips:

Use a seperate cutting board for raw protein.

Always wash your hands before and after handling raw poultry, meat, seafood or pork.

Never rinse chicken before cooking it, the water splatters the bacteria around. If desired you can pat it dry, but I just place it right into the pan.

Check for doneness using a food thermometer.

Store cooked leftover chicken, covered, for up to three days in the fridge.

To watch me prepare this catch me on my Facebook Live show Wednesday night at 8 pm EST – find me at mairlyn.smith

Serves – 2 (may be doubled)