August 19, 2020
Mexican Street Style Grilled Corn VEG, GF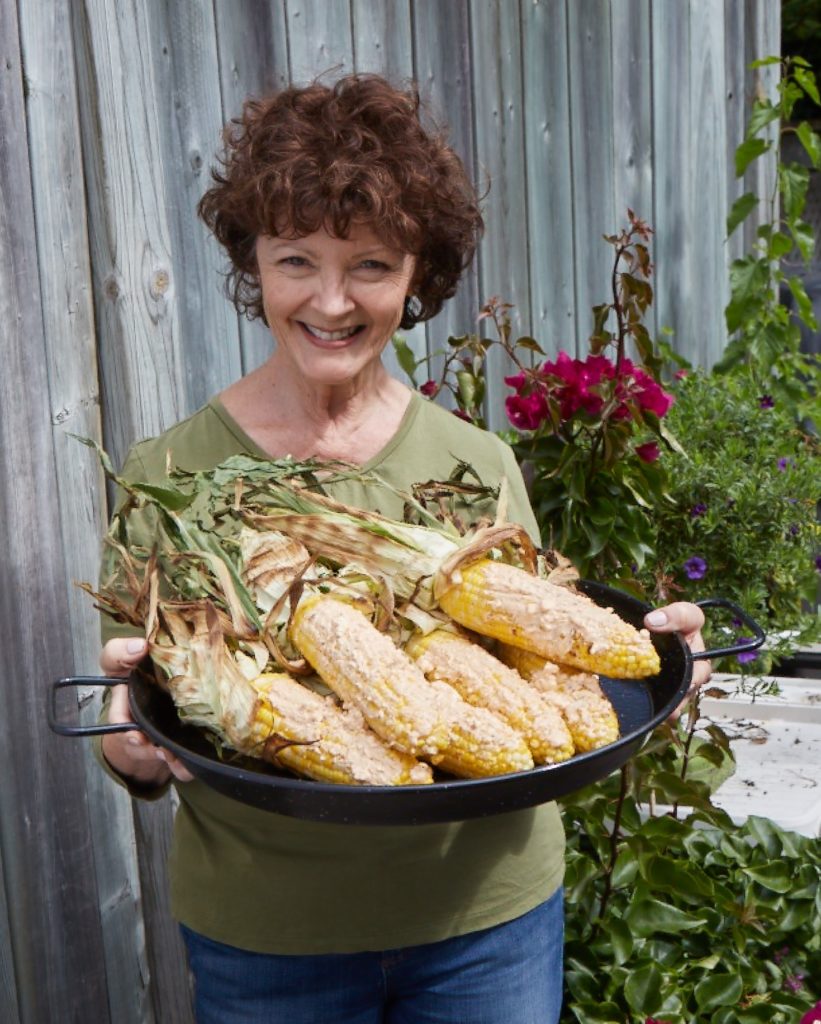 The first time my husband and I had Mexican Street Style Grilled Corn was at a cute little place on College Street in Toronto. We both took a bite, looked at each other and said, "Oh, we've gotta make this at home"
If you love Mexican food and grilled corn, this is a Grilled Corn Game Changer.
Recipe:
5 large fresh seasonal corn on the cob
Chipotle Cheese Sauce: makes ½ cup + 2 Tbsp
3 Tbsp plain 0% MF Greek yogurt
2 Tbsp low fat mayo
1 Tbsp fresh lime juice
¾ tsp Chipotle chili powder
½ cup well packed crumbled feta or 3 oz. Manouri, or Cotija cheese – see below
Preheat BBQ or indoor grill on High. But seriously, you need to cook this outside if you can.
Husk corn. I like to leave part of the husk and stem on as seen in the picture. If you like a cleaner look remove the stem and all the husk. It looks fabulous on, but it's messy eating, unless you are serving it outside.
Place corn on the grill, reduce heat to Medium or 350°F. Close the lid and grill on all sides until charring appears and corn is getting soft, approximately 8-12 minutes depending how big the kernels are.
While the corn is grilling make the Chipotle Cheese Sauce: in a medium bowl mix together yogurt, mayo, lime juice, chili powder and cheese. I use an immersion blender to make the sure the cheese is well distributed but blending it with a wooden spoon works well too.
When the corn is ready, if you removed the husk and stem insert a food safe bamboo stick into the stem end. Hold the corn with the stem or the bamboo stick and then evenly spread about 2 Tbsp of the sauce onto each cob using a small spatula or knife. Serve right away with loads of serviettes, this is messy to eat, but worth every messy corn on the cob eating moment.
One serving = 1 cob
Per Serving: 297 Calories, 7.8 g Total Fat, 3 g Saturated Fat, 0 g Trans Fat, 16 mg Cholesterol, 213 mg Sodium, 53.4 g Carbohydrate, 6.4 g Fibre,19.2 g Sugars, 0.3 g Added Sugars, 11 g Protein, 618 mg Potassium
Carbohydrate Choice = 3 choices
Professional home economist tip:
Will it be Cotija, Manouri or Feta? If you can't find the Mexican Cotija cheese at your cheese store, try Greek Manouri, if you have no luck with that, go with Feta.

This recipe is from Peace, Love and Fibre (appetite by Random House 2019)

It has been shortlisted for a Taste Canada Cookbook Award in the Health and Special Diets category and was recently featured in an article 25 Healthy Cookbooks That RD's Can't Stop Recommending in Self Magazine.

Catch me on my Facebook Live show on Wednesday nights at mairlyn.smith

Wednesday, August 19 at 8 pm EDT it's everything you need to know about fresh corn on the cob and I'll be preparing this recipe.

Photo credit: Mike McColl

Makes 5 cobs