July 23, 2020
Blueberry Salad with Barley and Dill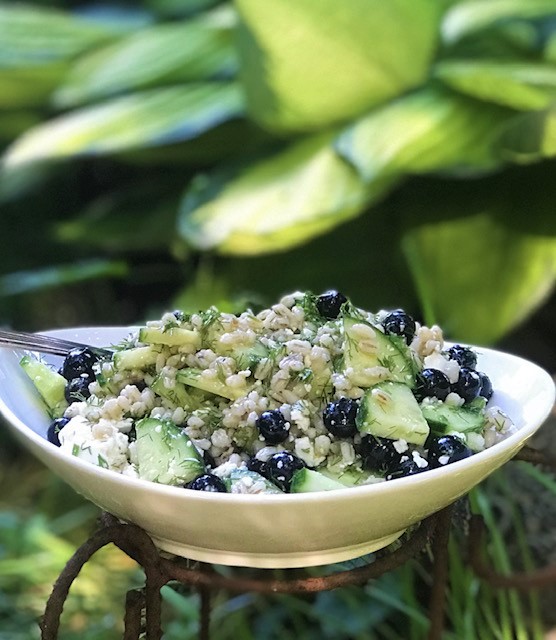 This easy to make summer salad using fibre rich cooked barley and seasonal local blueberries is a cinch to make.
Note: this salad uses leftover cooked barley – click here for Barley 101 so before you start this recipe, you need to have cooked cold barley on hand.
I cook a pot of barley weekly and store leftovers in the fridge for up to 3 days.
Recipe:
1 cup fresh commercial or wild blueberries, rinsed well and patted dry
Salad Dressing:
2 Tbsp red wine vinegar
2 Tbsp extra virgin olive oil or canola oil
Salad:
1 ½ cups diced greenhouse cucumber, approx. ½ cucumber
1 ½ – 1 ¾ cups cooked pot barley – see above Barley 101 for how to cook
½ cup chopped fresh dill
½ cup/3 oz. feta, crumbled
Rinse and let the blueberries air dry or pat dry before adding them to the salad. Wet blueberries will make the salad mushy.
Make the salad dressing: in a large bowl whisk together the vinegar and oil.
Toss in cucumber, cooked barley, dill, blueberries and feta. Toss well and serve right away. You can make this ahead of time, but barley has an uncanny way of absorbing flavours and the blueberries tend to get a tad mushy. For the biggest flavour hit, make it and serve it right away.
Makes 4 cups
One serving = ½ cup
Per Serving: 117 Calories, 5.8 g Total Fat, 2 g Saturated Fat, 0 g Trans Fat, 9 mg Cholesterol, 93 mg Sodium, 14.3 g Carbohydrate, 2 g Fibre, 2.8 g Sugars, 0 g Added Sugars, 2.5 g Protein, 96 mg Potassium
Carbohydrate Choice = 1 choice
Professional home economist tips:
When looking for the freshest blueberries make sure they have a silver sheen on them. Its called bloom and it's an indication of just picked. No bloom? No buy.

Rinse the blueberies before you use them. Soggy blueberries stored I the fridge will go bad quickly.

This recipe is from Peace, Love & Fibre (appetite by Random House)

I made this on my Facebook Fan page mairlyn.smith Check out the video.

Makes 4 cups