April 29, 2020
Mushroom and Barley Pilaf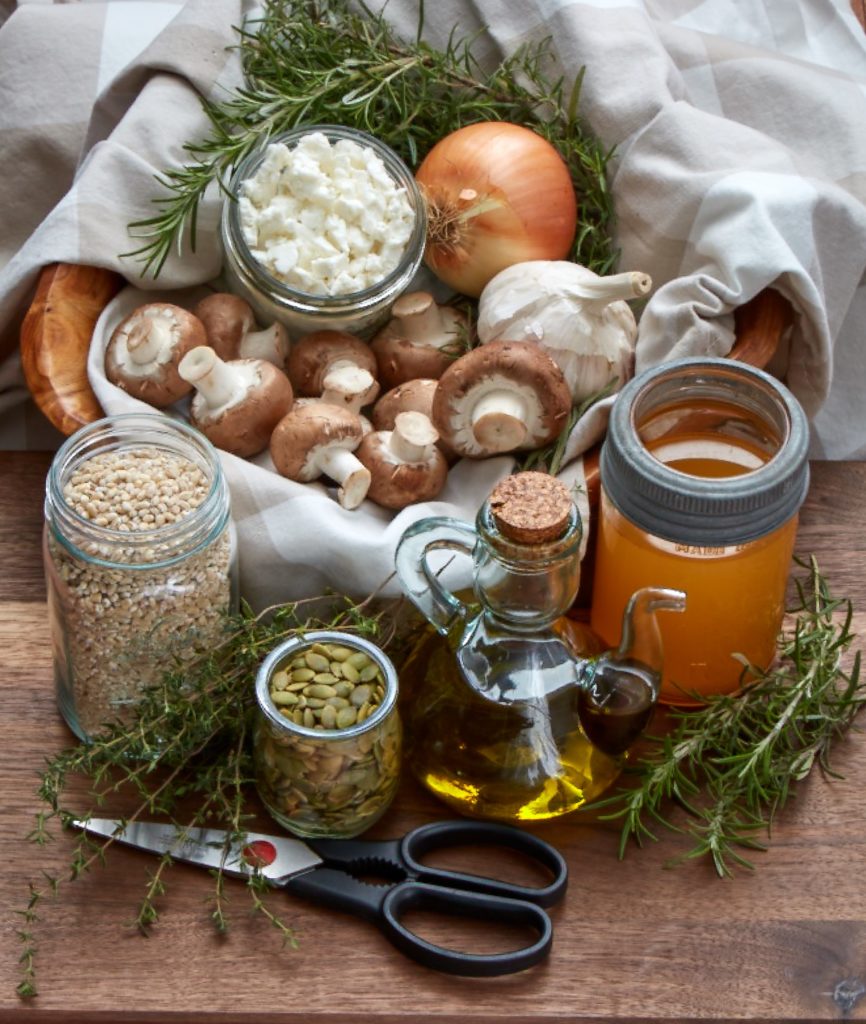 This pilaf is a house favourite. Perfect as a side dish or double up the serving as a vegetarian main course.
2 Tbsp canola oil or extra virgin olive oil, divided
1 onion, diced
4 cloves garlic, diced
1 cup pot barley, rinsed and well drained
2 cups no salt added chicken broth or vegetable broth- see below
One – 8 oz./227 g package cremini mushrooms, wiped or gently rinsed and thinly sliced
1 Tbsp minced fresh rosemary or 1 tsp dried rosemary leaves, crumbled
1 tsp fresh thyme leaves or ¼ tsp dried thyme leaves
¼ tsp freshly cracked coarse black pepper
1/8 tsp table salt
¼ cup green pumpkin seeds or roasted unsalted, if they re already roasted skip Step 4
½ cup/3 oz. crumbled feta cheese
Place a 3 ½ qt. saucepan over medium-high heat. Add 1 Tbsp oil and sauté onions until they are starting to turn a golden colour. Add garlic and sauté for about 1 minute. Add barley, sauté for another minute. Pour in broth. Bring to the boil, stir, cover, reduce to a low simmering boil and cook for 30-35 minutes. Check the pot at 15 minutes, depending on how low or high you thought a low simmering boil is will affect the dish. If the pot is almost dry then reduce heat, if its still a big soupy mess raise heat slightly. The barley is cooked when the liquid is 99% absorbed. The barley shouldn't be mushy it should be slightly chewy. When the barley is cooked remove from heat, and then using a large wooden spoon bring the bottom of the cooked barley to the top of the pot using a folding method. Cover and let sit while you cook the mushrooms. This helps redistribute the moisture for barley perfection.
Heat a 12 or 14-inch non-stick skillet over medium-high heat. Add the remaining 1 Tbsp of oil, then add the mushrooms and just leave them alone. No bumping them around, that just promotes mushroom anarchy causing the water to be released and then you end up steaming the mushrooms not browning them. You want browned mushrooms for this recipe.
When the mushrooms are browned, add the rosemary, thyme, pepper and salt and sauté just until the herbs and seasoning are incorporated. Add mixture to barley and gently fold in.
Add pumpkin seeds to pan and toast, takes all of 1 minute, if you are using roasted unsalted, skip this step. Remove them from heat.
Divide the pilaf into 4 equal portions (1 cup per serving) sprinkle each serving with 2 Tbsp crumbled feta and 1 Tbsp of the roasted pumpkin seeds and serve.
Makes 4 cups
One serving = 1 cup
Per Serving: 355 Calories, 15.2 g Total Fat, 2.4 g Saturated Fat, 0 g Trans Fat, 0 mg Cholesterol, 385 mg Sodium, 45.8 g Carbohydrate, 10.6 g Fibre, 3 g Sugars, 0 g Added Sugars, 14 g Protein, 386 mg Potassium
Carbohydrate Choice = 3 choices
Professional home economist tip:
You can turn this dish into a vegetarian side dish by substituting no salt added or lower sodium vegetable broth. To turn this into a vegan side dish use no salt added or lower sodium vegetable broth and eliminate the cheese.

Catch me on my Facebook Fan page mairlyn.smith Wednesday, April 29, 2020 at 8 pm EDT I'll be making this LIVE from my kitchen.

Photo credit – Mike McColl @photoswithsauce

Makes 4 cups