March 1, 2019
Roasted Sweet Potato Soup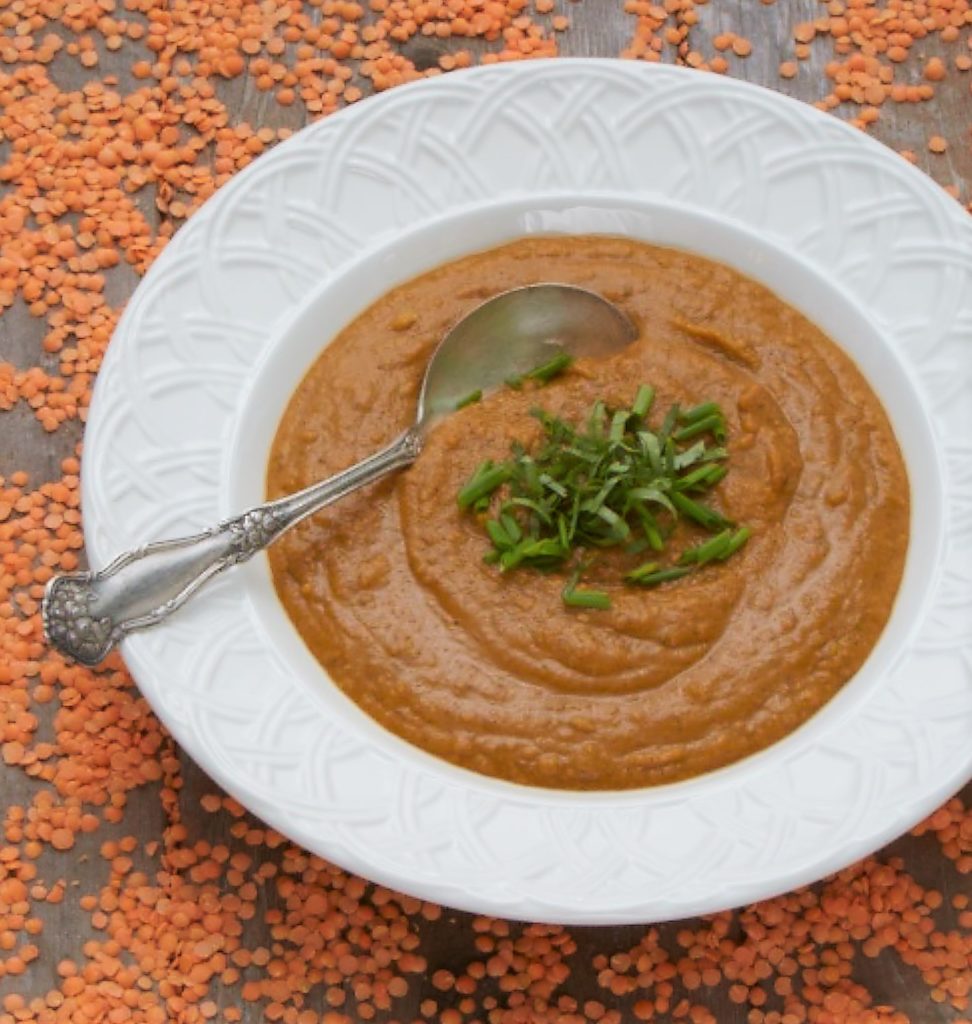 Peanuts are widely available in Africa but with so many people in North America dealing with peanut allergies I decided to use almonds instead.
Forget about the rice, between the lentils, roasted sweet potatoes and almond butter this soup is a main course all on its own. I serve this with a tossed green salad to round out the meal.
3 large sweet potatoes = 10 cups chopped, see Step 2
2 large onions
4 garlic cloves
3 Tbsp canola oil
1 ½ tsp turmeric
1 ½ tsp freshly cracked coarse black pepper
1 ½ tsp cinnamon
½ tsp table salt
¼ tsp red pepper flakes, optional
8 cups no salt added vegetable stock or vegetable broth
1 ½ cups red lentils
2 stalks celery, chopped into ¼-inch slices
¾ cup natural almond or peanut butter, crunchy or smooth, natural means no added sugar or other ingredients, it either just all peanuts or all almonds 
1 Tbsp + 1 tsp freshly grated ginger
2 green onions, thinly sliced
½ cup cilantro, finely chopped, optional
Preheat oven to 375°F. Line a large rimmed baking sheet with wet parchment paper. Set aside.
Scrub sweet potatoes well, pat dry and cut each in half lengthwise, then cut each half in half again, slice the quarters into approximately 1×1-inch pieces. The bigger the pieces the longer the roasting, your call, I go with smaller to equal faster cooking time. You should get approximately 10 cups of chopped sweet potatoes. Tip into a large bowl.
Cut each onion into 16 pieces, that's 32 pieces in total. (I love easy math) Add to the sweet potatoes. Toss in garlic. Drizzle with oil and toss well to coat.
In a small bowl mix together: turmeric, cracked pepper, cinnamon, salt and red pepper flakes. Sprinkle over vegetables, toss well to coat and tip into prepared pan. Roast in the oven for 50-55 minutes until all the vegetables and the garlic are soft.
Meanwhile, or halfway through the roasting period, start the soup portion: pour the vegetable stock into a large pot or a Dutch oven over medium-high heat, bring to the boil.
When the stock comes to the boil, rinse lentils and add, stir well, add celery, stir well and bring back to the boil, cover, reduce heat to simmer and cook until the lentils are soft about 20 minutes, stirring occasionally.
When the vegetables are out of the oven in all their glorious roasting yumminess and the lentils are soft, tip the vegetables into the soup, stir well and bring back to the boil, stirring occasionally.
Add almond butter or peanut butter and ginger, stir in well, remove from the heat. Use either a hand- held immersion blender or process this in an upright blender, I prefer the hand-held immersion blender for this soup, because I hate washing dishes and this way has less cleanup. Puree the soup until well blended and its very creamy looking.
Ladle into soup bowls and sprinkle with green onions and cilantro, if you are using and serve.
Makes 12 cups
1 one serving = 1 cup Per Serving: 173 Calories, 8.1 g Total Fat, 3.8 g Saturated Fat, 0 g Trans Fat, 0 mg Cholesterol, 50 mg Sodium, 28.8 g Carbohydrate, 5.1 g Fibre, 5.3 g Sugars, 0 g Added Sugars, 9.3 g Protein, 430 mg Potassium
Carbohydrate Choice = 1.5 choices
Professional home economist tip:
This soup is vegetarian, vegan, lactose free and gluten free.

One of my favourite winter soups is African Peanut Soup, a combination of stock, peanuts, sweet potatoes, onions and some heat. There are many variations of this soup, but in general it's a very thick, hearty, slightly spicy main course soup that is usually served with rice.