April 13, 2018
Chicken with Mushrooms and Thyme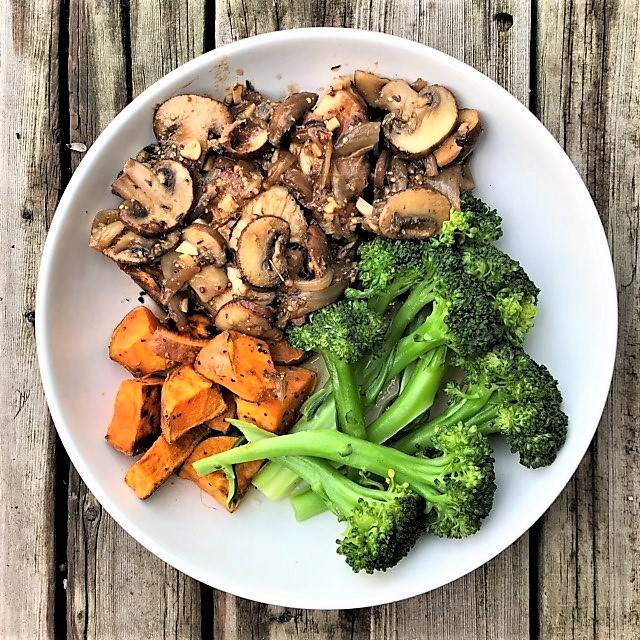 5 cloves garlic, minced and set aside
1.75 lb (.790 g) skinless boneless chicken thighs OR chicken breasts
2 medium onions, cut in half and then sliced thinly
8 oz. (227 g) package cremini mushrooms
1 tbsp (15 mL) fresh thyme OR 1-2 tsp dried thyme
1 Tbsp (15 mL) grainy Dijon mustard
¼ tsp (1 mL) freshly cracked black pepper
Heat a large non-stick frying pan over medium heat. Add chicken and brown on both sides, approx. 3-6 minutes per side.
While the chicken is doing its thing, gently wash mushrooms under running water. Let drain in a colander, pat dry, and slice in half and set aside.
Once the chicken has browned from the pan, place on a clean plate, cover, and set aside
Add onions to the pan and sauté for 3-5 minutes until a dark brown. (you shouldn't need to add any fat to the pan if you are using a non-stick) Push them over to the side of the pan and add the mushrooms. Let them fry for 3-5 minutes or until they have browned. Don't be tempted to bump them around. Just let them be. Two rules to live by: Never wake a sleeping baby and never bump a frying mushroom. Make sure you don't let the onions burn as they continue to cook on the other side of the pan.
Add reserved chicken and any juices that were on the plate. Add the garlic and thyme. Spread the chicken out and cover with a tight fitting lid, reduce heat and simmer for 10-20 minutes or until chicken is cooked through. Internal temperature should be 165°F (74°C).
Remove chicken from the pan and add the mustard. Stir in well. If there is a lot of liquid, turn the heat up to medium and reduce. When the sauce it thickened, spoon over the chicken. Makes four servings.
Makes four servings

One serving contains: 264 Calories, 11.6 g Total fat, 3 g Sat Fat, 0 g Trans Fat, 288 mg Sodium, 12.7 g Carbs, 1 g Fiber, 2.4 g Sugars, 28 g Protein

Diabetes Food Choice Values Per Serving: 1 Carbohydrate, 4 Meat and Alternatives

This easy to make one pan chicken dish is pure comfort food.