November 12, 2015
Edamame and Quinoa Entree for Vegetarians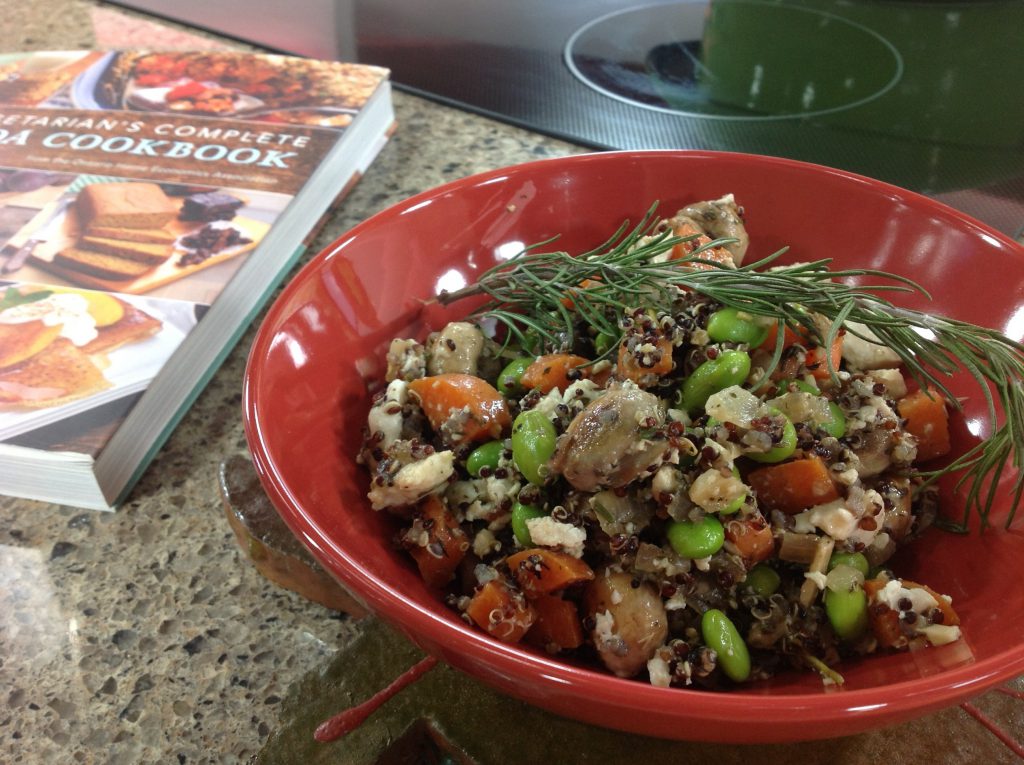 ¼ cup (60 mL) red or white quinoa, rinsed and drained
½ cup (125 mL) water
1 tbsp (30 mL) canola oil
1 – 227 g package of mini white mushrooms or 3 cups (750 mL) thinly sliced
4 large cloves garlic, minced
1 onion, diced
2 medium carrots, scrubbed well, diced
1 tbsp (15 mL) dried thyme leaves
1 tsp (5 mL) dried rosemary
¼ tsp (1 mL) cracked black pepper
½ cup (125 mL) vegetable broth, divided
1 ¼ cup (310 mL) frozen shelled Edamame, I use MacKellar Farms
4 oz (125 g) or approx. ½ cup (125 mL) goat cheese, I used Woolwich
Place quinoa in a small pot, add water, and bring to boil, cover and cook over medium/low heat for 15-18 minutes. The quinoa is done when the grains are translucent and all of the water has been absorbed. Fluff with fork, remove from heat and let stand covered for 5-10 minutes.
Meanwhile heat a large skillet over medium heat. Add oil and mushrooms. Let mushrooms sit and brown for approx. 3-5 minutes before stirring. Let brown for 3-5 more minutes. (see sidebar)
Add onions and garlic and lightly sauté until lightly browned, approx. 3-5 minutes.
Add carrots, thyme, rosemary, and cracked pepper. Stir well. Add ¼ cup (60 mL) broth, cover, and cook for 3-5 minutes, stirring occasionally.
Add frozen Edamame and stir until they turn a bright green.
Stir in cooked quinoa. Crumble the goat cheese in and gently mix. Add the rest of the broth (1/4 cup/60 mL) Stir in, cover, and reduce heat to low. Cook for 3-5 minutes or until the cheese has melted and the Edamame are cooked through.
Makes 5 cups

One serving = 1 ¼ cups

Nutrient breakdown per one serving: 243 calories, 9 mg cholesterol, 11 g total fat, 4 g saturated fat, 5 g fibre, 162 mg sodium, 23 g carbs, 7 g sugars, 12 g protein

Recipe from: The Vegetarians Complete Quinoa Cookbook (Whitecap 2012)
Recipe created by: Mairlyn Smith PHEc

The next time you're having a fall or winter dinner party and one of your guests is a vegetarian serve this main course as part of your dinner menu. TIP: don't be surprised when everyone wants to try it, and then asks for the recipe.