August 31, 2014
Tips for Surviving Toronto International Film Festival from a TIFFER in the Trenches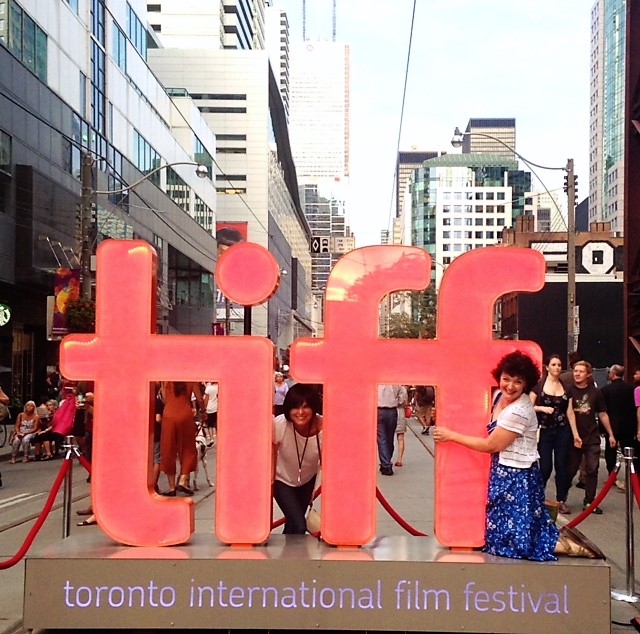 Updated August 30, 2016
After eight years of attending the Toronto International Film Festival  I finally can say that I know how to "do" the festival.
Every year my best friend and I do the festival, we've been to Galas and we've done the trenches. We love it all.
If you have an overwhelming desire to attend but have been intimidated by the crowds, the process of picking a film, or actually getting tickets, I'm here to help.
This is the closest we got to a Gala during TIFF15 (across the street at the TTC stop)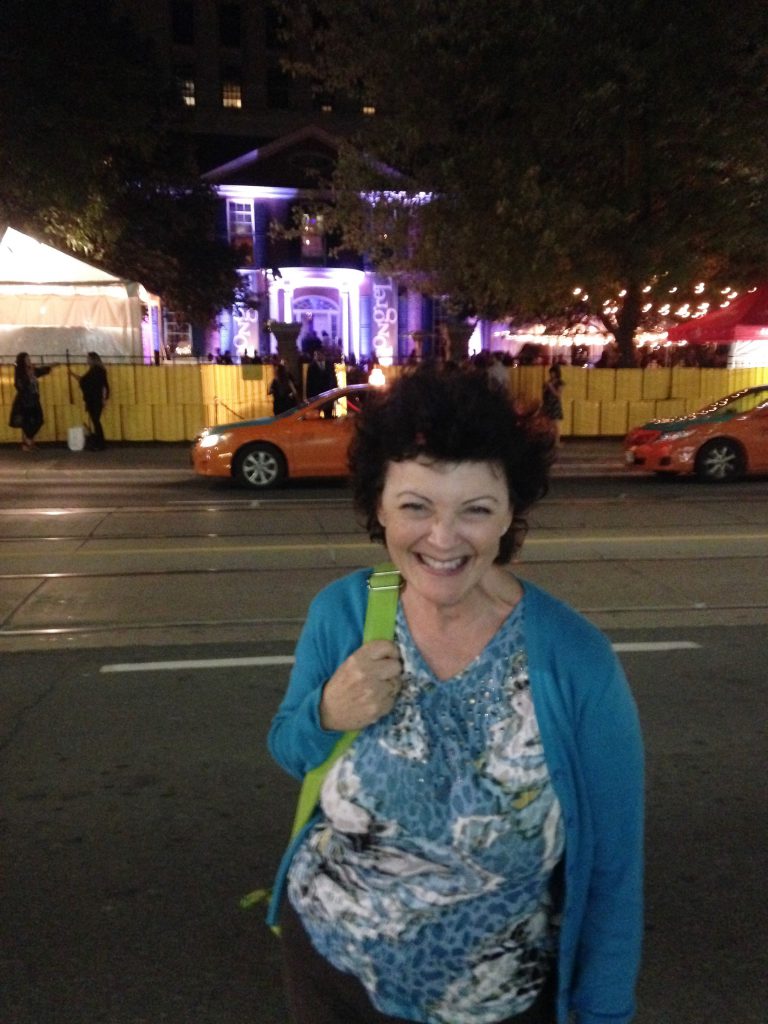 But in 2016 by some fluck on nature we got 2 tickets to Mongrel party! It was way more fun being inside the wall than out…
Step 1
Decide right now that you are going to attend #TIFF16 (festival lingo for the Toronto International Film Festival 2016)
Step 2
My biggest tip is to become a member of TIFF. Aside from discounts throughout the year members have an "advance purchase window for TIFF Choice and My Choice Flex ticket packages" Festival lingo for you get to jump the line.
This is one of the main reasons to join, unless your idea of a fun is waiting on hold for 2 hours the day the tickets go on sale for everyone and their pet poodle, to only discover that the movie you were dying to see is already sold out or in Festival jargon is off sale.
Become a member and you are given a date, a time and special code to either call in (for the computer challenged, like moi) or log in and then select your movies, which you usually get. Usually meaning about 99.9% of the time.
Become a member, it is totally worth it.
This year i put on my big girl underpants and went on line and booked my tickets, and….it wasn't as horrible as I thought it would be. Trust me if i could figure it out, anyone can.
Mairlyn's tip: To make joining worthwhile for this year's festival you really needed to join in January. Tickets for the general public haven't gone on sale yet. I will update the link when the festival starts for day-of movies.

Step 3
When the movie schedule comes out (about 2-3 weeks before the festival begins) comb through the online schedule or better yet, buy a hard copy of the entire list of films being screened, and choose your movies.
Best plan is to decide which days you are going to commit to and then using the online TIFF schedule, which is available in late August, read up on what the movies are about and then make your choices.
Mairlyn Tip: keep in mind the location of the theatres and that there may be Q&A's after a film. You won't make a 2:00 pm film at the Elgin Theatre  if you had a movie that ended at 1:23 pm at the Bell Lightbox Theatre unless you're a good runner or you've been on the Amazing Race Canada.
Step 4 – Getting your tickets
If you are a member call or log in on the day they gave you and select your movies. Easy, peasy. I logged on and booked all our 15 movies.
If you aren't a member and are looking for single tickets as in not a package call of log in September 4 starting at 9 am. If you call expect to be on hold for several hours before you get an operator, choose your movies, and either get them or not. Frustrating. Or go on line and try to book them.
Single tickets cost from $20-$25.00 per ticket for Regular movies. If you are looking for a Premium (there may or may not be the star or stars of the film there) they range from $38-$49.00 per ticket.
for everything you need to know about tickets TIFF has a great page on their website.
Mairlyn tip for single tickets the day of: wait until 7 am of each day the festival is on, log in and order tickets for whatever hasn't already been sold out – more of a hit or miss affair.
 Mairlyn's tip: On or before the day of your first film leave plenty of time to pick up your tickets. OR this year you can print your tickets or save to your mobile, genius idea.
Step 5 – Make reservations
Once you know your schedule and to guarantee that you won't be eating candy all day long, make lunch or dinner reservations.
One of my favourite places to have a martini in the city is served at the Luma Lounge.
Its called a Money Penny – its lemony and fabulous and its not always on the menu……but if you ask really nicely, maybe say my name…no guarantee, but they make it for me.
The Shangri-La great lounge right on the main floor, no reservations needed, fabulous cocktails and good celebrity watching.
The Ritz-Carlton they have a great lounge on the main floor. It's has a modern and a very interesting cocktail menu.
If you love Italian food head over to Terroni on Adelaide or on Queen Street West or the one on Adelaide.
I love the the tapas at Patria on King Street West not far from TIFF Lightbox.
And then there is The Roof Lounge on the 18th floor of the Park Hyatt. Fabulous cocktails and wonderful service.
Step 6
Wait patiently for your first movie.
Step 7 – Your first film day
Wear comfortable clothes and really comfortable shoes that are slightly upscale casual. I wear multiple layers because the air conditioning in most of the theatres makes me freezing! I always pack a large shawl/scarf – acts as a blanket, a head scarf if it starts raining and you didn't pack an umbrella, and stifles coughing fits.
My purse becomes my house – I pack Kleenex (there are many tearjerkers at the festival) gum, cough candies, Tylenol & aspirin (in a small aspirin bottle) my schedule, tickets, TTC pass, VISA card (the Infinite card gets you to the front of the line at the Elgin Theatre), TIFF membership card, water bottle, lipstick, lip balm, cell phone, a bag of nuts, scarf, and an umbrella on the days it looks like it might rain.
Expect line-ups. It's part of the fun! Meet new people, talk about the films you've seen, and watch for celebrities, if that's your thing. To ensure a great seat line up early.
If you aren't a fan of lineups or can't stand for long periods of time invest in a camp stool. The year we went when I had my hernia, sitting on that stool saved my life! Works in the rain too….
Step 8 – Transportation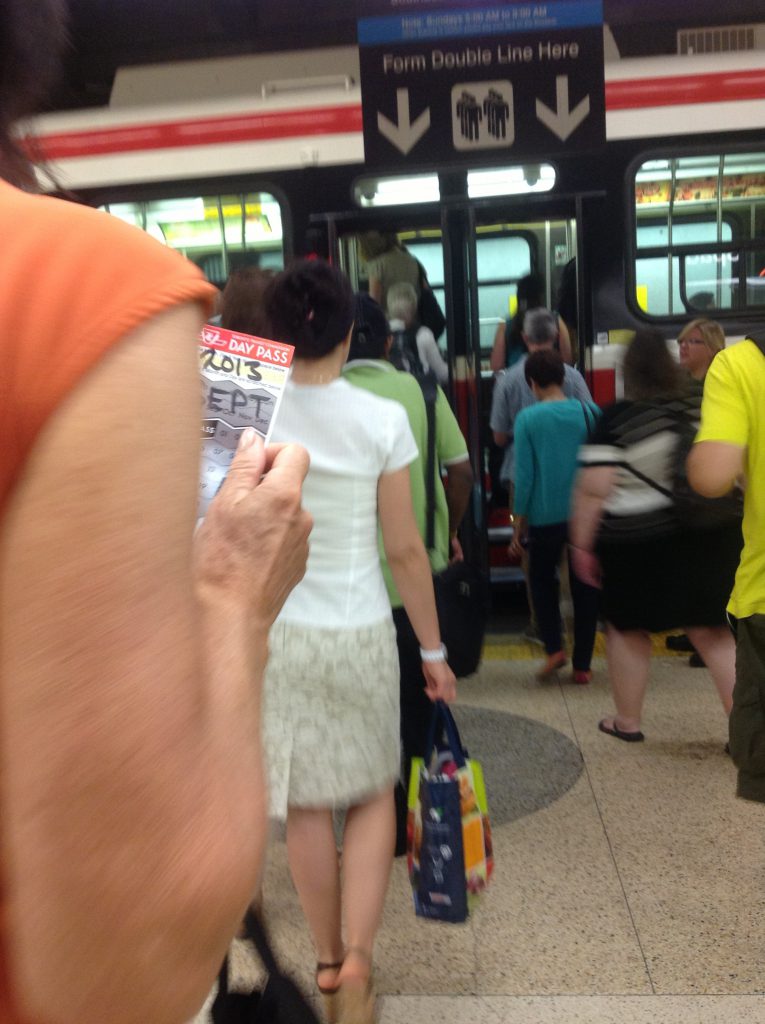 Forget taking your car anywhere near downtown, between the horrific road construction, road repairs, and the traffic for the festival, the TTC really is the better way.
If you are seeing multiple films and anticipate multiple uses of the TTC one day it is easier to buy an all-day TTC.
Here for a week? Buy the weekly pass.
Step 8
Get some rest when you can!
Step 9
Have fun. And then start planning for next year.