August 6, 2012
Goat Cheese Recipes and list of where to buy that amazing Goat Ice Cream I keep raving about – recipes as seen on BT Toronto August 7, 2012
Arugula with Roasted Beets and Goat Cheese
This upscale trendy salad is a winner in both the taste and nutrition categories. Beets are rich in antioxidants that reduce levels of homocysteine, which is an amino acid that may cause damage to your blood vessels.
Beets aren't considered a spring vegetable but local beets are wintered and are still available in most grocery stores till the end of March.
8 cups (2 L) baby arugula or One – 142 g container
4 roasted beets (roasting beets gives them a sweeter richer flavour than boiling)
2 oz (50 g) plain goat cheese, at room temperature
 Dressing:
2 tbsp (30 mL) balsamic vinegar
1 tbsp + 1 tsp (20 mL) extra virgin olive oil
2 tsp (10 mL) grainy Dijon mustard
2 tsp (10 mL) liquid honey
1 large shallot, minced
Roast the beets the night before. Place washed whole beets in an 8×8-inch(2L) metal pan lined with foil or parchment paper and roast in a preheated oven at 350°F (180°C) for 1-2 hours or until soft. NOTE: smaller new beets will take less time to roast depending on their size anywhere from 30-45 minutes. This will be totally related to the size of the beets and how soft you want them. I like my beets on the firmer side. When the beets are cooked, cool, place in a covered container and refrigerate overnight.
On serving day: Place arugula in a clean sink of cold water. Swish well to make sure there isn't any sand or dirt clinging to it. Place in a salad spinner and spin or pat dry. Place in a large bowl. Set aside.
Peel beets and cut each into thin slices. Unless you want to have purple fingers wear rubber gloves for this little dye your hands exercise. Set aside.
Make dressing: whisk together the balsamic vinegar, oil, Dijon and honey in a small bowl. Add shallots. Mix together well. Reserve 2 tsp (10 mL). Pour the rest of the dressing over the arugula and toss well.
Divide the arugula equally between four plates. Top each with ¼ of the sliced beets, using your fingers pinch off equal amounts of goat cheese and top the salad with it. Drizzle each salad with the reserved salad dressing. Serve.
Makes four servings One serving contains: 162 Calories, 8.5 g Total fat, 3.1 g Sat Fat, 0 g Trans Fat, 354 mg Sodium, 15.7 g Carbs, 2 g Fiber, 11.0 g Sugars, 6 g Protein
Diabetes Food Choice Values Per Serving: 1 Carbohydrate, ½ Meat and Alternative, ½ Fat
 Greek Barley Salad
Spring/Summer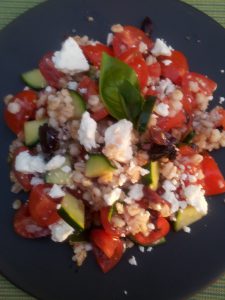 Diabetes-friendly barley along with heart healthy oil and olives plus antioxidant rich veggies, this summer salad is a colourful delicious medley of flavours and nutrients.
But the real beauty of this salad is that it is two side dishes in one. You have barley as your complex carbohydrate and vegetables all rolled into one side dish. This goes really well served with poultry or fish.
The night before or early on the serving day:
½ cup (125 mL) pot barley NOT pearled
1 ½ cups (375 mL) cold water
 Dressing:
2 cloves garlic
2 tbsp (30 mL) extra virgin olive oil
2 tbsp (30 mL) red wine vinegar
2 tsp (10 mL) diced fresh oregano
1 tbsp (15 mL) finely sliced fresh basil
Serving day:
3 cups (750 mL) cherry or grape tomatoes
½ large English cucumber, washed well and the peel on
1 large shallot, minced
12 Kalamata olives, pits removed, and chopped coarsely
½ cup (125 mL) crumbled goat's milk feta cheese, approx 2 oz (50 g)
The night before or the morning of serving day: Place barley in a mesh colander and rinse under cold water.
Put barley into a medium saucepan. Add water, bring to the boil, cover, reduce heat to low and simmer 45-55 minutes or until cooked. Stir once or twice to evenly distribute any remaining liquid, remove from heat, fluff with a fork to separate the grains and let sit covered for 10 minutes. Fluff again and then let it cool for 30 minutes. Place in a container and store in the fridge covered for up to 3 days.
Serving day: Mince garlic and set aside. Whisk together the oil and vinegar in a small bowl. Mix in the oregano, basil and garlic. Set aside.
Using a serrated knife cut tomatoes into quarters and put into a large bowl.
Dice cucumber or chop into about the same size as the tomatoes, add to tomatoes.
Add minced shallot and pitted chopped olives.
Toss in all of the cooked barley from the fridge. Toss well. Add crumbled feta cheese  and the salad dressing and toss well.  Either serve right away or let sit for 15 minutes to absorb the flavours.
Makes: 5 cups (1.25 L)
One serving = 1 cup (125 mL) One serving contains: 238 calories, 13.8 g total fat, 5.0 g sat fat, 0 g trans fat, 457 mg sodium, 23 g carbs, 5 g fibre, 3.2 g sugar, 9 g protein
Diabetes Food Choice Values Per Serving: 1 Carbohydrate, 1 Meat and Alternative, 2 Fats
The Essential Summer "Somebody Just Dropped Over" Pantry
Assorted crackers
Assorted goat cheese
Assorted olives
Marinated artichoke hearts
 Woolwich Dairy Wholesome Goat Ice Cream available at the following fine retailers:
In Toronto:
Whole Foods Markets – Mississauga, Oakville, Toronto, ON
FreshCo – Numerous locations across Ontario
Sobey's – Select Locations in Ontario
Longo's – Numerous locations across Ontario
Harvest Wagon Grocers Ltd. – Toronto, ON
Peaches & Green – Toronto, ON
Fiesta Farms – Toronto, ON
In Oakville and Hamilton:
Monastery Bakery – Oakville, ON
Organic Garage – Oakville, ON
Goodness Me Nat. Food Market – Hamilton, ON
Outside of Toronto:
Maunder's Gourmet Food – Aurora, ON
Howard the Butcher – Caledon, ON
Dresden Specialty Foods – Halifax, NS
Market Organics Inc. – Ottawa, ON
Harmony Whole Foods – Orangeville, ON
Nature's Emporium – Newmarket, ON
Local Family Farms – Verona, ON
Gaudaur Natural Foods Inc. – Orillia, ON
Que De Bonnes Choses – Hudson, QC
Tiano's Quality Produce – Pickering, ON
Jo Anne's Place – Peterborough, ON
Rainbow Natural Foods – Ottawa, ON
Noah's Vaughan – Vaughan, ON
Aurora's in Schumacher – Timmins, ON
All Creatures Great and Small – Cobourg, ON
Soaring Heart Wellness – Shelburne, ON
Mother Hubbard's – Nepean, ON