August 5, 2012
Hidden Gems in Muskoka
Some people bungee jump on their vacations, others camp or sightsee. Moi? I search for tucked away places that serve fabulous food. I call them my hidden gems and while away on a week's holiday in Muskoka I discovered a new one and revisited a couple of my usuals.
A couple of years ago we discovered Brooklands Farms http://www.brooklandsfarm.ca/  aside from their array of seasonal produce with the best corn I have ever tasted  this year they are selling farm fresh eggs. It's a must visit for the freshest of fresh produce – but if you want eggs you need to order them at least the day before. If you aren't on the egg list, you aren't getting any.
Port Carling boasts the best butcher shop in Muskoka.  Stephen's Butcher Shop has been in the meat business since 1927 and they are THE butcher to go to while you are in the area.  http://www.stephensbutchershop.ca/ Located in town they are also accessible by boat.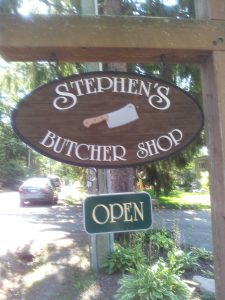 Heading through Port Carling take a right on Hwy 7 and head over to Port Sandfield's Silver Stream Market. http://www.silverstreamfarms.ca/ an upscale country store that includes a bakery, meat shop, deli counter, a huge array of local produce, ice cream, plus everyday groceries as well as specialty  and gourmet foods.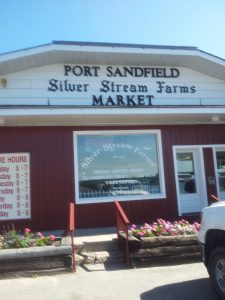 Turn around and head back the way you came and make a right back onto Hwy 118 and then a left on Hwy 169 and head towards Gravenhurst, you'll go past Bala, just keep going another 15-20minutes until you see Walkers Point Road on your left,  there isn't a sign to lead you to the best kept secret in Muskoka but trust me and turn left, drive another 5 minutes  to Barlochan Hills Country Store and meet Ruby. She makes the best pies I've ever eaten. Ruby is a find. Totally worth the drive, go early she sells out fast. If you want to make sure you get one of her amazing pies the only way to do it is to order the day before. Call 705-684-9468. She also makes cookies, sticky buns, scones, gluten free products, pizzas, lasagna, and sandwiches.