May 15, 2012
Asparagus Recipes as seen on CityLine May 16, 2012
Shaved Asparagus Salad    Spring early Summer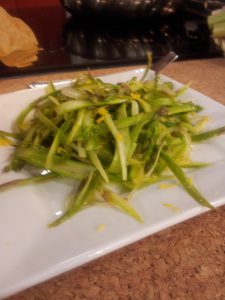 Raw asparagus? You can eat raw asparagus? You sure can, especially when it's fresh and local.
Makes 4 cups (1 L)
One serving = 1 cup (250 mL)
Salad:
1 lb (500 g) fresh local asparagus
1 small shallot, sliced very thinly
1 tbsp (15 mL) capers, rinsed, patted dry and minced
Zest of 1 lemon
Dressing:
2 tbsp (30 mL) cold pressed canola oil or extra virgin olive oil
2 tbsp (30 mL) fresh lemon juice
1 tsp (5 mL) liquid honey
Rinse asparagus and pat dry.
Leaving the woody ends on – hold that end and then using a potato peeler peel the asparagus starting at the end and working your way down to the tip.
Place shaved pieces in a large bowl.
Add shallots, capers, lemon zest and toss.
Dressing: in a small bowl whisk together oil, lemon juice and honey.
Pour over salad and toss. Serve.
Nutrient breakdown per 1 cup (250 mL) serving = 97 calories, 7 g total fat, 0.5 g sat fat, 3 mg sodium, 7.6 g carbs, 2.8 g fibre, 3.9 g sugars, 3 g protein
Asparagus and Cheese Strata   Spring Early Summer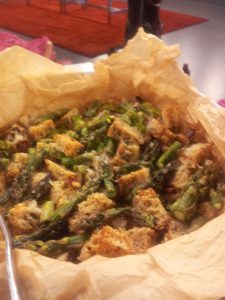 Makes 8 cups
One serving = 1 ¼ cups (310 mL)
This fabulous brunch idea has to be made the night before. You need at least 8 hours for the bread to soak up the egg mixture.
1 lb (500 g) fresh local asparagus
2 shallots, minced
¼ cup (60 mL) sun dried tomatoes, drained well and minced
1 ¾ cups (430 mL) loosely packed grated extra old cheddar cheese (4 oz /100 g)
8 cups (2 L) 100% whole grain bread stale sour dough bread cut into 1-inch (2.5 cm) cubes, 8 slices
6 – omega-3 eggs
2 cups (500 mL) skim milk
½ tsp (2 mL) freshly cracked black pepper
½ tsp (2 mL) dried basil leaves
Rinse asparagus, cut off woody ends, and then chop into 1-inch (2.5 cm) pieces trying to keep the tips intake. Set aside.
Line a 9×13 inch casserole pan with wet parchment paper.
In a large bowl: using a wire whisk beat the eggs until fluffy. Whisk in the milk, pepper and basil. Set aside.
Add half of the bread cubes into the bottom of the prepared pan and spread out evenly. Sprinkle evenly with half of the asparagus, shallots, sun dried tomatoes, and cheese. Repeat with the bread, asparagus, shallots, sun dried tomatoes, and cheese.
Pour the egg mixture over top. Cover and place in the fridge overnight or for at least 8 hours.
The next day or at least 8 hours later, take the strata out of the fridge and let sit on the counter for 20 minutes. Preheat the oven to 350 ° (180°C). Bake strata in the centre of the oven for 55 – 60 minutes or it has until puffed, is a dark golden brown, and has cooked through. Let sit for 5 minutes and serve.
Nutrient Breakdown per 1 ¼ cup (310 mL) serving:  302 calories, 15 g total fat, 5.76 g sat fat, 365 mg sodium, 36 g Carbs, 6.6 g fibre, 7 g sugars, 23 g protein
Tip:
Any leftovers? Store covered in the fridge for up to 2 days. Reheat and serve.
Asparagus Salad  Spring/Early Summer from: Healthy Starts Here! (Whitecap 2011)
Makes approx. 4 cups (1L)
One serving = ½ cup
Salad:
1 lb (500 g) fresh local asparagus
½ large red pepper, diced
One – 6 oz (170 mL) jar marinated artichoke hearts, well drained, and chopped coarsely
2 tbsp (30 mL) diced fresh parsley
Dressing:
1 tbsp (15 mL) extra olive oil
1 tbsp (15 mL) white wine vinegar
½ tsp (2 mL) grainy Dijon mustard
Freshly cracked black pepper to taste
Wash asparagus, cut off the woody part of the stem and discard. Steam the spears till tender crisp, heavy on the crisp part. Don't overcook them. Grey-green droopy spears of overcooked asparagus are a sin in the culinary world.
Once you have reached your desired level of tender/crisp, about 3 minutes, plunge them into a clean sink of cold water to stop the cooking. Drain in a colander.
In a large bowl whisk together the olive oil, vinegar, and the Dijon.
Add the red pepper, artichoke hearts, and the parsley. Toss well.
Cut the asparagus into 1-inch (2.5 cm) pieces keeping the heads intact. Add to the bowl and gently toss. Cover and store in fridge till serving time. It tastes better after a couple of hours but it's still great if you eat it right away.
Nutrient Breakdown per ½  cup (125 mL) serving: 40 Calories, 1.7 g Total fat, 0 g Sat Fat, 0 g Trans Fat, 40 mg Sodium, 5.1 g Carbs, 2 g Fiber, 1.8 g Sugars, 2 g Protein