April 17, 2012
Beets! The Amazing Purple Orbs!
here.
Barley and Beet Risotto
You need cooked beets for this recipe so you can either cook them while the barley is cooking or the day before. Cooked beets will last up to seven days in the fridge so like to cook then when I have the oven on for something else, wrap them in foil, and the store in the fridge until the next beet attack hits me!
2/3 lb (350 g) beets – to = 1 ½ cups chopped
1 tbsp (15 mL) cold pressed canola oil or extra virgin olive oil
2 onions, diced
4 cloves garlic, minced
1 tsp (5 mL) dried thyme leaves
¾ cup (175 mL) pot barley NOT pearled
2 cups (500 mL) lower sodium chicken broth or vegetable broth
¼ cup (60 mL) Parmesan-Reggiano or a really good parmesan
Preheat oven to 375°F (190°C). Wrap beets loosely in foil. Roast in the centre of the oven for 40 to 45 minutes or until beets are tender when pierced with a tip of sharp knife. Remove from oven and let cool, when the beets are cool enough to handle peel and dice. Set aside.
Heat a medium saucepan that has a tightly fitted lid over medium heat; add oil and onions and sauté for 3-5 minutes or until golden in colour.
Add garlic and thyme and continue sautéing for 1 minute.
Add the pot barley and the broth, stir, bring to the boil, reduce the heat to simmer, cover and simmer for 40-45 minutes or until the barley is tender but not mushy.
Gently stir in the parmesan, and then add the beets and even more gently fold in. Cover, remove from heat and let sit for 10 minutes. Serve.
Makes – 4 cups (1 L)
Serves -8 – ½ cup (125 mL) servings
Each ½ cup (125 mL) serving contains: 122 Calories, 3 g Total Fat. .8 g Sat Fat, 0 g Trans Fat, 202 mg Sodium, 18 g Carbs, 4 g Fiber, 3.3 g sugars, 4 g Protein
Beet and Arugula Salad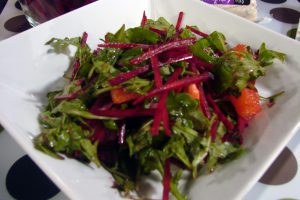 Raw beets? You can eat raw beets? You sure can! The trick is to julienne them – so you'll need a mandolin for this one – if not grating works, not quite so pretty, but it works, use a box grater so you won't stain your food processor.
2 cups (500 mL) baby arugula, chopped
2 tbsp (30 mL) diced red onion
2 tbsp (30 mL) finely chopped fresh mint
1 medium-large beet, peeled and julienned or grated = approx 1 cup (250 mL)
1 Cara Cara orange, peeled and cut into bite sized pieces – see below
Dressing:
1 tbsp (15 mL) fresh lemon juice
1 tbsp (15 mL) cold pressed canola oil or extra virgin olive oil
1 tbsp (15 mL) Ribena – see below
In a large bowl toss together: arugula, red onion, and mint. Gently toss in beets.
For the Dressing: In a small bowl whisk together the lemon juice, oil, and Ribena
Pour over salad and gently toss. Add oranges and gently toss. Serve.
Cara Cara oranges are a type of navel orange with a dark pink to almost red interior.  They are sweet and not only add delicious to this salad but a gorgeous colour as well. Found in larger grocery stores or higher end fruit markets. Can't find a Cara Cara? Then use a regular navel orange.
Ribena is a black currant concentrate that is popular in the UK. Very sweet it adds a huge hit of flavour to salad dressings. If you are worried about how many Carbs you're eating – reduce the Ribena to 1 tsp (5 mL) and the change in the per serving nutrient breakdown = 82 calories and 13 g Carbs.
Tip: For an even bigger hit of flavour add 2 oz (50 g) fig goat cheese, crumbled and toss in when you add the oranges. Woolwhich, a goat cheese  producer in Ontario, distributes fig goat right across Canada.
Makes – approx 3 cups (750 mL)
One serving = ¾ cup (180 mL)
Nutrient Breakdown: (without goat cheese) Per one ¾ cup (180 mL) serving = 90 calories, 3.6 g total fat, .5 sat fat, 0 trans fat, 17 g carbs, 12 g sugars, 3.3 fibre, 2 g protein
Spicy Oven Roasted Beets
This spicy version of plain roasted beets might even sway a beet abstainer, might, here's hoping!
1 ½ lb (750 g) small-medium beets, peeled and cut into quarters, approx 1-inch (2.5 cm) pieces
1 tbsp (15 mL) cold pressed canola oil or extra virgin olive oil
1 tsp (5 mL) turmeric
1 tsp (5 mL) cinnamon
½ tsp (2 mL) cracked black pepper
Preheat oven to 375°F (190°C). Line an 9×13-inch metal baking pan with wet parchment paper.
In a large bowl whisk together: oil, turmeric, cinnamon, and cracked pepper. Add beets and toss until well coated.
Place into prepared pan, scraping any extra oil onto the beets, and roast in the oven for 50-60 minutes or until desired tenderness – I like them slightly tender. Serve.
Makes about 3 cups (750 mL)

One serving = ½ cup (125 mL)

Nutrient Breakdown: Per ½ cup (125 mL) serving contains: 54 Calories, 2.4 g Total Fat, 0 g Sat Fat, 0 g Trans Fat, 56 mg Sodium, 7 g Carbs, 1.6 g Fiber, 4.5 g Sugar, 1 g Protein

Tip: Turmeric has anti-inflammatory properties that are even stronger when mixed with cracked pepper.

Tracy and I "beet" it up in the kitchen, Wednesday, April 11 on CityLine! To watch the video clip click