March 19, 2012
Celebrating World Home Economics Day
To celebrate World Home Economics Day on Wednesday, March 21, 2012 CityLine let me show some tips and tricks that you would have learned in Home Ec 8.
We started off with Hug your Favourite Home Economist!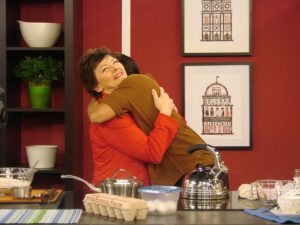 We measured liquid ingredients in a glass measuring cup – you need to see the meniscus at eye level!
We even pitted an olive without getting anything on your clothes!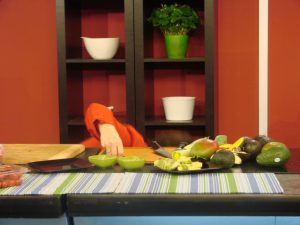 There aren't any recipes for this week's show – just lots of Show and Tell. Want to know How to hard cook an egg? Cut a mango? How about an avocado? Set your PVR for Wednesday, March 21 on CITY TV for CityLine there's lots to learn!
In the meantime here is a rant I wrote in Healthy Starts Here! all about bringing home ec back.
For the Love of Home Economics
I was one of those weird people in high school who actually liked going. I liked hanging out with my friends, the clubs, intramural sports, and the after school activities.
I hated and loathed Chemistry, Physics, and Math, but I loved History, English and my blessed Home Economics classes.
The Home Ec area was an entire building at my school which was dedicated to teaching foods, nutrition, and sewing. Whenever I walked through the arches I felt like it was my building.
I learned how to scramble an egg, decorate a cake, and make a pitiful looking tote bag. After my sewing and design courses in University my professor told me I should never teach sewing, I was that challenged at it. I took her advice and I never taught anyone sewing, but I did teach many students that eating healthy was a choice we all needed to make.
In the early 1970's every girl in my school had to take Grade 8 Home Ec. The guys took Shop. It was sexist, but it was normal back then, girls cooked, guys fixed stuff. Hmmm, have things changed that much?
By Grade 10, with some progressive thinking in the school board, the guys were finally allowed into the home ec classes.
It was weird and exciting to have males in our building. By the end of the first mixed class I had a mad crush on a Grade 12 hunk of burning love.
Lorne was a rough and tumble bad boy and I adored him. He wore key chains hanging out of his rugged ripped jeans, had long hair, and drove a hearse. The guy was hot!
Every classroom had little complete cooking units set up around the room and his unit was right beside mine. (And yes, I am well aware of the double meaning of that one)
Anyway, one day we had a fire in our unit and Lorne saved us. No pot over the flames, no fire extinguisher, no, Lorne just walked over and blew it out.  My hormones went mental. I was in love.
It was, like most of my love affairs, one sided. I never missed a class for an entire semester; I would sprint down the hall, through the arches and be there when Lorne arrived. I could always figure out how to wheedle my way over to his unit and offer some pearls of wisdom. And after it was all said and done, Lorne knew how to cook some stuff. Not brilliant, but he could cook. And I learned how to talk to older boys, not brilliant, but I could talk.
Those classes were teaching us valuable life lessons; how to get along in a group and knowing your way around a kitchen are important skills that you can use everyday of your life.
Home Economics or whatever you want to call a class that teaches foods and nutrition is no longer required as a mandatory element in education. As a result we are seeing generations of people who know nothing about cooking. They barely know that the kitchen is the room with the stove.
They know how to order take out, how to navigate a drive-thru, and how to get a pizza in their house in forty minutes or it's free, but how to make something from scratch, is a total mystery.
And this is now affecting the health of our country.
In an editorial in the Journal of the American Medical Association, Alice Lichtenstein, a nutritional biochemist at Tufts University, and David Ludwig, a physician at Children's Hospital Boston, argued that mandatory home ec should be incorporated back into the classroom as a means of combating obesity.
They suggest that teaching all kids to cook healthy foods will begin a domino affect in the health of the next generation.
Now, there's a concept. Let's educate our kids to eat better by making home ec mandatory, again.
In our country's quest for healthier citizens we need to combat the ever increasing numbers of diabetes and heart disease. We need to bring back home ec. It will take a while to see the results, but if we don't do something soon, it may be too late for many of us.
Petition your government to make foods and nutrition a mandatory class in high schools. Chemistry, Physics, and Math may have expanded my brain, but Foods and Nutrition has expanded my knowledge of health, and with it my chances of making healthier decisions all of my life.
Peace, love and fibre,
Mairlyn Smith