August 29, 2011
One Farmer's Market is just like any Farmer's Market. NOT!
If you've read any of my books or followed me on Twitter then you know that I'm a huge fan of farmer's markets.
I love the taste of fresh produce and local food wares. From mid-April to mid November I am in foodie heaven.
Every farmer's market has its own unique feel, from the different array of farmer's right down to their unique specialties. Just because you've seen one market does not mean you've seen to them all.
Last week I went to two different farmer's markets on the same day to see what each of them had to offer.
My regular market is the East York Farmer's Market, Tuesdays from 8:00 am until around 2:00 pm. http://www.greenbeltfresh.ca/search-results-profile/535
I love my tomato guy and his heirloom tomatoes
plus the garlic lady
the corn crew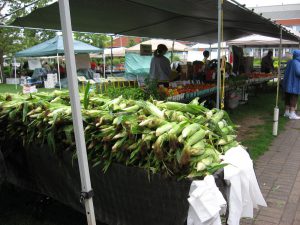 and the tree fruit guy!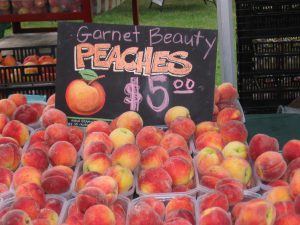 I loaded up with my favourites and headed home to eat fresh blackberries and peaches!
That afternoon I went with two of the Decade Divas (my eating and drinking themed book club – we actually don't even read a book – more like a great night of laughter and friendship) to the Riverdale Farmer's Market open from 3:00 pm to 7:00 pm. http://www.rpfarmersmarket.org/
It was more like a throwback to a country farm day than a market in the city. And bonus there was as many food vendors as there were farmers! We get to eat too?
The Organic Crepe Guy – you can follow him on twitter – @OrganicCrepe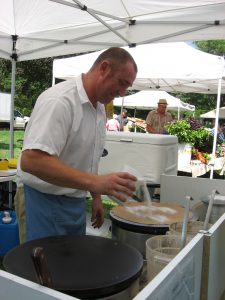 Made us an amazing peach and chocolate crepe!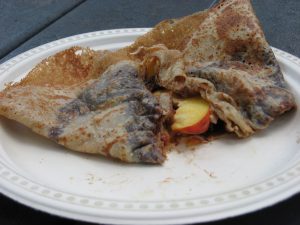 LPK's Culinary Groove served up gluten free baked goods that tasted fabulous.
And the Fry Guy Frites served up fries that I even splurged on!
Then there was Rolling Hills Organic that had heirloom carrots in a gorgeous bouquet of colours.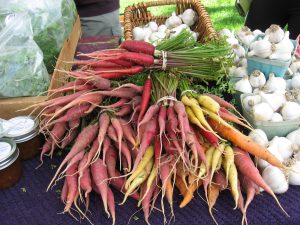 If you wanted baked goods St John's Bakery was there selling bread.
And for all those exotic foodies out there Toorish Foods was selling their wares – I bought some pickled turnip that I served on some falafel.
There were farmers, and fish mongers, and even a knife sharper person!
We shopped, we ate, I accidentally took a picture of my foot! All in all it was a great afternoon!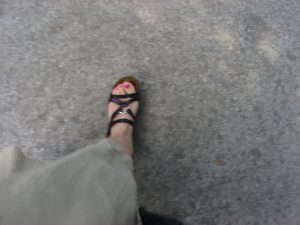 Two markets- two different feels, both amazing! I am so hooked! Hmmm, where will I go next week, and the week after that….