August 28, 2011
Freezing Peaches
This year the Ontario peaches have been amazing! Sweet, juicy, and delicious! Especially after last year's no show due to weather.
I've been watching tweets and Facebook posting on peach jam, but my favourite way to put down peaches is to freeze them.
Right around the beginning of February when I am losing hope that Spring will ever come to Toronto I get a container of my frozen peaches out of the freezer, thaw them and serve up a bit of summer!
Here is my easy to follow steps for freezing a hint of summer!
Slice peeled peaches into a BPA free freezable container.
Add enough orange juice to just cover them. The orange juice will prevent them from browning. Don't add too much orange juice or they'll overflow when you freeze them.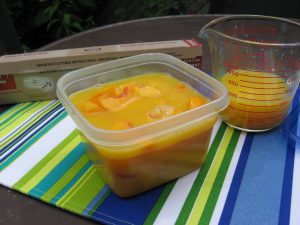 Crinkle up a piece of wax paper or parchment paper.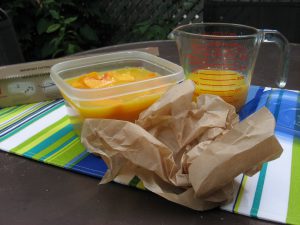 Place the paper on top of the peaches so that all of the peaches are covered by the orange juice.

Put on the lid. Freeze. And don't forget to label and date them! Sure, today you're thinking I'll remember this! But in the middle of winter you don't want to play "What the heck is this?" when you're rummaging around your freezer!