August 9, 2011
To Market, to Market!
"It's the most wonderful time of the year!!!!" (Sing a la the popular Staples commercial)
Except I'm not singing because the kids are going back to school.
I am singing because it is Farmer's Market season! Which is my absolutely favourite time on the foodie calendar. With such a huge variety of locally grown fruits and veggies to choose from it is my version of going to Disneyland – can't wait to get there for the thrills, the fun, and the food!
I started off my day at 8:00 am in the rain with a trip to the East York Farmers' Market.
I always do a walkabout to see what's what and who has what and then plan on what I'll buy. Then  based on weight I go shopping. The heavy stuff goes on the bottom of my bags – and the delicate stuff on the top.
My first stop is always at Theissen Farms for a chat with Ron Theissen on what's new on his farm and just to shoot the breeze! He is my "tomato guy" and today he had over 50 varieties of tomatoes! The heirloom tomatoes are my absolute most favourite tomatoes, sweeter, richer in flavour and a must for my Heirloom Tomato and Blueberry Salad that I am going to being demming on Breakfast TV this Thursday morning, August 11. I always check his heirlooms out and then go and peruse the market.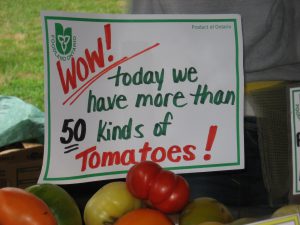 Next stop was at Thames River Melons. They specialize in melons (hence the name) and today they had their speciality melon Charantais which is a sweeter more flavourful muskmelon. Paid my money and then into the bag it went!
Ontario garlic! Woohoo! It is about time! Bought a big bag for $9.00 from Ruth "my garlic lady" who asked me to remind people that you never store garlic in the fridge.  I think that storing garlic in the fridge is grounds for a quick trip to Culinary Hell!  Store garlic in a cool dark place.  Got a couple of suggestions this morning on Twitter – use those clay garlic pots or try using bamboo steamers to store your garlic in, minus the steam of course.
Willowtree Farm had an abundance of veggies.  My neighbour bought a small basket of pickling cucumbers. The fingerling potatoes looked awesome but I didn't need any potatoes this week – hope I don't kick myself next week if they don't have any.
Next stop – the peach guy – Bizjack, a fruit tree farm in Niagara, which had the most amazing peaches! Garnet Beauties may become my new favourite variety! Sweet and juicy I think I'll just eat them out of hand.
Had all of my heavy stuff so it was a stop at Caledon Spring Farm who had ever bearing strawberries, plus some juicy looking raspberries and blueberries. Bought some blueberries for that Heirloom Tomato and Blueberry Salad.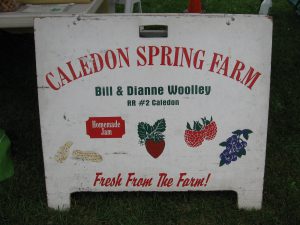 And then finally wandered back to Theissen Farms and bought my blessed tomatoes! Tonight it's the salad (will save the prettiest tomatoes for TV) and maybe an omelette – I have some fabulous mushrooms in the fridge as well as some goat feta….hmmm, love, love Farmers' Market season.