I am a TIFFer – a Toronto Film Festival attendee!
Most people hear TIFF and they think galas, red carpets, parties, schmoozing, dressing up and limos.
My version of TIFF is about as far away from that experience as you can get. As you can see I am all about the jeans and the comfortable shoes!
The closest I've ever gotten to a red carpet was the one I walked over that was in front of the BOSS store on Bloor Street as Arlene Dickenson from the Dragon's Den was getting into her chauffeur driven sedan. We were walking to the TTC!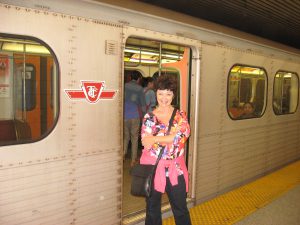 My best friend and I see obscure films from a variety of countries and leave the biggies for when they'll be at our local theatres. So we missed the George Clooney event (although I would have loved to have seen Mr Cutie!) – But as we were walking past the Roy Thomson Hall he waved to the crowd. The fans went wild and as they ran to get a closer look they cleared the sidewalk  so we got a path on King Street West to walk through! Thanks Mr Clooney!
After a mere four years of attending the festival (I am considered in the circle of film attendees a rookie) here are my best tips:
As soon as the film schedule is released read about them, choose the ones you want to see and either buy a pack of 10 or more and hope that you get the tickets for your films. There is an entire section of the TIFF website dedicated to getting tickets- it isn't scary – just read it and follow their advice.
You can still get tickets – check out TIFF's website in the morning for that day's releases. http://tiff.net/THEFESTIVAL
This year because of my schedule we couldn't do our regular thing. We had three days to see the festival so we picked movies based on when they were playing on Thursday, Friday and Saturday. We are never doing that again! The films we wanted to see weren't even playing on those days.  So what we got was a really eclectic jumble of films that we didn't know much about. Some were really fabulous and some were really not fabulous at all! It's always a bit of a crap shot at the best, which is part of the fun, but the time constraints stacked the odds against us!
Never see more than three movies in one day – we saw five movies on Saturday and it was insane! On a positive note I lost 2 pounds because of all the fast walking we did  and because we had popcorn for lunch and  M&M's and an orange juice for dinner!
 Never wear polyester clothing – with all of the running around I was a sweating mess by the end of Saturday!
Unless you love crowds walking down Yonge Street during a gala at the Elgin or walking down King Street West during an opening at the Roy Thomson Hall is crazy! Better choice is Bay for north/south walking and Richmond for east/west walking.
Take a bottle of water to keep hydrated and because some theatres won't let you bring in anything to drink except water, there goes your $5.00 coffee!
Eat a big breakfast before you leave – I recommend oatmeal! It keeps you fuller longer!
Pack a bag of nuts. A small protein snack will help prevent you from falling asleep when a film is sort of boring….oh, well, some are, just say'n.
I lugged my huge purse around. Note to self: Big Mistake – pack light!
We were too busy running from film to film this time and I really missed having a glass of wine between films! Note to self: plan that you have at the very least a couple of hours between films so you can indulge in a glass of wine or a snack hopefully in an open café so you can watch the crowds!
Take your camera – you never know who you will see on the streets!
If you are seeing multiple films in one day make notes after. Michale and I were having a very disjointed conversation when we realized that she was talking about The Other Side of Sleep and I was talking about This Side of Redemption!
And finally be open minded – the beauty of the festival is to help you discover the world and how other countries see it. Good or bad – it's the journey of discovery that is the best part of the festival.
Our two best films this year were: Oslo, August 31 and Burning Man.