Breakfast TV in Toronto is coming to my house to do the Live Eye in my garden and my kitchen! Here's what Frank and I are making.
He is also doing the weather from my garden and a gardening segment in my – what was once a fairly pretty garden until 3 weeks of me being away and two giant rain storms hit it! Oh, well. Hopefully the cupcakes will rock!
All of the recipes are from Healthy Starts Here! which in hindsight I should have called Everything in this book tastes amazing oh – and by the by – it's good for you!
Blueberry and Tomato Summer Salad for One
Summer
There is a time around the middle of August when the fresh local blueberries and the summer tomatoes both hit their peak. This is the only time to make this salad.
This salad only serves one but feel free to double, triple, quadruple…
I plate the salad which is chef-speak for: I prepare each salad on its own plate.
1 heaping cup (250 mL) baby arugula, we skipped in on the show!
1-2 really ripe summer tomatoes, heirlooms are fabulous
¼ cup (60 mL) fresh blueberries
2 tbsp (30 mL) goat's milk feta cheese
2 tsp (10 mL) extra virgin olive oil
1 tsp (5 mL) balsamic vinegar
Place arugula in a clean sink of cold water. Swish well to make sure there isn't any sand or dirt clinging to it. Place in a salad spinner and spin or pat dry. (We skipped this on the show)
Pile the clean dry arugula onto a large white plate. Okay, any colour will do but it looks spectacular on a large over sized white plate. My friend Jill calls my large white plates, my restaurant plates.
Wash and dry tomatoes. Using a serrated knife slice the tomatoes into ½- inch (1 cm) slices.
Arrange artistically on top of the arugula.
Rinse blueberries well under cold running water. Let drain. Place on a paper towel to dry. Sort through and remove any stems. Sprinkle on top of tomatoes.
Crumble feta and sprinkle on top. Drizzle with oil and vinegar. Serve.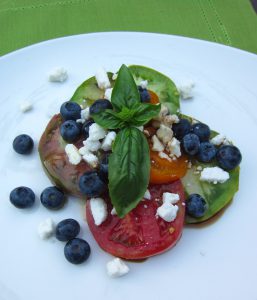 Makes one serving Each one serving =
226 Calories, 16.6 g Total fat, 6.3 g Sat Fat, 0 g Trans Fat, 359 mg Sodium, 14.5 g Carbs, 3 g Fiber, 8.6 g Sugars, 8 g Protein
Diabetes Food Choice Values Per Serving
1 Carbohydrate, 1 Meat and Alternatives, 3 Fats
Tip:
How much does 2 tbsp (30 mL) of feta weigh?
It is a pitiful 15 g (½ oz).
Tuscany Supper – The Decade Divas will be in my kitchen cooking!
It got four thumbs up from the Decade Divas the first time I made it and another big thumbs up from my publisher and his partner the next time I made it. All that praise, and it can lower your cholesterol too, what a fabulous dish.
For BT I used dried basil and fresh oregano. I added the dried basil as per the recipe and then added the fresh oregano at beginning of step 8.
4 cloves garlic
1 onion, diced
1 cup (250 mL) pot barley
1 tbsp (15 mL) extra virgin olive oil
4 cups (1L) sliced mushrooms, we used cremini
1 tbsp (15 mL) dried basil leaves – see below
1 tsp (5 mL) dried oregano leaves. What! Can't I use fresh? Yup – 1 tbsp (15 mL) will do
¼ tsp (1 mL) cracked black pepper
One – 19 fl oz (540 mL) can diced tomatoes
1 cup (250 mL) lower sodium vegetable or chicken broth
½ cup (125 mL) loosely packed grated Asiago cheese, approx 1 oz. (25 g) or really good Parmesan or if you are lucky enough to make dinner in my publisher's amazing kitchen then a Pecorino is perfect.
Mince garlic and set aside.
Mince onion and set aside.
Place barley in a mesh colander and rinse under cold water. Set aside to drain.
Heat a medium/large pot over medium heat. Add oil and onions. Sauté for 5 minutes or until golden brown. This extra bit of time browning the onion pays off in the end with a deeper flavour.
Add sliced mushrooms and continue cooking for 3 minutes. I know what you are thinking – this pot isn't big enough. Trust me, the principle of shrinkage applies here and in about 3 minutes they will have shrunk down.
Add garlic, basil, oregano, and cracked pepper. Sauté for 1 minute.
Add barley and sauté for 1 minute. Stir in tomatoes and broth, stirring well to make sure any bits clinging to the bottom of the pot are mixed in. Bring to the boil; stir once more, cover, reduce heat to low/simmer and cook for 45 – 50 minutes or until barley is cooked through and soft. Stir occasionally and adjust heat so it doesn't burn.
When cooked remove from heat stir once and let sit for 10 minutes. Serve each bowl with 2 tbsp (30 mL) of grated cheese over top. Any leftovers can be stored in the fridge for up to three days.
Makes – 6 cups (1.5 L) One serving = 1 cup (250 mL)
One serving contains: 207 calories, 5 g total fat, 1 g sat fat, 0 g trans fat, 309 mg sodium, 33 g carbs, 8 g fibre, 5.5 g sugar, 9 g protein
Diabetes Food Choice Values Per Serving: 2 Carbohydrates, 1 Meat and Alternative, ½ Fat
Cooking tip:
What does 4 cups (1 L) of sliced mushrooms look like?
Some stores sell mushrooms loose, others in packages so it's about 24 medium mushrooms or one and a half 227 g packages.
Can I use fresh basil?
Yes, but add it at the end so the flavour isn't completely cooked out of it. It works out to be 3 tbsp (45 mL) fresh basil leaves, chopped
Vegan tip:
To make this a vegan side dish use the vegetable broth and eliminate the cheese. Add 2 tbsp (30 mL) pine nuts and you have a Vegan main course.
Don't Forget to Leave Room for Chocolate Cake
Year Round
Kid Friendly
This is my go-to-it cake for birthdays and any special occasion when it has to be chocolate. It's been on my top ten hit list for years and deserves to be showcased again.
For the Fall Dinner Party menu in my book Healthy Starts Here! I serve it with a scoop of frozen vanilla yogurt and a sprinkle with icing sugar.
For Breakfast TV I made cupcakes with it. It makes 16 medium cupcakes. They take approximately 20-25 minutes to bake or until a toothpick comes out clean. I line a muffin tin with paper cupcakes liners for easy clean up and easy serving.
1 cup (250 mL) whole-wheat flour
2/3 cup (150 mL) all purpose flour
1½ cups (375 mL) granulated white sugar
2/3 cups (150 mL) natural cocoa powder – click here for more information
1½ tsp (7 mL) baking soda
¼ cup (60 mL) canola oil
1 cup (250 mL) fortified organic chocolate soy beverage
2 tsp (10 mL) fresh lemon juice
1 – omega-3 egg
1 – 4.5 oz. (128 mL) jar baby food strained prunes
1 tbsp (15 mL) pure vanilla extract
Icing: Optional
2 tbsp (30 mL) unsalted non-hydrogenated margarine
1 oz (25 g) unsweetened dark chocolate, at least 70% cocoa mass
6 tbsp (90 mL) fortified organic chocolate soy beverage
2 ½ cups (650 mL) icing sugar
1/3 cup (75 mL) natural cocoa powder
Preheat the oven to 350°F (180°C). Lightly spray a 9×13-inch (23×33 cm) metal cake pan, or line with parchment paper.
In a large bowl mix together the whole wheat flour, all-purpose flour, sugar, cocoa powder, and baking soda.
Add the chocolate soy beverage, lemon juice, oil, egg, strained baby food prunes and the pure vanilla.
Using a hand mixer blend or wire whisk beat the ingredients together for 1 minute, scraping the bowl often.
Turn the speed up to medium or whisk like your life depended on it for 2 minutes.
Pour into prepared pan and bake for 30-35 minutes or until a toothpick comes out clean.
Cool on a wire rack for 10 minutes then remove from the pans and continue cooling.
Prepare icing, if using. Put the margarine, unsweetened chocolate and chocolate soy beverage in a microwaveable dish. Heat on medium-low for 45 seconds. Stir. Repeat till

almost

melted. Stir till totally melted. The key is to underdo it. Scorched chocolate is ruined chocolate. And in some countries it's considered a sin. Or melt over the stove on low heat.
Pour the melted chocolate into a medium bowl, don't lick this – it's unsweetened. Add the icing sugar and the cocoa powder and beat till smooth. If it is too thick add a little bit of chocolate soy beverage until you reach the desired thickness. When finished lick beaters if desired.
Ice cooled cake. Lick bowl if you must! The cake can now be eaten immediately or the next day.
Remember that tomorrow it will taste better. Your choice.
9×13 inch (23×33 cm) cake with icing, serves 30:
1 Serving = one 2×2-inch (5×5 cm) square contains:
(The breakdown will be double for a cupcake so one cupcake will be worth 318 calories, etc.)
159 Calories, 3.8 g Total fat, 0.8 g Sat Fat, 0 g Trans Fat, 83 mg Sodium, 29.8 g Carbs, 1 g Fiber, 22 g Sugars, 2 g Protein
Diabetes Food Choice Values Per Serving: 2 Carbohydrates, 1 Fat