Meet the new kid on the energy bar block. But this kid is different than its competitors.
Most energy bars provide a high glycemic response – dietician-speak for a sudden rise in blood sugar followed by the inevitable crash. In the short term you feel the energy boost, but it's short lived.
Meet SoLo.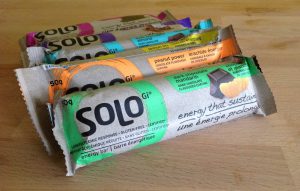 This bar is made with ingredients that produce an energy bar that has a lower glycemic response, so it's bye-bye to bursts and crashes of energy. I first tried one when I was in Vancouver last year and its been on my radar ever since.
National Diabetes Awareness Month is marked in November, but as type 2 diabetes hits epidemic numbers, I believe that we should be aware of diabetes every month.
SoLo bars were created by Canadian functional food pioneer Saul Katz to comply with the nutritional recommendations of the Canadian Diabetes Association (CDA). These bars can prevent blood sugar spikes and crashes by keeping blood glucose levels in their happy zone.
Saul developed Solo GI Bars to make it easy for people (with and without diabetes) to manage their blood sugar throughout the day without having to do glycemic index/response calculations. Each SoLo Bar flavour is clinically validated very low glycemic between 23-35 by Glycemic Index Laboratories (inventors of the Glycemic Index).
The bars weigh in with 200 calories, have between 6-8 grams of total fat, 3-4 grams of fibre, and 10-13 grams of protein depending on the bar. A big plus for me is that they are not made with any sugar alcohols and for anyone following a gluten free lifestyle they are approved by the Canadian Celiac Association.
Bottomline – they taste great and they don't create a roller coaster of sugar cravings. I tried them, I like them, and I'm popping the dark chocolate mandarin into my purse right now.