Here's my list of some of the new Canadian products that caught my eye in 2013.
Check out my Flavourites blog via Fresh Juice – a list of new products available at your local grocery store.
Watch the clip from BT Toronto
Health Canada recently gave flaxseed a health claim. Ground flaxseed helps reduce/lower cholesterol, which is a risk factor for heart disease. Aim for 1-2 tbsp (30 mL) per day. I've been a fan of flaxseed for over fifteen years.
Hemp hearts have a slightly nutty flavour and are a great source of protein. They also contain fibre and magnesium which has been shown to help lower blood pressure. Add hemp hearts to your morning cereal or yogurt to bump up the protein count. Great for active people plus women who tend not to get enough protein in the morning meal.
From a health standpoint natural or raw cocoa powder is considered heart healthy because the antioxidants that can help lower your cholesterol and blood pressure are intact. Alkalizing or Dutching destroys 2/3's of the available antioxidants. I am so impressed with the ethics that go into Giddy Yoyo's products.
Oats contains soluble fiber, the type of fibre that helps lower cholesterol. Eating soluble fibre can reduce the absorption of cholesterol into your bloodstream. Eating five to ten grams or more of soluble fiber a day decreases your total and LDL cholesterol.
Cavēna Nūda has a higher amount of soluble fibre than regular whole oats.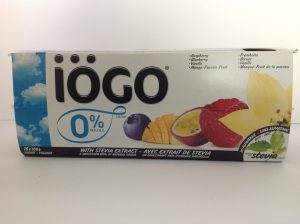 Stevia extract is considered a natural sweetener derived from a plant source. Weighing in at about 200-300 times sweeter than regular a little goes a long way. A bonus for people living with diabetes or anyone who is watching their simple carb intake. Iogo is the first Canadian company to add stevia to their yogurt.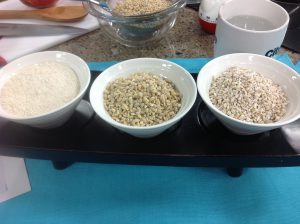 Barley received a health claim from Health Canada – eating barley can reduce your cholesterol.
I'm a huge fan of barley.